M52B20 Engine
29 December 2016
Writer
Views: 94
The basic version of the BMW M52 engine created on the basis of a 2-liter M50 engine and was produced from 1994 to 2003.
M52B20 engine was introduced to the market in 1994. The diameter of the cylinders is equal to 80 mm and stroke of 66 mm. Engine power and torque of 150 hp at 5900 rpm and 190 Nm at 4200 rpm.
The engine is installed in:
BMW M52TUB20 engine
M52TUB20 engine is an upgraded version of the M52B20 engine. It appeared on the market in 1998, and received a double change VANOS valve timing system. This improvement make it possible to obtain the peak torque on 700 rpm lower than the first version of M52B20 engine. Engine power and torque remain the same, and made 150 hp at 5900 rpm and 190 Nm at 3500 rpm.
The engine is installed in:
M52B20 engine Specs
Manufacturer
 Munich Plant
Also called
BMW M52
Production
1994-2001
Cylinder block alloy
Nikasil-coated aluminum
Configuration
Straight-6
Valvetrain
DOHC
4 valves per cylinder
Piston stroke, mm (inch)
66 (2.6)
Cylinder bore, mm (inch)
80 (3.15)
Compression ratio
11
Displacement
1991 cc (121.5 cu in)
Power output
110 kW (150 HP) at 5,900 rpm
110 kW (150 HP) at 5,900 rpm (TU)
Torque output
190 Nm (140 lb·ft) at 4,200 rpm
190 Nm (140 lb·ft) at 3,500 rpm (TU)
Redline
6,500 rpm
HP per liter
75.3
Fuel type
Gasoline
ECU
Siemens MS41.0
Siemens MS42.0 (TU)
Weight, kg (lbs)
~165 (364)
~175 (386) (TU)
Fuel consumption, L/100 km (mpg)
-City
-Highway
-Combined
for E46 320i
12.5 (18.8)
6.8 (34.6)
8.9 (26.4)
Turbocharger
  Naturally aspirated
Oil consumption , L/1000 km
(qt. per miles)
up to 1.0
(1 qt. per 750 miles)
Recommended engine oil
0W-30
0W-40
5W-30
5W-40
Engine oil capacity, L (qt.)
6.5 (6.9)
Oil change interval, km (miles)
 7,000-10,000
(4,500-6,000)
Normal engine operating temperature, °C (F)
~95 (203)
Engine lifespan, km (miles)
-Official information
-Real
–
250+ (155+)
Tuning, HP
-Max HP
-No life span loss
400+
–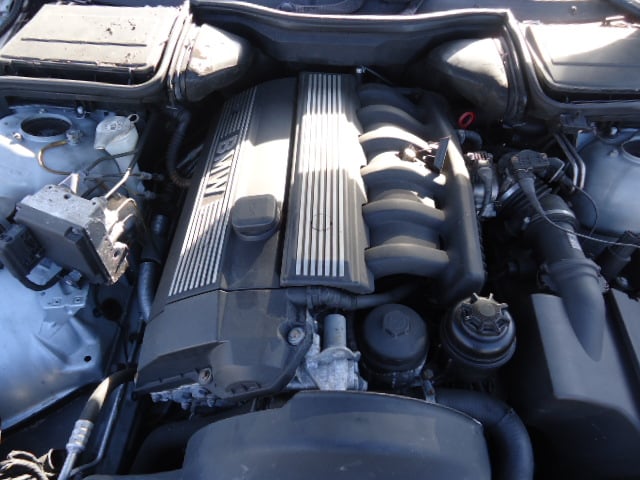 BMW M52B20 engine problems
Wear of the working surface of the cylinder wall: the reason – as the cylinder block in M52 is made of aluminum alloy with a coating on the cylinder walls of Nicosia, the working surface as compared to cast iron engine less resistant to harmful fuel components;
Leak of oil from the cup of the oil filter;
Drop of the oil pressure: the possible cause of the problem – reducing valve or the wear of inserts;
Cracks in the cylinder head covers;
Overheating.
BMW M52 engine has been replaced with the BMW M54 engine.
BMW E36 320i Remus exhaust sound
BMW 320i E36 M52B20 Novus Sound
BMW M52B20 compression test
BMW E36 320i m52b20 problem
References
En.wikipedia.org. (2017). BMW M52. [online] Available at: https://en.wikipedia.org/wiki/BMW_M52.