Disclosure: we may earn a small commission from the companies mentioned in this post via affiliate links to products. This doesn't make any additional cost to you. All products are selected independently.
BMW M40 engine is a four-cylinder eight-valve engine with a volume up to 1.8 liter, and  is installed on the BMW 3 Series (E30 and E36) and E34 5 Series.
After extensive preliminary testing, which mainly concerned the configuration of the cylinder head and combustion chamber – the final draft of the 4-cylinder BMW M40 engine was developed. Powertrain manufacturing started in mid-1987 at the BMW plant in Steyr (Steyr) and continued until 25 April 1994. Total of 838 290 motor units were produced.
M40B18 was based on the 1.6-liter M10, but the rods were borrowed from the 2.7-liter M20.
For BMW E30 318i fuel injection system from Bosch Motronic 1.3 was installed , for E36 318i – Motronic 1.7. In 1991 E34 518i a new engine management system was installed – Digitale Motor Elektronik (Bosch-Motronic).
This engine has belt driven SOHC, aluminum head and gray cast iron block has become a substitute for the M10 engine. All fixing holes for the engine support are disposed on the frame hard block portions.
It should be noted that the power unit of M10, in turn, was established over 25 years on various BMW models and contributed to the formation of a positive image of a company.
M40B18 Specs
Manufacturer
Steyr Plant
Also called
BMW M40
Production
1987-1994
Cylinder block alloy
Cast iron
Configuration
Straight-4
Valvetrain
SOHC
2 valves per cylinder
Piston stroke, mm (inch)
81 (3.19)
Cylinder bore, mm (inch)
84 (3.3)
Compression ratio
9
Displacement
1796 cc (109.6 cu in)
Power output
83 kW (113 HP) at 5,500 rpm
Torque output
162 Nm (119 lb·ft) at 4,250 rpm
Redline
6,200 rpm
HP per liter
62.7
63.9
Fuel type
Gasoline
Fuel system
Bosch Motronic 1.3 (E30)
Bosch Motronic 1.7 (E36)
Weight, kg (lbs)
~132 (290)
Fuel consumption, L/100 km (mpg)
-City
-Highway
-Combined
for E30 318i
10.3 (22.8)
6.7 (35.1)
8.6 (27.4)
Turbocharger
Naturally aspirated
Oil consumption , L/1000 km
(qt. per miles)
up to 1.0
(1 qt. per 750 miles)
Recommended engine oil
0W-30
0W-40
5W-30
5W-40
10W-40
15W-50
Engine oil capacity, L (qt.)
4.0 (4.2)
Oil change interval, km (miles)
7,000-10,000
(4,500-6,000)
Normal engine operating temperature, °C (F)
90-95 (195-203)
Engine lifespan, km (miles)
-Official information
-Real
–
300+ (185)
Tuning, HP
-Max HP
-No life span loss
150+
–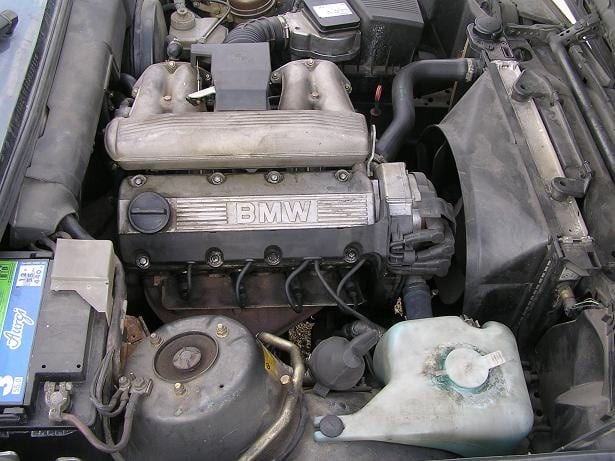 This engine is also installed in:
BMW 318i E30
BMW 318i E36
BMW 518i E34
BMW M40 B18 engine problems and malfunctions
All problems you can face with are similar to the BMW M40B16 engine.
E30 m40b18 idle/leerlauf problem
BMW e30 M40b18 tuned