Honda Accord oil capacity
Not everyone knows that by changing your engine oil, you have a chance to enhance your motor's fuel efficiency by about 2%. It seems to be a trifle, but if 1/3 of American car owners reduced their fuel use by 2%, about 1 billion gallons of gasoline would be saved, contributing to lower carbon dioxide emissions by 8 million tons. It's identical to taking 1.5 million automobiles off the road.
Actually, the quality of oil has a direct impact on your automobile's performance plus lifespan. Thus, by employing good oil, you can drive about 5,000 miles instead of 250,000 miles. If you need more examples, here they are:
At 0° and lower temperatures, the quality of oil is very noticeable as it can flow around the motor for 3 minutes instead of 10 seconds if oil is of low quality.
Low quality motor oil becomes thicker over time, resembling pasta sauce that thickens up after being re-heated several times. Thus, bad quality 5w-20 oil may become 5w-40 if you fail to change it in time.
Top quality engine oils keep motor clean and may even purify it from the deposits, which appeared as a consequence of bad oil application.
Honda Accord 2013 2014 2015 2016 2017 oil capacity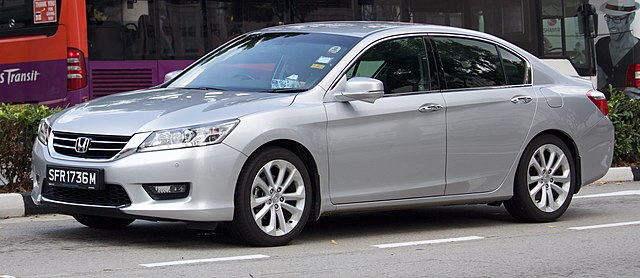 Engine
Oil capacity / Filter capacity
Recommended oil type (viscosity)
Oil change interval
K24W 2.4 (2013 – 2017)
4.2 L (4.44 qt.) / 0.2 L (0.21 qt.)
0W-20
10000 km (6000 miles) or 1 change per year
J35Y 3.5 V6 (2013 – 2017)
4.3 L (4.54 qt.) / 0.3 L (0.32 qt.)
5W-20
10000 km (6000 miles) or 1 change per year
R20Z1 (2013 – 2017)
4.3 L (4.54 qt.) / 0.3 L (0.32 qt.)
0W-20
0W-30
5W-20
5W-30
10000 km (6000 miles) or 1 change per year
How to change the motor oil in Honda Accord 2013 – 2017
Tools needed
Genuine Honda 08798-9037 Full Synthetic Oil


Honda Oil Filter A01


Honda Oil Filter A02


14mm Oil Drain Washer


17mm 3/8″ Socket


3/8″ Drive Socket Wrench


3/8″ Drive Torque Wrench


Oil filter wrench for Honda


Drain Pan


Funnel


Clean Rags


Nitrile Gloves


Floor Jack


Floor Jack Stands