Disclosure: we may earn a small commission from the companies mentioned in this post via affiliate links to products. This doesn't make any additional cost to you. All products are selected independently.
The M40B16 is a lightweight modification of M40 1.8-liter (marking M40B18). According to some sources, this engine has a M43 code, but that is not quite correct. M40 is widely used to equip younger models of BMW E30, E36, Z3.
The 1.6-liter engine firstly was combined with Bosch Motronic 1.3 on the BMW E30 316i (sedan, coupe and station wagon since 1988). Since 1991, with the DME digital engine electronics control system, less powerful version M40B16 engine was installed on the BMW E36 316i (sedan, coupé, touring, convertible and sedan-CD).
So, here comes the review!
M40B16 Specs
Manufacturer
Steyr Plant
Also called
BMW M40
Production
1988-1994
Cylinder block alloy
Cast iron
Configuration
Straight-4
Valvetrain
SOHC
2 valves per cylinder
Piston stroke, mm (inch)
72 (2.83)
Cylinder bore, mm (inch)
84 (3.3)
Compression ratio
9
Displacement
1596 cc (97.4 cu in)
Power output
73 kW (100 HP) at 5,500 rpm (E36)
75 kW (102 HP) at 5,500 rpm (E30)
Torque output
141 Nm (104 lb·ft) at 4,250 rpm (E36)
143 Nm (105 lb·ft) at 4,250 rpm (E30)
Redline
6,200 rpm
HP per liter
62.7
63.9
Fuel type
Gasoline
Fuel system
Bosch Motronic 1.3 (E30)
Bosch Motronic 1.7 (E36)
Weight, kg (lbs)
~132 (290)
Fuel consumption, L/100 km (mpg)
-City
-Highway
-Combined
for E36 316i
10.2 (23.1)
6.1 (38.6)
7.5 (31.4)
Turbocharger
Naturally aspirated
Oil consumption , L/1000 km
(qt. per miles)
up to 1.0
(1 qt. per 750 miles)
Recommended engine oil
0W-30
0W-40
5W-30
5W-40
10W-40
15W-50
Engine oil capacity, L (qt.)
4.0 (4.2)
Oil change interval, km (miles)
7,000-10,000
(4,500-6,000)
Normal engine operating temperature, °C (F)
90-95 (195-203)
Engine lifespan, km (miles)
-Official information
-Real
–
300+ (185)
Tuning, HP
-Max HP
-No life span loss
150+
–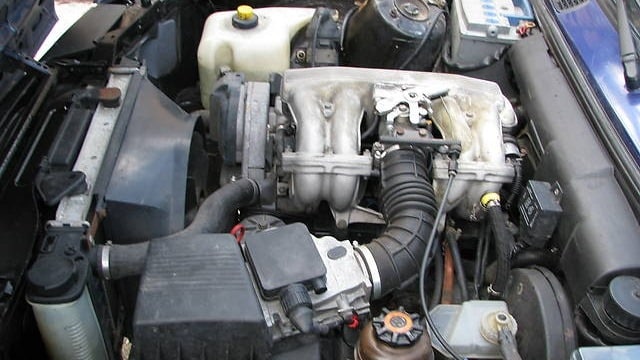 This engine is also installed in:
BMW 316i E30
BMW 316i E36
BMW M40 engine problems and Reliability
Typical failures of M40 are:
Problems with the timing belt. Here it is much thinner than in the M20. The broken belt flaps bend  and pistons can crack the cylinder head.
Cylinder head. You can hear knocks due to it's wearing process.
Oil starvation of the head. As a result, increased wear of all engine friction parts that will ultimately result in premature engine repair.
Bandwidth reduction of fuel nozzles associated with their pollution. The result is a sharp dip at the opening of the throttle valve.
Cooling system. Wear of plastic flanges, whereby the coolant leakage occurs, which leads to overheating.
An increase in fuel consumption and unstable work of the engine. The cause of this very common problem lies in the failure of lambda probe.
Main recommendation – to replace the belt at every 40 000 km at the same time with the roller and fill in time and only high-quality oil.
E30 m40b16 problem
Weird sound BMW e30 M40B16 '90
References