The BMW N54B30 engine represents a pivotal moment in the annals of automotive engineering. Launched in 2006, it ushered in a new era for the esteemed German automaker, marking a significant turn in its engineering philosophy. This straight-six powerhouse brought turbocharging into BMW's mainstream lineup, setting a precedent that would influence the industry for years to come.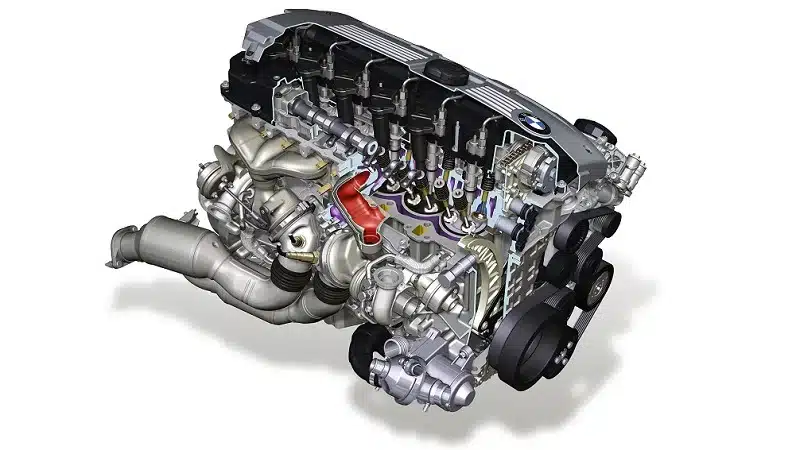 ---
As BMW's first mass-produced turbocharged petrol engine with direct injection, the N54B30 was a technological marvel of its time. It made its debut under the bonnet of the E92 335i, a car that would become a benchmark for performance coupes.
The engine's architecture—a 3.0-liter inline-6 with a twin-turbo setup—boasted an impressive blend of power and smoothness, churning out a substantial 300 horsepower and 300 lb-ft of torque in its base configuration.
The N54B30 was not just about raw performance; it was also about innovation. It featured high-precision direct injection and a pair of small, low-inertia turbochargers that minimized turbo lag, providing a seamless power delivery that was nearly indistinguishable from a naturally aspirated engine.
These features earned the N54B30 a spot on Ward's 10 Best Engines list for multiple consecutive years, cementing its status as a modern classic.
Significance in BMW's Engine Lineup
The introduction of the N54B30 marked BMW's firm commitment to turbocharged engines, a move that would redefine their future lineup. This engine proved that turbocharging, once associated with peak performance and reliability concerns, could be engineered for smoothness, efficiency, and everyday usability.
Its success set a new performance standard, not just for BMW but for the automotive industry, prompting a shift towards smaller, more efficient engines that could still deliver the power and exhilaration expected from a premium brand. As a result, the N54B30 became a legend in its own right, beloved by enthusiasts for its robust power and tuneability.
The legacy of the N54B30 is not only found in the statistics and awards but also in the community it has created. It's an engine that has fostered a cult following among tuning enthusiasts, who revere it for its robust construction and remarkable potential for increased performance.
The N54B30 is not merely a machine; it's a piece of BMW's heritage, representing a confluence of performance, innovation, and driving pleasure.
N54B30 Engine Specs
The technical details of the N54B30 are a testament to its engineering prowess. Below is a table of the key specifications that define this power unit:
| Specification | Detail |
| --- | --- |
| Engine Type | 3.0L Twin-Turbo Inline-6 |
| Displacement | 2979 cc |
| Bore x Stroke | 84 mm x 89.6 mm |
| Compression Ratio | 10.2:1 |
| Turbocharger Configuration | Twin-turbo, with two low-mass turbochargers |
| Fuel Injection Type | High Precision Direct Injection |
| Valvetrain | DOHC, 24-valve |
| Redline | 7,000 rpm |
| Construction | Aluminum block and head |
| Emission Control | EU4, later upgraded to EU5 |
| Engine Management | BMW MSD80/81 |
| Ignition System | Coil-on-plug |
| Lubrication | Wet sump |
| Weight | Approx. 195 kg |
The BMW N54B30 is not just another engine; it is a masterpiece of engineering that combines performance with precision. This section will delve into the intricate design and technology that powers this engine, its technical specifications, and the impressive horsepower and torque outputs it delivers.
At the heart of the N54B30's design is its inline-6 configuration, a classic BMW arrangement known for its smooth operation and natural balance. This 3.0-liter engine was among the first to employ twin turbochargers, which are strategically sized to spool quickly, minimizing the turbo lag commonly associated with forced induction engines.
Using a direct fuel injection system, known as High Precision Injection, allows for finer control of fuel delivery, improving efficiency and power output.
The engine block is cast from aluminum, offering a lightweight yet sturdy foundation. Meanwhile, the cylinder head is also aluminum, featuring an integrated water-cooled exhaust manifold that aids in managing the thermal load from the turbochargers.
The N54B30 was also ahead of its time with its use of electric water pumps, which are more reliable and reduce parasitic drag on the engine, leading to improved efficiency and power delivery.
The N54B30 delivers a performance that can stir the soul of any driving enthusiast. In its standard form, it produces a formidable 300 horsepower at 5,800 rpm. But the true charm of this engine is its torque—a robust 300 lb-ft available from just 1,300 rpm, sustained through a wide band up to 5,000 rpm.
This flat torque curve is a hallmark of the N54B30, providing immediate throttle response and a consistent pull throughout the rev range.
Such power and flexibility make the N54B30 incredibly versatile and capable of propelling luxury sedans, sporty coupes, and even compact SUVs with ease. It's this broad applicability and spirited performance that has cemented the N54B30's reputation as one of BMW's most celebrated engines.
What Cars Have A BMW N54 Engine?
BMW 135i E82/E88
BMW 1-Series M Coupe E82
BMW 335i E90/E91/E92/E93
BMW 535i E60
BMW 740i F01
BMW X6 E71
BMW Z4 E89
Engine Performance
The BMW N54B30 engine is renowned for its robust performance, characterized by a silky smooth power delivery and a broad, usable torque band. This section explores the essence of the N54B30's performance metrics, from its acceleration prowess to its efficiency and the unique firing order that contributes to its distinctive character.
The N54B30 is acclaimed for its linear power delivery that has become a signature of BMW's engine tuning philosophy. The twin-turbo setup ensures that power comes on early and remains consistent across a wide rpm range, giving the driver a sense of endless acceleration.
The high-precision direct injection and sophisticated engine management system work in unison to deliver sharp throttle responses and quick spooling of the turbochargers, translating to impressive acceleration figures.
| Performance Metric | Detail |
| --- | --- |
| 0-60 mph Acceleration Time | Approximately 5.0 seconds (varies by model) |
| Quarter Mile Time | Approximately 13.5 seconds (varies by model) |
| Engine Responsiveness | Immediate, with minimal turbo lag |
Fuel Consumption and Efficiency
Despite its performance capabilities, the N54B30 engine maintains a respectable fuel efficiency level, owing to BMW's EfficientDynamics technology. Features like the high-precision injection system contribute to cleaner and more complete combustion, while the twin turbochargers are optimized for efficiency and performance.
Below is an overview of the N54B30's fuel consumption and efficiency figures, which may vary depending on the vehicle model and driving conditions.
| Efficiency Metric | Detail |
| --- | --- |
| Combined Fuel Consumption | Approximately 20-25 mpg (varies by model) |
| Highway Fuel Consumption | Approximately 26-31 mpg (varies by model) |
| CO2 Emissions | Varies by model and emission standards |
Engine Firing Order and Dynamics
The firing order of an engine is integral to its balance and vibration characteristics. For the N54B30, the firing order is 1-5-3-6-2-4, which is typical for BMW's inline-6 engines and is instrumental in achieving the smooth operation for which they are known. This firing sequence contributes to the N54's ability to provide a refined and harmonious driving experience.
| Dynamic Aspect | Detail |
| --- | --- |
| Firing Order | 1-5-3-6-2-4 |
| Engine Balance | Naturally balanced due to inline-6 design |
| Vibration and Harshness | Minimal, with low NVH levels |
The performance characteristics of the N54B30 serve as a testament to BMW's engineering prowess, delivering exhilarating acceleration, commendable efficiency, and a balanced driving experience. This engine not only propels the vehicle forward with force but does so with the sophistication and refinement that BMW drivers have come to expect.
BMW N54B30 Engine Modifications
N54B30 (225 kW version)
For the E90/E91/E92/E93 3-Series, the N54 engine was used in the 335i model from 2007 onwards. In the 3-series, it, therefore, replaced the 330i (which used the naturally aspirated N52B30 as the performance model below the M3).
This version is rated at 225 kW (302 hp) and 400 N·m. However, independent testing has resulted in estimates of 332 hp (248 kW) and 311 lb·ft/422 N·m.
The engine is installed in:
2007–2010 E60 535i
2007–2010 E90/E91/E92/E93 335i
2007–2010 E82/E88 135i
2008–2010 X6 xDrive35i
2009–2016 Z4 sDrive35i
N54B30 (240 kW version)
A variant of the N54B30 with higher power and torque (but a slight reduction in low rpm torque) is used in the F01 740i and E92 335is.
The engine is installed in:
2008–2012 F01 740i
2010–2013 E92/E93 335is
N54B30TO (250 kW version)
The most powerful version of the N54 is found in the E89 Z4 sDrive 35is (as of 2016, the only application of the N54 still in production) and the 1 Series M Coupe.
The engine is installed in:
2011–2012 E82 1-series M Coupe
2011–2016 E89 Z4 sDrive35is
BMW N54 vs N55
When comparing BMW's N54 and N55 engines, enthusiasts and experts often engage in lively debate over the merits of each. Both are inline-6 engines with turbocharging, but there are distinct differences between the two.
The BMW N54 Engine:
The N54, introduced in 2006, was BMW's pioneering foray into mass-produced turbocharged petrol engines. It featured a 3.0-liter displacement with direct fuel injection, and most notably, it utilized twin turbochargers. This configuration allowed the N54 to produce substantial power with minimal turbo lag, resulting in a smooth and linear acceleration curve.
The N54 quickly gained a reputation for its robust power output and substantial tuning potential. The twin-turbo setup is often considered to be more tunable than the N55's single turbo, as it can be modified to provide higher boost levels and, consequently, significant power gains.
The BMW N55 Engine:
Introduced in 2009, the N55 was seen as the evolutionary successor to the N54. The most significant change was the switch from twin turbochargers to a single twin-scroll turbocharger. This change simplified the engine design and reduced complexity, potentially improving reliability.
The N55 continued with the same displacement and direct injection but also introduced Valvetronic (variable valve lift), which improved efficiency and throttle response.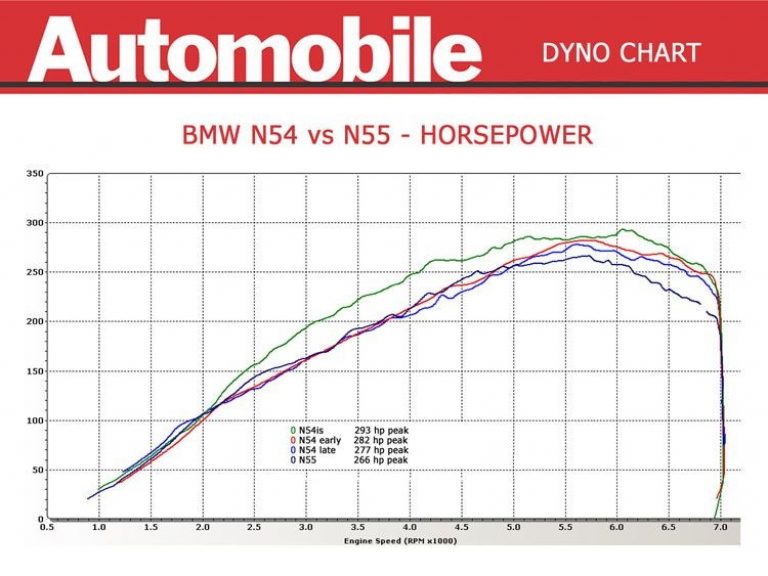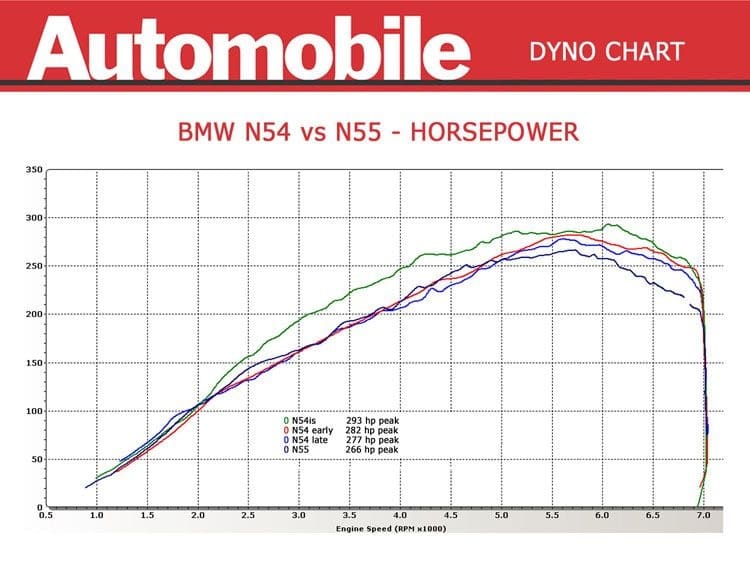 While the N55 might not have quite the same ceiling for tuning as the N54, it still offers plenty of potentials and is often regarded as a more refined engine. The single turbo design of the N55 is typically more responsive at lower RPMs, providing a more immediate power delivery.
Performance and Tuning
The N54 is often the engine of choice for those looking to make substantial power gains through tuning. Aftermarket support is vast, with many owners successfully pushing the engine to well over 500 horsepower with the right modifications and tuning.
The N55, while still tunable, is usually preferred by those looking for a balance of performance and daily drivability. The engine's design makes it slightly more efficient and potentially more reliable for everyday use.
Reliability:
Both engines have their known issues. The N54 has had concerns with its high-pressure fuel pump, turbocharger failure, and wastegate rattle. The N55 improved on some of these aspects but wasn't entirely free of issues, as it also experienced problems with the VANOS system and the electric water pump.
Choosing between the N54 and N55 depends largely on the owner's priorities. For those looking to heavily modify and tune their car, the N54 might be the preferred choice. For drivers seeking a balance of performance, efficiency, and potentially greater reliability, the N55 may be more suitable.
Regardless of the choice, both engines represent BMW's commitment to performance and technology, and each has a dedicated following in the automotive community.
Engine Reliability and Durability
The N54B30 engine has garnered a reputation for its robust performance, but like any high-performance engine, its reliability and durability are contingent on regular maintenance and timely repairs.
The longevity of the N54B30 engine is largely dependent on adherence to BMW's recommended maintenance schedule. Regular oil changes, using the correct oil type, and ensuring that the cooling system is functioning properly are pivotal to the engine's health. With meticulous maintenance, many N54B30 engines have exceeded 200,000 miles without major issues.
| Maintenance Item | Interval |
| --- | --- |
| Oil Change | Every 5,000-7,000 miles or once a year |
| Spark Plug Replacement | Every 45,000 miles |
| High-Pressure Fuel Pump | Inspect/Replace as needed |
| Water Pump and Thermostat | Every 60,000-80,000 miles |
Common Problems and Solutions
Despite its strengths, the N54B30 has some well-documented issues that owners should know about. High-pressure fuel pump failures, water pump malfunctions, and turbocharger issues are among the most common. BMW has addressed many of these issues through recalls and extended warranties.
For the latest information, you should check the National Highway Traffic Safety Administration (NHTSA) website or a similar authority in your country.
| Common Problem | Solution |
| --- | --- |
| High-Pressure Fuel Pump | Replacement with updated part |
| Turbocharger Wastegate Rattle | Warranty repair or turbo replacement |
| Leaky Injectors | Injector cleaning or replacement |
| Water Pump Failure | Replacement with OEM or aftermarket part |
Reliability Ratings
Reliability ratings for the N54B30 are varied, with some sources giving it high marks for performance longevity, while owner surveys sometimes paint a more complex picture due to the aforementioned common issues.
Websites like Consumer Reports and J.D. Power provide ratings and reviews that can offer insight into the N54's reliability from a consumer perspective.
| Reliability Aspect | Detail |
| --- | --- |
| Consumer Reports Rating | Check the latest ratings on their website |
| J.D. Power Score | Look up the score for BMW models with N54 |
The BMW N54B30 is a performance-focused engine that, with proper maintenance, can offer a long service life. Awareness of common issues and proactive maintenance are key to enjoying the full potential of this engine without unexpected downtime.
For further reading on reliability, owner forums such as Bimmerpost and the N54Tech website can also be invaluable resources for personal anecdotes and troubleshooting tips.
Maintenance Essentials for the N54B30
Maintaining the BMW N54B30 engine ensures its longevity and peak performance.
Oil Capacity and Recommended Oil Type
The N54B30 engine requires a specific type and amount of oil to operate efficiently and effectively. BMW recommends using a synthetic oil that meets their Longlife-01 specification.
| Oil Specification | Detail |
| --- | --- |
| Oil Capacity | 6.9 quarts (6.5 liters) |
| Recommended Oil Type | Full Synthetic SAE 5W-30, BMW Longlife-01 certified |
| Oil Change Interval | Every 5,000-7,000 miles or once a year, whichever comes first |
Spark Plugs and Gap Settings
Spark plugs are vital for the proper functioning of an engine, and the N54B30 requires high-quality spark plugs that are properly gapped to ensure smooth engine operation and optimal fuel efficiency.
| Spark Plug Specification | Detail |
| --- | --- |
| Recommended Spark Plugs | High-performance, iridium-tipped plugs |
| Gap Setting | 0.022 inches (0.56 mm) |
| Replacement Interval | Every 45,000 miles |
Timing Belt or Chain Information
The N54B30 engine uses a timing chain rather than a belt. The timing chain is designed to last the engine's lifetime but should be inspected regularly for any signs of wear or damage.
| Timing Chain Specification | Detail |
| --- | --- |
| Type | Timing Chain |
| Maintenance Interval | Inspect for wear and replace as necessary, typically beyond 100,000 miles |
Interference vs. Non-Interference Configuration
Understanding whether an engine is interference or non-interference is crucial for assessing the risks related to timing chain or belt failure.
| Engine Configuration | Detail |
| --- | --- |
| Configuration Type | Interference |
| Consequence of Timing Failure | Potential for significant engine damage |
Engine Coolant Specifications
The right coolant is essential for maintaining optimal engine temperatures and preventing overheating, especially for an engine with turbochargers like the N54B30.
| Coolant Specification | Detail |
| --- | --- |
| Type | Every 60,000 miles or four years |
| Change Interval | Every 60,000 miles or 4 years |
Engine Air Filter Replacement
Regular replacement of the engine air filter is necessary to ensure that the engine "breathes" clean air, which is vital for maintaining performance and efficiency.
| Air Filter Specification | Detail |
| --- | --- |
| Replacement Interval | Every 15,000-30,000 miles or as per condition |
Regular maintenance is the key to keeping your N54B30 running smoothly. Always use products that meet BMW's specifications and adhere to the prescribed maintenance intervals.
For specific part numbers and more detailed procedures, consult your BMW's owner manual or a reputable BMW service manual.
Enthusiast forums and websites such as Bimmerfest and Pelican Parts offer a wealth of shared knowledge from the BMW community, which can be particularly helpful for DIY maintenance tasks.
Upgrading the N54B30 Engine
The N54B30 engine is not only known for its strong factory performance but also its vast potential for upgrades. The aftermarket support for this engine is substantial, offering enthusiasts many options for tuning and enhancing their vehicle's capabilities.
Tuning the N54B30 can lead to significant increases in power and torque. Common upgrades include ECU remapping, performance intakes, high-flow downpipes, and larger intercoolers. For those seeking substantial power gains, upgrading the turbochargers themselves is also a popular route.
| Upgrade Type | Expected Performance Gain |
| --- | --- |
| ECU Remap | Up to 20% increase in power and torque |
| Intake/Exhaust | 5-10% increase in power |
| Turbocharger Upgrade | Up to 50% or more increase in power |
| Intercooler Upgrade | Reduces heat soak, improves sustained performance |
Aftermarket Support and Parts
The availability of high-quality aftermarket parts is crucial for N54 owners looking to upgrade their engines. Numerous reputable suppliers provide performance parts specifically designed for the N54B30.
| Aftermarket Aspect | Detail |
| --- | --- |
| Performance Part Vendors | Companies like Burger Motorsports (BMS), Turner Motorsport, and ECS Tuning |
| Community Support | Forums such as N54Tech.com and E90Post.com |
| Tuning Software | JB4, COBB Accessport, MHD Flasher |
Enthusiasts considering upgrades should always ensure that any modifications comply with local regulations and are compatible with their specific vehicle. It's also recommended to have a trusted and knowledgeable mechanic or a specialized tuning shop perform any significant modifications to ensure the best results and maintain engine integrity.
Upgrading the N54B30 engine opens up a new realm of performance possibilities. With a wide array of aftermarket parts and a supportive community of enthusiasts, the N54B30 can be transformed into an even more potent powerplant. For specific upgrade paths and detailed product information, visiting the websites of aftermarket vendors and tuning communities can provide the latest and most comprehensive guidance.
Testimonials and Reviews
The BMW N54B30 engine has been the heart of many BMW models for years, and its real-world performance is a topic of many discussions among car enthusiasts. Owner testimonials and reviews shed light on the day-to-day experience of the engine beyond the specs.
Owners often praise the N54B30 for its exhilarating power and responsiveness, especially after some initial modifications. Many describe the engine as a 'sleeper' powerhouse, owing to its remarkable tuning potential that can surprise unsuspecting onlookers with its acceleration and speed.
| Owner Feedback | Summary |
| --- | --- |
| Power and Performance | "The N54's power is addictive; I'm always looking for a stretch of road to let it loose." |
| Reliability and Maintenance | "It requires care, but with regular maintenance, my N54 has been rock solid." |
| Tuning and Upgrades | "After a simple tune and some bolt-ons, the transformation in power was incredible." |
Fuel consumption is a frequent topic, and while the N54B30 is not the most frugal, many owners find its efficiency reasonable for such a performance-oriented engine. Most report that while spirited driving can lead to higher consumption, the engine can be surprisingly economical on the highway or when driven conservatively.
| Driving Condition | Owner-Reported Fuel Consumption |
| --- | --- |
| City Driving | 17-20 mpg |
| Highway Driving | 26-30 mpg |
| Combined | 20-24 mpg |
Real-world experiences with the N54B30 are as varied as the drivers themselves, but the consensus is that it's a high-performance engine with the soul of a sports car. Forums and online communities are filled with stories of ownership, from thrilling drives to the camaraderie found in the shared pursuit of the perfect driving experience.
Troubleshooting and Common Issues
The BMW N54B30 engine is a paragon of performance engineering, but like any complex machinery, it has its vulnerabilities. Understanding the common issues and their troubleshooting steps is key for owners to maintain their vehicles effectively.
Turbocharger Issues
One of the most celebrated aspects of the N54B30 is its twin turbochargers, which provide significant power boosts. However, these components can face issues such as wastegate rattle and failure. Symptoms can include loss of power, a loud rattling noise from the engine bay, and check engine lights due to boost leaks.
| Issue | Troubleshooting Steps |
| --- | --- |
| Wastegate Rattle | Check for loose wastegate actuator arms and rod play. If identified, adjustment or replacement may be necessary. |
| Turbo Failure | Look for signs of oil in the exhaust or excessive shaft play in the turbos. Professional repair or replacement will be required. |
High-Pressure Fuel Pump Failures
The high-pressure fuel pump (HPFP) is critical for the N54's direct injection system. Failures in this component can lead to reduced engine power and long cranking times. The HPFP issue was prevalent enough for BMW to issue a recall and extend the warranty on this part for certain models.
| Issue | Troubleshooting Steps |
| --- | --- |
| HPFP Malfunction | Symptoms include engine warning lights and poor engine performance. Diagnosis is typically performed via a fuel pressure test, and replacement is the common solution. |
Water Pump and Overheating Problems
The N54B30 uses an electric water pump, which can fail without warning, leading to overheating. Signs of failure include high engine temperatures, reduced power as the car enters "limp mode," and coolant not circulating properly.
| Issue | Troubleshooting Steps |
| --- | --- |
| Water Pump Failure | Check for fault codes related to the cooling system. A failed water pump will often require replacement. It's recommended to replace the thermostat simultaneously. |
Valve Cover and Gasket Leaks
Valve cover gasket leaks are another common issue with the N54B30, often evidenced by oil found on the spark plugs or around the valve cover. This can cause misfires and a burning oil smell.
| Issue | Troubleshooting Steps |
| --- | --- |
| Valve Cover Gasket Leaks | Inspect the valve cover for signs of oil leaks. Replacement of the valve cover gasket is usually necessary to address this issue. |
N54B30 Engine Repair and Overhaul
When the time comes for a major repair or an overhaul of the BMW N54B30 engine, a methodical approach is essential.
Step-by-Step Engine Removal
Removing the N54B30 engine from the vehicle is a complex task that requires precision. The process generally follows these steps:
Preparation: Begin by disconnecting the battery and draining all fluids from the engine.
Component Removal: Detach all ancillary components like the intake manifold, exhaust system, and intercooler.
Wiring and Connections: Carefully label and unplug all electrical connections, wiring harnesses, and fuel lines.
Engine Mounts: Loosen and remove the engine mounts and any remaining connections to the transmission.
Extraction: Employ an engine hoist to lift the engine out of the engine bay carefully.
Component Inspection and Replacement
Once the engine is out, inspect each component meticulously:
Turbochargers: Check for shaft play and signs of oil leakage.
Valve Cover and Gasket: Inspect for cracks and leaks.
High-Pressure Fuel Pump: Evaluate for wear and functionality.
Water Pump: Look for signs of failure or impending failure.
Timing Chain: Check for stretch or damage.
Replace any components showing excessive wear or damage with OEM or high-quality aftermarket parts.
Engine Reassembly and Post-Repair Testing
Reassembling the engine and testing it involves:
Reassembly: Reverse the disassembly process, ensuring all components are installed correctly and torqued to BMW's specifications.
Fluids: Refill with fresh oil, coolant, and other necessary fluids.
Testing: Perform a leak test, start the engine, and monitor for unusual noises or vibrations.
Diagnostics: Connect to a diagnostic tool to ensure there are no error codes and the engine is running as expected.
Undertaking the extensive process of repairing or overhauling the N54B30 engine requires mechanical expertise, attention to detail, and adherence to BMW's standards. It is recommended that this process be carried out by a professional or an experienced enthusiast.
FAQs
How does the N54B30 compare to other BMW engines?
The N54B30 stands out for its early adoption of twin-turbo technology in BMW's production line. It offers a blend of power, smoothness, and potential for tuning unmatched at its time of release. Compared to its successor, the N55, the N54 offers more tuning potential due to its twin-turbo setup versus the N55's single twin-scroll turbo.
Against the earlier naturally aspirated engines, the N54 delivers more torque at lower RPMs, making it feel more responsive in daily driving.
What are the signs of turbo failure in the N54B30?
Signs of turbo failure in the N54B30 include loss of power, a whining noise from the turbo, excessive exhaust smoke, and the Check Engine Light (CEL) coming on. You may also notice a significant increase in turbo lag or a failure to boost at all, indicating possible turbocharger issues.
How often should the spark plugs and coil packs be replaced?
BMW recommends replacing the spark plugs on the N54B30 every 45,000 miles. However, if you're running a higher boost than stock due to tuning, you may need to replace them more frequently. Coil packs should be inspected regularly and typically need replacement every 70,000 to 80,000 miles, though signs of misfires or rough idling can indicate earlier failure.
Can the N54B30 run on ethanol-blended fuels?
The N54B30 can run on ethanol blends such as E85 with the proper modifications and tuning. It requires an upgraded fuel system and a re-tune of the engine's ECU to handle the different stoichiometric ratio and fueling requirements of ethanol. It's important to consult with a tuning expert before making such changes.
What are the best practices for extending the life of the N54B30?
To extend the life of the N54B30, adhere to the following best practices:
Follow BMW's maintenance schedule strictly.
Use high-quality synthetic oil and change it regularly.
Warm up the engine before driving aggressively.
Address any issues or CELs promptly to prevent cascading failures.
Ensure the cooling system is functioning properly, as overheating can cause significant damage.
Consider installing a catch can to reduce carbon buildup on valves.
Use fuel additives occasionally to clean injectors and maintain optimal fuel flow.
The information provided in this article is intended for informational and educational purposes only and should not be construed as professional mechanical advice. While the author has made every effort to ensure the accuracy and completeness of the information contained in this article, we make no warranties or representations as to the accuracy, completeness, reliability, or suitability of the information provided.
Any action you take upon the information provided in this article is strictly at your own risk, and we will not be liable for any losses, damages, or injuries incurred as a result of or in connection with the use of this information. It is strongly advised that you consult with a certified BMW mechanic or service center before attempting any maintenance or repair work.