N54 is the first BMW engine with turbocharging and direct injection of the fuel under high pressure, which is different from its predecessor's outstanding combination of performance and fuel economy.
For the first time, the single-turbo N54 engine was introduced in 2006 along with a new coupe BMW 335i, in the future, this engine has appear on the following models of BMW X6 3.5, BMW 535i, BMW 135i, BMW Z4 3.5 and BMW 740i. Also, it is based on the BMW 335i ALPINA company released cars ALPINA B3 Bi-turbo and ALPINA B3S Bi-turbo.
For its outstanding performance and design excellence in 2007 and 2008, this engine was awarded the nomination "Engine of the Year» (International Engine of the Year).
Initially, the engine power is 306 hp at 5800 rev/min and torque values reached 400 nm at 1300-5000 rev/min
N54 Engine Specs
Manufacturer
Munich Plant
Also called
BMW N54
Production
2006-present
Cylinder block alloy
Aluminum
Configuration
Straight-6
Valvetrain
DOHC
4 valves per cylinder
Piston stroke, mm (inch)
89.6 (3.53)
Cylinder bore, mm (inch)
84 (3.3)
Compression ratio
10.2
Displacement
2979 cc (181.8 cu in)
Power output
225 kW (306 HP) at 5,800 rpm
240 kW (326 HP) at 5,800 rpm
250 kW (340 HP) at 5,900 rpm
Torque output
400 Nm (295 lb·ft) at 1,300-5,000 rpm
450 Nm (332 lb·ft) at 1,500-4,500 rpm
450 Nm (332 lb·ft) at 1,500-4,500 rpm
Redline
7,000 rpm
HP per liter
102.7
109.4
114.1
Fuel type
Gasoline
ECU
Siemens MSD80
Weight, kg (lbs)
~145 (320)
Fuel consumption, L/100 km (mpg)
-City
-Highway
-Combined
for E90 335i
13.0 (18.1)
6.7 (35.1)
9.1 (25.9)
Turbocharger
Twin-turbocharged
2 x Mitsubishi TD03-10TK3
Oil consumption, L/1000 km
(qt. per miles)
up to 0.7
(1 qt. per 850 miles)
Recommended engine oil
5W-30, 5W-40
Engine Oil Capacity, L (qt.)
6.5 (6.9)
Oil change interval, km (miles)
7,000-10,000
(4,500-6,000)
Normal engine operating temperature, °C (F)
~115 (240)
Engine lifespan, km (miles)
-Official information
-Real
–
~300 (185)
Tuning, HP
-Max HP
-No life span loss
800+
~400
What Cars Have A BMW N54 Engine?
BMW 135i E82/E88
BMW 1-Series M Coupe E82
BMW 335i E90/E91/E92/E93
BMW 535i E60
BMW 740i F01
BMW X6 E71
BMW Z4 E89
BMW N54B30 Engine Modifications
N54B30 (225 kW version)
For the E90/E91/E92/E93 3-Series, the N54 engine was used in the 335i model from 2007 onwards. In the 3-series, it therefore replaced the 330i (which used the naturally aspirated N52B30 as the performance model below the M3).
This version is rated at 225 kW (302 hp) and 400 N·m. However, independent testing has resulted in estimates of 332 hp (248 kW) and 311 lb·ft/422 N·m.
The engine is installed in:
2007–2010 E60 535i
2007–2010 E90/E91/E92/E93 335i
2007–2010 E82/E88 135i
2008–2010 X6 xDrive35i
2009–2016 Z4 sDrive35i
N54B30 (240 kW version)
A variant of the N54B30 with higher power and torque (but a slight reduction in low rpm torque) is used in the F01 740i and E92 335is.
The engine is installed in:
2008–2012 F01 740i
2010–2013 E92/E93 335is
N54B30TO (250 kW version)
The most powerful version of the N54 is found in the E89 Z4 sDrive 35is (as of 2016, the only application of the N54 still in production) and the 1 Series M Coupe.
The engine is installed in:
2011–2012 E82 1-series M Coupe
2011–2016 E89 Z4 sDrive35is
BMW N54 vs N55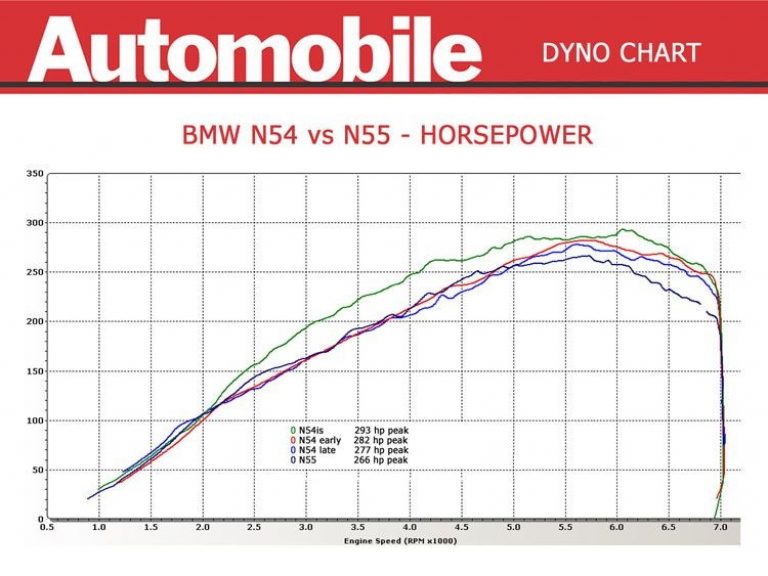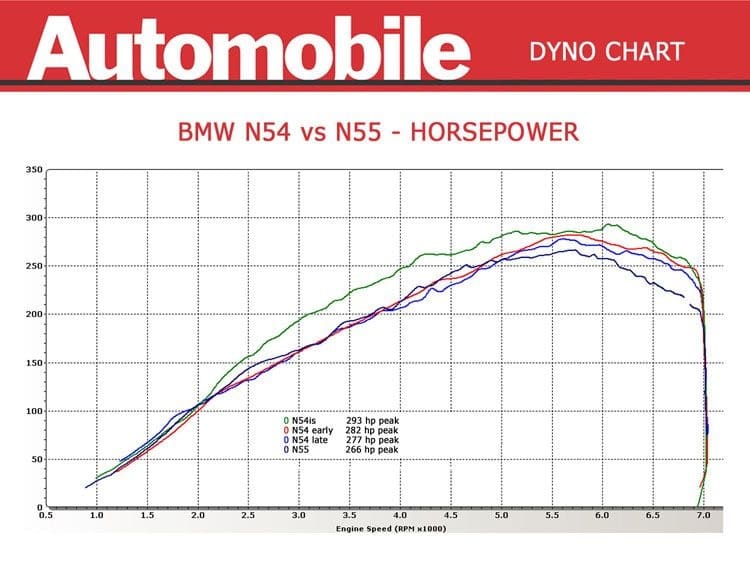 Graph of comparing the fresh engine from BMW N55 with one twinscroll turbine and old one N54 with twin turbo.
As can be seen from the graph, any version of the 54 is ahead in terms of power (from wheels) over the new 55, which by the way is installed on a new 3-series BMW F30! WTF???? Leave your comments about this…
N54 Tuning
In our opinion, the most effective way of forcing the BMW N54 engine is chip tuning with the completion of some elements of the car. With a stock automatic transmission, it can be considered a maximum power of 400-420 hp.
Refresh your car with new cabin air filter. Read and understand why it's so important to change it periodically.
BMW N54 Tuning Up To 420 HP
This program is only possible for engine with 81 MSD control unit (for cars up to 03/08 requires retrofitting on this unit, the cost of MSD 81 -is about 1500$). This ensures reliable and balanced work in all modes, and includes the following:
Lowering of the compression ratio to 9.4 – forged pistons with the increased combustion chamber.
Increased cooling (on cars, where necessary) – a more powerful engine fan, an additional radiator.
The engine control program with increased boost pressure and the enriched mixture in maximum power mode.
Replacement of catalysts on the exhaust pipes of stainless steel «Pipes Kit» and agreed with her full exhaust system. (Increased exhaust gas temperatures can break the standard catalysts, and therefore best to remove them in advance so that there would be no problem with the engine later).
N54 Turbo Tuning
Standard JB4/Cobb. Stage 1 firmware – up to 350 HP.
Want 400 HP? Well, then you need to upgrade the cooling system (replace fans and install an additional radiator). Also it requires large intercooler and air filter. Also purchase n54 downpipes, performance exhaust system and oil coolers. BMS JB4/Cobb Stage 2 firmware provides with 400-420 HP.
Want 450 HP? Install Methanol Injection Kit and your135i/335i models will reach 0-60 miles in 4.5 seconds. N54 FBO Stage 2 firmware will make it possible to cover quarter mile in 11.3 seconds. Stock version of BMW 335i N54 will cover 1/4 mile in about 13.2-13.4 seconds.
A big single turbo kit along with cylinder block head porting will provide our engine with maximum power. You will benefit from wide range of different components. You can use the Alpine B3 S Biturbo head gasket in order to reduce the compression ratio. The N54 engines stock internals are able to handle with 650-700 HP.
BMW N54 Engine Problems
High-Pressure Fuel Pump (HPFP) Failure
Turbocharger Failure / Wastegate Rattle
Leaky Fuel Injectors
Leaking Boost / Chargepipe Failure
Valve Cover Oil Leak
Carbon Build-up
Vanos Solenoids (2A87 and 2A88)
Water Pump Failure
It's a German engine with a lot of technical features packed into it, so you'll have to be prepared to spend lots of money on repairs and have emergency cash if the engine encounters unforeseen faults, as it is a contemporary German automobile.
BMW N54 Engine Lifetime
Forced motor is already close to the limit of the capacity of all engine systems and any failure could cause a transition emergency operation. Therefore, when driving at a maximum power level for quite a long time, it is important to monitor the engine temperature, oil temperature, and pressure. All of this can lower the engine's lifespan.
In general, we can say this engine is reliable. Also, we can recommend it to those of you who want to tune it. Don't forget to replace spark plugs every 12,000 miles (20,000 km) and motor oil and everything will be OK.
Want 550-750WHP from your E90? Introducing Vargas GC Turbos for N54 Powered BMW
GC Lite turbos are quite simply, THE ideal turbo upgrade for N54-powered vehicles, whether it be a direct OEM replacement for a blown unit, or a full race build looking for world-class output.
Thanks for your feedback!
The information provided in this article is for general informational purposes only. The author and publisher make no representations or warranties of any kind, express or implied, regarding the accuracy, adequacy, validity, reliability, availability, or completeness of any information presented. The reader is advised to consult a qualified professional, such as a mechanic or dealership, before making any decisions related to their vehicle's engine oil or maintenance.