QR25DE Engine
29 September 2016
Writer
Views: 141
Nissan QR25DE Engine
The QR25DE is a 2.5 L (2488 cc) variant of QR20D engine built with cast steel connecting rods, a steel timing chain, counter-rotating balance shafts, and an aluminum intake manifold. The engine bore is 89 mm with a stroke of 100 mm and a compression ratio ranging from 9.5:1 to 10.5:1 depending on the vehicle.
Nissan QR25 engine specs
Manufacturer
Nissan Decherd Powertrain Plant
Yokohama Plant
Also called
Nissan QR25
Production
2001-present
Cylinder block alloy
Aluminum
Configuration
Straight-4
Valvetrain
DOHC
4 valves per cylinder
QR25DE Pistons stroke, mm (inch)
100 (3.94)
Cylinder bore, mm (inch)
89 (3.50)
Compression ratio
9.1
9.5
10.5
Displacement
2488 cc (151.8 cu in)
Power output
112 kW (152 HP) at 5,200 rpm
118 kW (160 HP) at 5,600 rpm
127 kW (173 HP) at 6,000 rpm
131 kW (178 HP) at 6,000 rpm
134 kW (182 HP) at 6,000 rpm
147 kW (200 HP) at 6,600 rpm
190 kW (250 HP) at 5,600 rpm
Torque output
245 Nm (181 lb·ft) at 4,400 rpm
240 Nm (177 lb·ft) at 4,000 rpm
234 Nm (173 lb·ft) at 4,000 rpm
244 Nm (180 lb·ft) at 4,000 rpm
244 Nm (180 lb·ft) at 4,000 rpm
244 Nm (180 lb·ft) at 5,200 rpm
329 Nm (243 lb·ft) at 3,600 rpm
Redline
7,000 (Sentra SE-R Spec V)
HP per liter
61.1
64.3
69.5
71.5
73.2
80.4
Fuel type
Gasoline
Weight, kg (lbs)
–
Fuel consumption, L/100 km (mpg)
-City
-Highway
-Combined
for Sentra SE-R
13.0 (18)
8.4 (28)
10.7 (22)
QR25DE Supercharger
Naturally aspirated
Oil consumption , L/1000 km
(qt. per miles)
up to 0.5
(1 qt. per 1200 miles)
Recommended engine oil
5W-30
5W-40
Engine oil capacity, L (qt.)
5.1 (5.4)
Oil change interval, km (miles)
5,000-10,000
(3,000-6,000)
Normal engine operating temperature, °C (F)
90 (195)
Engine lifespan, km (miles)
-Official information
-Real
–
200,000+ (120,000)
Tuning, HP
-Max HP
-No life span loss
250+
~200

This engine is also installed in:
QR25DE Problems and malfunctions
Stretching of the timing chain.
Oil leak and high oil consumption.
Vibrations.
Overheating.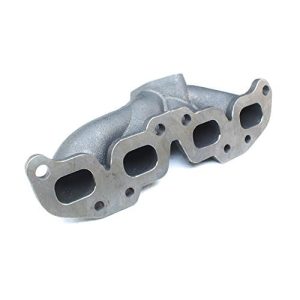 The most common mechanical problem of aluminum motors QR20DE- QR25DE is associated with overheating. Causes by the failure of the cooling pump. The result of overheating (even micro overheating) is a "gap" of the head unit. Micron leaks allow antifreeze to get into the combustion chamber.
Buy Flange Cast Turbo Manifold on Amazon
Thus oxygen sensors tend to register a rich composite fuel. Some problems when starting the engine, stall, speed floating.
The solution of this problem is rather expensive. Replacing the cylinder head gasket may cost some money. Grinding head and the block, the new gasket head bolts. To avoid this it is necessary to monitor the condition of the radiator honeycombs inside and out, monitor the temperature of the motor, monitor the level of antifreeze and its color. Ensure proper operation of the cooling fans. Or simply visit regularly the diagnostics, where all the specialists will check and fix any problems found.
QR25DE first start up after rebuild
Timing set nissan qr25de 2.5
Nissan Altima Turbo QR25DE to QR25DET
Balance Shaft Chain Cutting | B15 QR25DE Sentra SER Spec V | Shaft Removal