7A FE engine
18 August 2016
Writer
Views: 149
TOYOTA 7A ENGINE SPECS
Toyota A-series engines have become a good impetus in the development of the Toyota Group. This development is actively bought by other manufacturers and nowadays the latest generation of engines with A-index uses the automotive industry in developing countries.
7A-FE specs
Manufacturer
Kamigo Plant
Shimoyama Plant
Deeside Engine Plant
North Plant
Tianjin FAW Toyota Engine's Plant No. 1
Also called
Toyota 7A
Production
1990-2002
Cylinder block alloy
Cast-iron
Configuration
Straight-4
Valvetrain
DOHC
4 valves per cylinder
Piston stroke, mm (inch)
85.5 (3.37)
Cylinder bore, mm (inch)
81 (3.19)
Compression ratio
9.5
Displacement
1762 cc (107.5 cu in)
Power output
78 kW (105 HP) at 5,200 rpm
82 kW (110 HP) at 5,600 rpm
86 kW (115 HP) at 5,600 rpm
89 kW (120 HP) at 6,000 rpm
Torque output
159 Nm (117 lb·ft) at 2,800 rpm
156 Nm (115 lb·ft) at 2,800 rpm
149 Nm (110 lb·ft) at 2,800 rpm
157 Nm (116 lb·ft) at 4,400 rpm
Redline
–
HP per liter
59.6
62.4
65.3
68.1
Fuel type
Gasoline
7A-FE Weight, kg (lbs)
–
Fuel consumption, L/100 km (mpg)
-City
-Highway
-Combined
for Corona T210
7.2 (32)
4.2 (56)
5.3 (44)
Turbocharger
Naturally aspirated
7A-FE Oil consumption , L/1000 km
(qt. per miles)
up to 1.0
(1 qt. per 750 miles)
Recommended engine oil
5W-30
10W-30
15W-40
20W-50
Engine oil capacity, L (qt.)
4.7 (5.0)
Oil change interval, km (miles)
5,000-10,000
(3,000-6,000)
Normal engine operating temperature, °C (F)
–
Engine lifespan, km (miles)
-Official information
-Real
–
300,000+ (185,000+)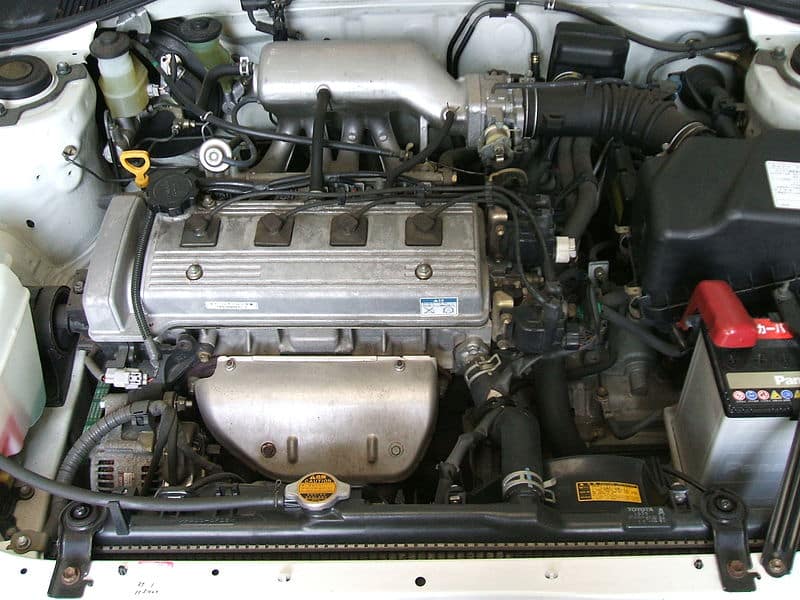 AT211 Avensis 1997–2000 (Europe only)
AT191 Caldina 1996–1997 (Japan only)
AT211 Caldina 1997–2001 (Japan only)
AT191 Carina 1994–1996 (Japan only)
AT211 Carina 1996–2001 (Japan only)
AT191 Carina E 1994–1997 (Europe only)
AT200 Celica 1993–1999 (excluding Japan)
AE92 Corolla/Conquest September 1993–circa 1998 (South Africa)
AE93 Corolla 1990–1992 (Australia only)
AE102/103 Corolla 1992–1998 (excluding Japan)
AE102 Corolla/Prizm 1993–1997 (North America)
AE111 Corolla ±1997–±2000 (South Africa)
AE112/115 Corolla 1997–2002 (excluding Japan)
AE115 Corolla Spacio 1997–2001 (Japan only)
AT191 Corona 1994–1997 (excludingJapan)
AT211 Corona 1996–2001 (Japan only)
AE115 Sprinter Carib 1995–2001 (Japan only)
Toyota 7A-FE engine reliability, Problems and features
One advantage of the design of the motor is that the destruction of the node as the timing belt 7A-FE, and is excluded valve piston collision. At its core, the engine is very hardy.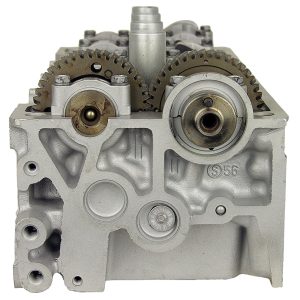 Some owners of advanced 7A-FE engines with a lean system say that the electronics are often behaves unpredictably.Not always, when you press on the accelerator a lean system turns off, and the car drives too easy, or begins to twitch. Remaining problems with the powertrain are rare.
Buy PROFessional Powertrain on Amazon
Toyota Caldina AT211G 7A-FE Engine
7a-fe engine rebuild Timing
Corolla 7a-fe turbo 5psi
Toyota Corolla Engine 7afe installed