Toyota 5VZ-FE, a 3.4L V6 motor, was first produced in 1995 as a modified version of 3VZ-FE. It was meant for the brand's SUVs and off-road vehicles.
Keeping the cast iron cylinder block like its predecessor, 5VZ-FE features a larger bore for 3.4L capacity instead of 3.0L. The motor has a V-shaped configuration with a 60-degree cylinder angle. In order to achieve the compression index of 9.6, restyled pistons were applied. The aluminum cylinder heads with dual overhead camshafts comprise 4 valves per cylinder on the upper part of the block.
Actually, they are almost identical to the ones of 3VZ-FE and have only some minor alterations. However, the camshafts are absolutely different. 5VZ-FE camshafts were adjusted for more torque down low in comparison with 3VZ. Thus, less maximum torque is provided while a soft plane curve all over the range is reached. A timing belt controls camshafts.
The motor was provided with a fresh intake manifold with longer runners, producing maximal torque at low and middle rpm. The sequential multiport fuel injection was applied instead of the classic one. Moreover, the engine received a modernized ignition system. Updates of the exhaust manifolds brought more torque. 5VZ features an oil cooler and a high-productive coolant fan for overheating prevention while driving off-road.
Actually, this motor turned out to be an outstanding option for Toyota's off-road vehicles, pickups, and trucks. In 2004, 5VZ-FE was discontinued and substituted with the 1GR-FE motor.
If you want to reach a greater output of the motor, you are free to acquire a supercharger. The choice of bolt-on kits is pretty large. For instance, you may purchase a TRD supercharger kit, which employs an Eaton M62 supercharger. However, you will need to change the original fuel injectors for the ones from a 3JZ-GE motor or other performance injectors for increased fuel use.
Thus, you may reach 250-280 horsepower and much torque without changing such original elements as pistons, rods, and crankshaft on the boost pressure equal to 0.5-0.7 bar.
5VZ-FE specs
Manufacturer
Toyota Motor Manufacturing Alabama
Also called
Toyota 5VZ
Production
1995-2004
Cylinder block alloy
Cast-iron
Configuration
V6
Valvetrain
DOHC
4 valves per cylinder
Piston stroke, mm (inch)
82 (3.23)
Cylinder bore, mm (inch)
93.5 (3.68)
Compression ratio
9.6
Displacement
3378 cc (206.1 cu in)
Power output (horsepower)
142 kW (190 HP) at 4,800 rpm
Torque output
298 Nm (220 lb·ft) at 3,600 rpm
Redline
–
HP per liter
56.2
Fuel type
Gasoline
Weight, kg (lbs)
190 (420)
5VZ-FE Fuel consumption, L/100 km (mpg)
-City
-Highway
-Combined
for 4Runner
20.0 (12)
11.0 (21)
14.0 (17)
Turbocharger
Naturally aspirated
Oil consumption, L/1000 km
(qt. per miles)
up to 1.0
(1 qt. per 750 miles)
Recommended engine oil
0W-30, 5W-30, 5W-40, 10W-30
Engine Oil Capacity, L (qt.)
5.3 (5.6)
Oil change interval, km (miles)
5,000-10,000
(3,000-6,000)
Normal engine operating temperature, °C (F)
90 (194)
Engine lifespan, km (miles)
-Official information
-Real
–
300,000+ (180,000)
Tuning, HP
-Max HP
-No life span loss
400+
–
What Cars Have A Toyota 5VZ Engine?
1995–2004 Toyota Tacoma
2000–2004 Toyota Tundra
1995–1998 Toyota T-100
1996–2002 Toyota 4Runner
1993–2004 Toyota Land Cruiser Prado
Toyota Granvia
2000-2002, 2004 GAZ 3111
5VZ Engine Number Location
In the picture, we show you the exact place where you can find the number location.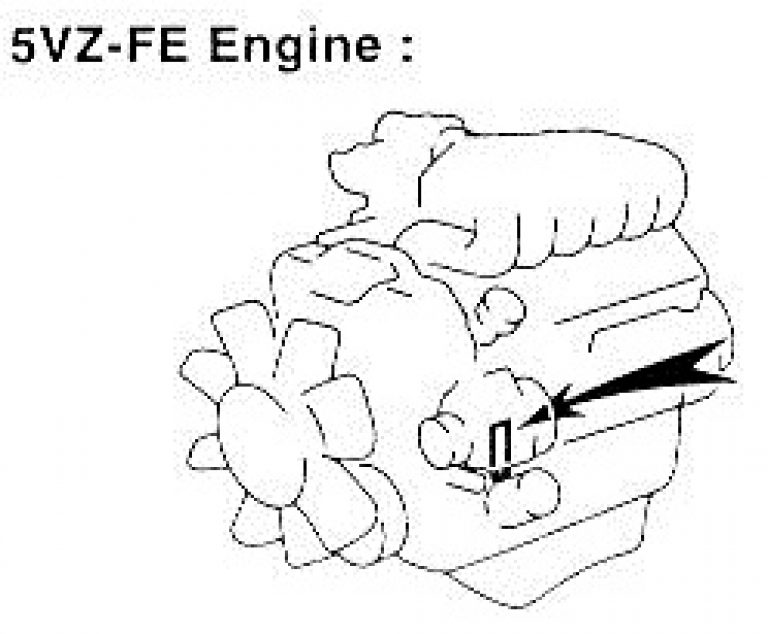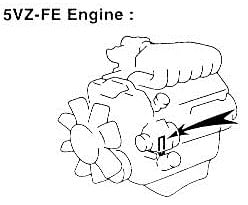 5VZ-FE Engine Problems And Reliability
Overheating. It seems to be the most frequent trouble of this motor. If you see that coolant is leaking, the spoilt cylinder head gasket is the main reason for that. If everything is normal with the coolant, examine the cooling fan as it may be damaged. The other reasons for overheating are malfunctions of the radiator cap, thermostat or radiator.
Motor knocking. In the majority of cases, the valves regulation helps to get rid of knocking. The cold motor must have 0.25-0.35 mm intake valve clearance and 0.15-0.25 mm exhaust valve clearance. If valves are in order, the trouble may be caused by damage of the cylinder head or connecting rod bearings depreciation.
As 5VZ-FE motors are pretty old, be ready that the oil consumption may increase any time something goes wrong. So, use only good quality oil, serve your motor on time and monitor the condition of the cooling system. If you do everything properly, the engine will serve pretty long and will run for more than 180,000 miles (300,000 kilometers).
Cylinder Head & Gasket DIY Procedure – Toyota 5VZ-FE
The information provided in this article is for general informational purposes only. The author and publisher make no representations or warranties of any kind, express or implied, regarding the accuracy, adequacy, validity, reliability, availability, or completeness of any information presented. The reader is advised to consult a qualified professional, such as a mechanic or dealership, before making any decisions related to their vehicle's engine oil or maintenance.