Disclosure: we may earn money or products from the companies mentioned in this post via affiliate links to products. This doesn't make any additional cost to you.
Engine 1MZ-FE – it's the middle brother in the line, its cylinder capacity is about 3.0 liters (2994 cc.).
Bore and stroke of 87.5 mm and 83 mm, respectively. Power output varies from model year and the availability of variable valve timing system VVT-i and is in the range of 168-210 hp at 5200-5400 rpm and of 290-300 Nm at 4400 rpm. 1MZ-FE engine has a high fuel efficiency without high losses of power.
Later, the gas distribution system of the engine 1MZ-FE complemented with VVTi variable valve timing system.
The capacity of such motor makes 210 hp at 5800 rpm and torque of 328 Nm at 4400 rpm. Early versions of the engine 1MZ-FE with VVT-i system staffed throttle double hull, cast aluminum intake manifold and EGR system. In later versions of the engine installed plastic intake manifold to reduce weight and further reduce the cost. Optionally, they manned the throttle with electronic control.
In 1996, he was in the top ten best engines of the year published by the American magazine Ward's
1MZ-FE engine specs
Manufacturer
Kamigo Plant
Toyota Motor Manufacturing Kentucky
Production years
1994-2007
Cylinder block alloy
Aluminum
Configuration
V6
Valvetrain
DOHC
4 valves per cylinder
Piston stroke, mm (inch)
83 (3.27)
Cylinder bore, mm (inch)
87.5 (3.44)
Compression ratio
10.5
Displacement
2995 cc (182.8 cu in)
Power output
140 kW (190 HP) at 5,400 rpm
156 kW (210 HP) at 5,800 rpm
Torque output
275 Nm (203 lb·ft) at 4,400 rpm
328 Nm (222 lb·ft) at 4,400 rpm
HP per liter
63.4
70.1
Fuel type
Gasoline
Weight, kg (lbs)
158 (350)
Fuel consumption, L/100 km (mpg)
-City
-Highway
-Combined
for Camry XV30
15.7 (15)
8.3 (28)
11.0 (21)
Turbocharger
 Naturally aspirated
Oil consumption , L/1000 km
(qt. per miles)
up to 1.0
(1 qt. per 750 miles)
Recommended engine oil
5W-30
10W-30
Engine oil capacity, L (qt.)
4.7 (5.0)
Oil change interval, km (miles)
5,000-10,000
(3,000-6,000)
Engine lifespan, km (miles)
-Official information
-Real
–
300,000+ (180,000)
Tuning, HP
-Max HP
-No life span loss
400+
–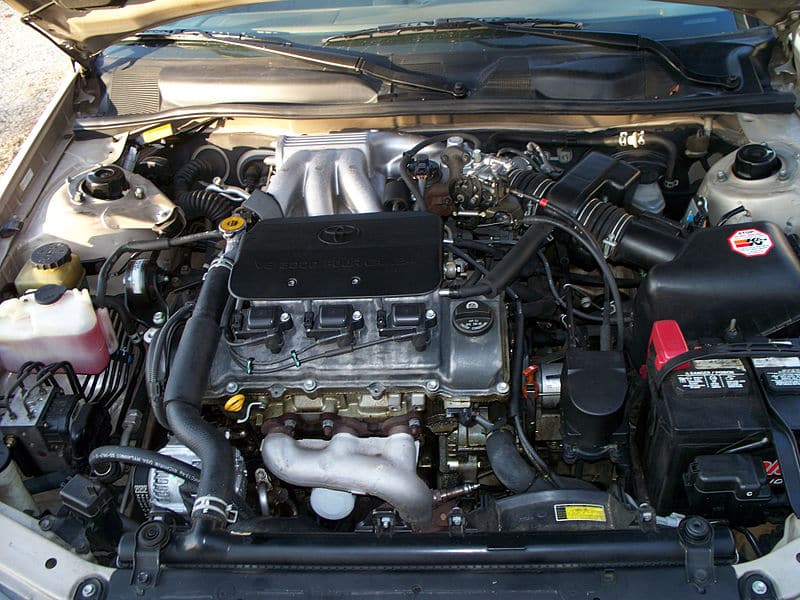 The engine is installed in
Toyota Avalon
Toyota Camry
Toyota Estima/Previa
Toyota Highlander
Toyota Sienna
Lexus ES300/Toyota Windom
Lexus RX300
Toyota Harrier
Toyota Alphard
Toyota Solara
Timing belt sound. Hot engine. Toyota avalon 2002 1mz-fe
1mz 1mzfe timing camshaft position