Duratec Ti VCT 1.6 105 hp Engine Specs
Manufacturing
Bridgend Engine
Production Years
2010 – nowadays
Cylinder block alloy
Aluminum
The power supply system
Injector
Configuration
Row
Cylinders/Valves
4/16
Piston stroke, mm (inch)
81.4 (3.20)
Cylinder bore, mm (inch)
79.00 (3.11)
Compression ratio
11.0
Displacement, cc. (cu. in)
1596 (97.39)
Power output
105 hp / 6000 rpm
Torque output
185 nm / 4000 – 4,500 rpm
Fuel type
95 Gasoline
Environmental standards
Euro 5
Fuel consumption, L/100 km (mpg)

City – 8 (29.40)

Highway 4.7 (50.00)

Combine 5.6 (42.00)

Oil consumption, L/1000 km
up to 0.2
Dry weight Duratec 1.6, lbs
205,03
Oil type in engine
5W-20
5W-30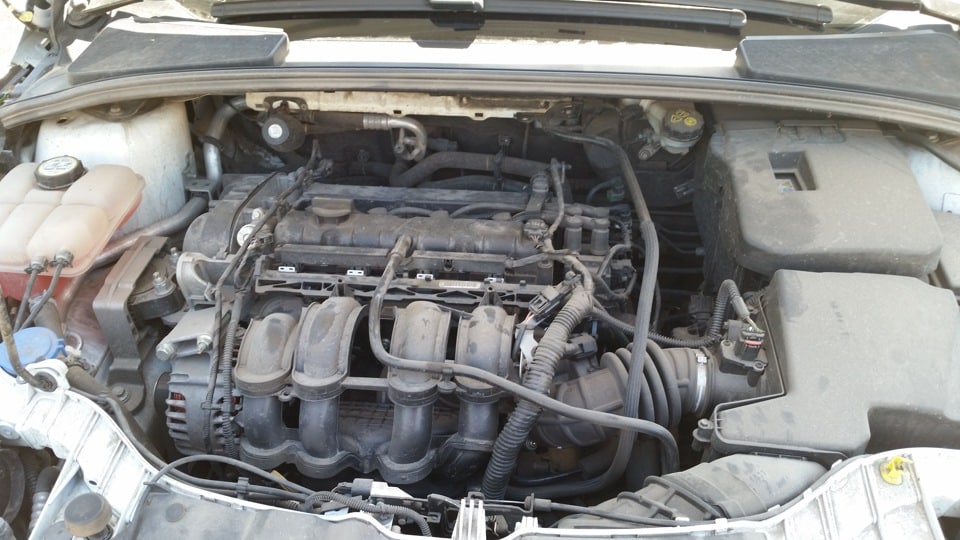 FORD FOCUS 1.6 DURATEC TI-VCT ENGINE RESOURCE
According to the manufacturer – 155 300 miles
Real – 200 000 miles
THE ENGINE IS INSTALLED IN:
Ford C-Max
Ford Focus Mk. III
ENGINE PROBLEMS AND REPAIR OF FORD FOCUS 1.6 DURATEC TI-VCT 105 hp
Engine Ford Focus Duratec Ti-VCT 1,6 l. 105 hp is the same as Duratec Ti-VCT 1,6 115 hp with variable valve timing, but smothered under the Euro 5 environmental standards, hence we have the power drop by 10 hp Technically, and the engine repeats the last version, respectively the service life of the engine Ford Focus 1.6 105 hp according to the manufacturer is – 150 thous. miles., but the real resource of engine is about 200 thousands.
There is a problem with the engine timing belt, be sure to once every 100 thousand miles carried out the replacement of rollers and belts. As with previous models 1.6 liter engine, the same as reliable, with no obvious weaknesses, but cars with this engine are barely crawl. Want more reliable transportation? Look in the direction of more powerful engines.
Structural advantages and disadvantages are the same as in the entire series Zetec-SE, you can read about them in the "fault" section, articles on the 1.4 liter engine. In addition there is a more powerful version of this engine, with a capacity of 125 hp.
Please follow and like us: