Disclosure: we may earn a small commission from the companies mentioned in this post via affiliate links to products. This doesn't make any additional cost to you. All products are selected independently.
GM's 5.3L Vortec motor is built on the small block V8 framework, applied to create many LS lineup motors for the Chevrolet Corvette. However, the 5.3L is mainly employed for trucks and SUVs.
5.3L Vortec has a minimum of 9 variations, but they are generally either Generation III or Generation IV V8 small block motors. The main difference between these motors is block construction modifications to ensure more efficient fuel consumption and switch off cylinders if they aren't necessary for power production. Moreover, the motor was built to all variable timing.
Generation III motors were utilized for Cadillac Escalade, GMC Savana, Sierra, Yukon and Envoy,  Chevy Avalanche, Express, Silverado, Tahoe, Trailblazer, SSR and Suburban, Buick Rainier plus Isuzu Ascender. In its turn, Generation IV was applicable for the same vehicles (exceptions are Escalade, SSR, Savana, and Express), but was also offered for Chevy Colorado, Saab 9-7x and Hummer H3.
Its first application, to be exact its LM7 modification, was in 1999 Chevy Silverado. Then, in 2002, the company presented L59, a flexible fuel variation of LM7.
In 2003, LM4 was released, which is actually a version of LM7 but with an aluminum block. In 2005, the other aluminum block motor, L33, was presented. However, it kept other pistons and cylinder head, contributing to output increase. Those motors of Generation III were released till 2007, when their production was ceased.
Generation IV motors were first manufactured in 2005, and LH6 was a debut version, offering active fuel management.
LY5, LMG plus LC9 motors were presented in 2007 and served as extra variations of Generation IV small block.
GM presented its LH8 version in 2008. Its restyled construction allowed installation in H3 and small trucks. These motors were noted for their good power for big vehicles with small towing demands and great fuel economy compared to similar motors with a small block. Moreover, LH8 turned out to be a very reliable motor.
5.3L Vortec Specs
Engine code
GM / Chevy LM7 (Vortec 5300)
Layout
Four-stroke, V8
Fuel type
Gasoline (petrol)
Production
1999-2007
Displacement
5.3 L, (325 cu in)
Fuel system
Sequential multi-port fuel injection
Power adder
None
Power output
273 PS (201 kW; 270 HP)
290 PS (213 kW; 285 HP)
299 PS (220 kW; 295 HP)
Torque output
427 N·m (43.5 kg·m, 314.7 ft·lb)
441 N·m (45.0 kg·m, 325.0 ft·lb)
454 N·m (46.3 kg·m; 335.0 ft·lb)
Firing order
1-8-7-2-6-5-4-3
Dimensions (L x W x H):
–
Weight
–
LM7 motor achieved an output of 270 hp with a torque of 315 lb/ft. And before Generation III motors were stooped to be produced, L33, which was considered a high productivity variation, demonstrated the power of 310 hp with torque of 336 lb/ft.
Motors of Generation IV showed different output results, but the maximal power equaled 320 hp and torque of 335 lb/ft. Both Generation III and IV engines feature aluminum alloy heads with blocks of various materials, depending on the employment.
Both generations kept the same displacement of 5.328 liters (325.1 cu in), with a bore of 3.78 inches and a stroke of 3.622 inches.
Applications
| | | | |
| --- | --- | --- | --- |
| VIN 8th Digit | Year | Make | Model |
| T | 1999-2007 | Chevrolet | Silverado 1500 |
| T | 1999-2007 | GMC | Sierra 1500 |
| T | 1999-2006 | Chevrolet | Tahoe |
| T | 1999-2006 | Chevrolet | Suburban 1500 |
| T | 1999-2006 | GMC | Yukon |
| T | 1999-2006 | GMC | Yukon XL 1500 |
| T | 2002-2005 | Cadillac | Escalade (2WD) |
| T | 2002-2006 | Chevrolet | Avalanche |
| T | 2003-2007 | Chevrolet | Express |
| T | 2003-2007 | GMC | Savana |
Head and Block Design
| | |
| --- | --- |
| Casting Numbers | 12567392, 12567393, 12551358 |
| Material | Iron |
| Displacement | 5.3L / 325 c.i.d. |
| Bore Dia. | 3.780 in. |
| Stroke | 3.622 in. |
| Deck Height | 9.230-9.240 in. |
| Bore Spacing | 4.400 in. |
| Thrust Bearing Location | #3 Main |
| Main Cap Style | 6-Bolt |
| Main Housing Bore Dia. | 2.751 in. |
| Cam Housing Bore Dia.(1999-2003) | Bore 1/5 = 2.326, Bore 2/4 = 2.317, Bore 3 = 2.307 |
| Cam Housing Bore Dia.(2003-07) | Bore 1/5 = 2.346, Bore 2/4 = 2.326, Bore 3 = 2.307 |
| Cam-to-Crank Centerline | 4.914 in. |
Generation III's LM7 and L59 kept cast iron blocks, whereas LM4 and L33 featured aluminum blocks. LY5 and LMG of Generation IV were equipped with cast iron blocks, whereas LH6, LH8, LH9, plus LC9 went with aluminum blocks.
All the mentioned above motors employed overhead valve design with one intake and 1 exhaust valve per cylinder. A classic camshaft operated valves in block connecting rod systems. Generation IV motors have more options, comprising variable timing.
Is a 5.3 Vortec an LS motor?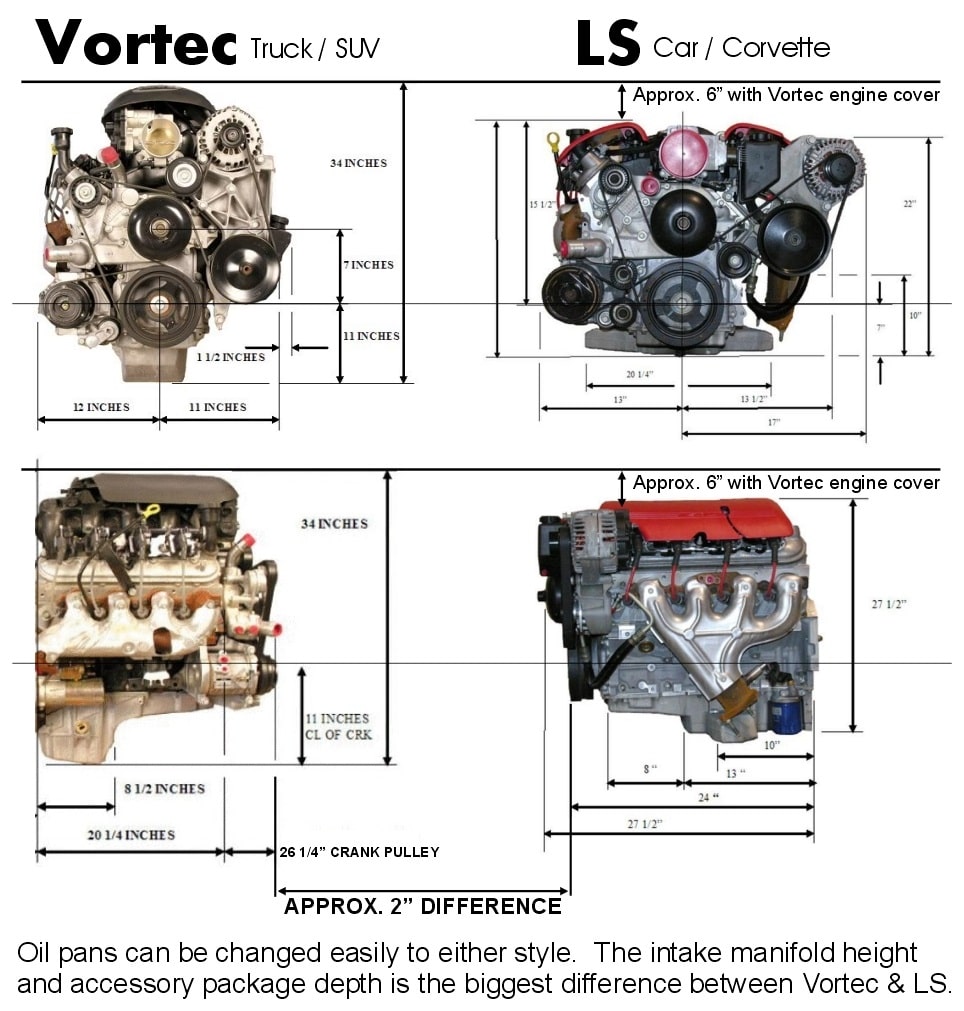 People often make the mistake of believing that LS motors and Vortec motors are the same. Indeed Vortec engines are "LS" based, but still, Vortec motors are designed for trucks, and LS motors are for cars.
Common Bolt-On Updates for LM7 Motors
Truck owners often deal with the upgrading of cold air intake plus aftermarket exhaust. Consequently, motors start sounding so powerful that it's impossible to resist the temptation of driving faster.
Trucks are often provided with mechanical fans, which can destabilize a motor's output. The solution is to apply an electric fan kit. You can easily change all those details yourself, but note that the tune will remain non-optimized.
It's advisable to turn to a chassis dyno tuner or a computer programmer. They may assist you in attuning the ECM and making the engine work smoothly whether you use low-octane or high-quality fuel.
Offset points can be raised, leading to an easier adjustment of a larger cam and injectors in the future. Additionally, tuning will be more efficient if you mount a colder thermostat.
LM7 Camshaft Specs
Years
1999
2000-06
Duration @ .050 in. (int./exh.)
191°/190°
191°/190°
Valve Lift (int./exh.)
0.457 in./0.466 in.
0.457 in./0.466 in.
Lobe Separation Angle
115.5°
114°
Cam Gear Attachment
3-Bolt
3-Bolt
LM7 Throttle Body, Fuel Injector Specs & More
Intake Manifold
Truck Style
Throttle Body
78mm, 3-Bolt
Throttle Control (1999-2002)
Throttle Cable
Throttle Control (2003-04)
Electronic, Drive-by-Wire (most models)
Fuel Injector Flow (1999)
21.8 lbs./hr.
Fuel Injector Flow (2000)
24.8 lbs./hr.
Fuel Injector Flow (2001-07)
25.2 lbs./hr.
Fuel Injector Length Between O-Rings
1.9 in.
Fuel Injector Connector
Mini-Delphi / Multec2
PCM
Warren
Crankshaft Reluctor Ring
24x
Camshaft Sensor Location
Rear Mount, 1x on cam
Oil Pan
Deep Rear Sump
Oil Pump
Standard Volume
To Sum It Up
Noted for its great lifespan and reliability, 5.3L Vortec has become more and more popular. It's generally applied for trucks and large SUVs, the owners of which never complain of its durability.
Clearly, its output differs from one of LS motors, which are closely coordinated with it. Being built for SUVs plus trucks, 5.3L Vortec is more focused on weight carrying than LS engines. Mainly, these motors are equipped with cast iron blocks (especially the ones for large trucks). Nevertheless, some versions go with aluminium heads and blocks.