The Chevrolet 8.1 Vortec engine is a powerful and reliable option for drivers looking for an engine that can provide plenty of torque. This engine has been used in a variety of Chevrolet models, including the Silverado, Avalanche, and Suburban. It is also available in certain GMC models. If you are looking for an engine that can handle your daily driving needs, the Chevrolet 8.1 Vortec engine may be the right choice for you!
GM's 8.1L motor, referred to as 8100 Vortec and first produced in 2001, was employed for Chevy Avalanche 2500, Silverado 2500HD, and 3500HD plus their GMC Sierra doubles in 2001-2006. In 2007, a smaller but more high-performance 6.0L V8 substituted it. GM created these motors for pickups to work steadily for a long time.
Being a gas motor, the 8.1L demonstrates an imposingly flat torque curve, being powerful at 1200-1400 rpm and finally coming to nought below 400 lb/ft after 4000 rpm. That's a range of 2600 rpm of usable torque higher than 400 lb/ft, peaking at 440-455 lb/ft (depending on the year of production) at 3200 rpm. Finally, the power increases to 320-340 hp at 4200 rpm.
Along with Chevrolet and GMC vehicles, this motor was also utilized for Kodiak, vessels, and motorhomes. Actually, this motor was produced till 2009 for diverse motorhomes and ships. The 8.1L features a large bore and stroke with an almost square bore-to-stroke proportion and a redline of approximately 5000 rpm.
8.1 Vortec Specs
Engine name
General Motors Vortec 8100
Type
90° V-8
RPO Code
L18
Displacement, cubic inches
496 CID (495.95)
8.1 liters (8.1266)
Cylinder Head Material
Cast iron
Engine Block Material
Cast iron
Compression Ratio
9.1:1
8.1 Vortec Firing Order
1-8-7-2-6-5-4-3
Cylinder Bore
4.25 in. (107.95 mm)
Cylinder Stroke
4.37 in. (110.99 mm)
Aspiration
Naturally aspirated
Fuel System
Sequential multi-port fuel injection
Valvetrain
2 valves per cylinder, OHV, typical cam-in-block pushrod engine
Fuel Requirements
Regular 87 octanes unleaded gasoline
Engine Oil Capacity
6.5 US quarts with oil filter
Max Engine Speed
5,000 RPM (truck, van, SUV applications; governed speed may vary in marine, motorhome, and medium-duty applications)
8.1 Vortec HP (Horsepower)
340 hp @ 4,200 rpm (2001 – 2003)
320 hp @ 4,200 rpm (2004 – 2006)
Peak Torque
455 lb-ft @ 3,200 rpm (2001 – 2003)
440 lb-ft @ 3,200 rpm (2004 – 2006)
The Vortec 8.1L engine requires 6.5 US Quarts of new SAE 5W-30 engine oil for an oil change with a new oil filter.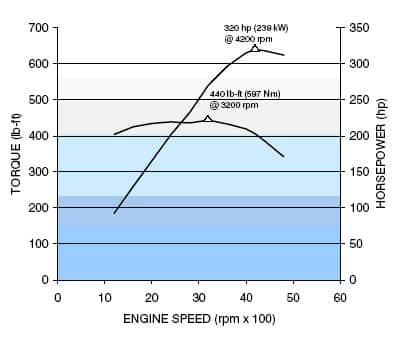 The 8.1L's output and torque could differ depending on its application, like in the case with all other motors built on various platforms. However, the maximum power of 340 hp was achieved at 4200 rpm with a 455 lb/ft peak at 3200 rpm.
The precise displacement slightly differed because of some alterations in the cylinder head and was between 8.095 and 8.128 liters (approximately 494 cu in).
The 8.1L inherited a bore of 4.25 inches from the 7.4L motor but obtained a more significant stroke of 4.37 inches (in comparison with 4 inches in the 7.4L).
Vortec 8100
When it breaks, GM's 8.1L is a stroked-out variant (4 inches vs 4.37 inches) of the company's 7.4L Vortec V8, which ceased for the sake of the 496 cu in version. Both 7.4L and 8.1L motors feature a bore of 4.25 inches. Moreover, 8.1L's undersquare styling enhances low-end torque and contributes to torque curve flattening. And these are astonishing specifications for heavy truck motors.
Aspiring to better fuel economy and lower emissions levels, GM ceased producing their 2500/3500HD series to give way to a more compact 6.0L motor. Though its maximum output of 360 hp is lower and it keeps 380 lb/ft maximum torque, the company releases a more productive 6.6L Duramax diesel for the cases when an enhanced towing ability is required.
Engine Applications
Chevy Silverado/Sierra 2500HD & 3500HD
Chevy Suburban/Yukon XL 2500
Chevy Express 2500 & 3500
Chevy Avalanche 2500
Chevy Kodiak
Workhorse Class A motorhomes
T-98 Kombat armored vehicles
Malibu Boats
MasterCraft Boats
Head and Block Design
Being built mainly of iron, this General Motor's engine featured a cast-iron block and cylinder head.
This V8 motor kept a classic camshaft in the block with pushrods and 1 inlet, and 1 exhaust valve per cylinder (16 in total). Moreover, it was equipped with the same electronic fuel injection system as the 7.4L.
The 8100 Vortec became the latest GM's big-block gas motor, being initially manufactured as a workhorse for people who needed such great power. However, its immense size contributed to high fuel consumption, which was the main reason for its replacement with a smaller and less voracious small block 6.0L motor.
Chevy 8.1 Vortec Tuning Opportunities
Though it was manufactured for heavy-duty work, Vortec 8100 could hardly boast of superb performance. Mainly, the parts employed for other big block motors aren't compatible with the 8.1L. So, it's not so easy to find the appropriate ones. The good news: one company sells very cool details for this motor.
Raylar Engineering is the only company dealing with the production of parts for Vortec 8100. They offer some cool stroker kits, enhancing a motor from 496ci to 511ci and, in some cases, even to 540ci.
Moreover, they are manufacturers of many other details, from camshafts to blowers. The brand's stage 3 package 540ci motor will increase the output to 685 hp with a 680 lb/ft torque. Please note that the original Vortec internal parts are pretty slim. That's why, if you install many new details, it's required to have a forged bottom end.
So, Raylar Engineering offers some great tuning opportunities for your motor, but not everyone needs it. For example, the 511 stroker kit will be too much for your motor if you tow their towing camshaft. Simultaneously, if you aspire to drive faster, a larger camshaft and a 540 stroker kit will assist you in gaining more power.
Chevy 8.1 Problems
Excessive oil consumption
Spark plug failure
A faulty crankshaft position sensor
Intake manifold gasket failure
Lifter tick
Excessive Oil Consumption
The 8.1 Vortec's oil usage, unlike those with AFM, is not too severe or difficult. While this isn't necessarily an "issue," I wanted to bring it to the attention of any potential buyers out there. The majority of 8.1 owners notice that they require 1 quart of oil every 2,500-5,000 miles, which isn't an uncommon occurrence. This isn't a problem that affects everyone; rather, it happens with the majority of these motors.
Spark Plug Failure
Although this is more of a regular maintenance item, I wanted to bring it to your attention since the spark plugs on these engines tend to go sooner than most. The 8.1L Vortec has been criticized for burning oil and leaving residue around, which causes the spark plugs to become clogged.
The spark plugs on the Chevrolet 8.1 must be replaced every approx. 25,000 miles. This may be more often if you have severe oil-burning problems.
A Faulty Crankshaft Position Sensor
The crankshaft position sensor on the Vortec 8.1 is known to fail or become faulty. This problem was most prevalent in 2003 and prior vehicles, after which GM resolved it.
A faulty sensor can produce a variety of problems, especially in terms of performance. When a sensor dies, it sends incorrect data to the ECU, which then adjusts the engine timing incorrectly. The result is significant power losses and other running difficulties, including no-starts.
Intake Manifold Gasket Failure
The intake manifold gasket, as the name implies, keeps the system airtight. The manifold distributes the air drawn in through the intake to each of the cylinders. When the gasket fails, air can leak out of the manifold before reaching the engine, resulting in an air leak or a vacuum leak. Air leaks reduce how much air is delivered to the engine for each amount of gasoline put into it.
Lifter Tick
On Vortec engines, lifters are known to make a "lifter tick" sound. Oil deposits, a faulty lifter, or even bent pushrods may all produce the ticking noise. Deposits are the most common cause of the ticking noise on the Vortec 8.1 and they are seldom an issue.
The majority of individuals who have lifter tick simply let it go and don't mind the racket. If you're disturbed by the sound, try using a can of Seafoam or Marvel Mystery Oil to repair it.
More 8100 engine problems – https://chevytrucks.org/8100-vortec-engine-problems/
Is The 8.1 Vortec a Good Engine?
In the case of Ford's 8.1 Vortec engine, "Workhorse" is a fitting title. Overall, these engines are exceptionally long-lasting and are designed to endure 250,000 miles or more. The Allison transmissions that most people use are known for being some of the most popular/favorite transmissions on the market.
While the oil-burning and spark plug issues are worth considering, they shouldn't dissuade you from purchasing a Chevrolet with a Vortec engine. These engines are powerful, reliable, and built to last. With proper maintenance, your Chevrolet will provide you with many years of happy driving!
Do you have any questions about the Chevrolet Vortec engine? Leave them in the comments below and I'll be sure to answer them! Thanks for reading!
Thanks for your feedback!
The information provided in this article is for general informational purposes only. The author and publisher make no representations or warranties of any kind, express or implied, regarding the accuracy, adequacy, validity, reliability, availability, or completeness of any information presented. The reader is advised to consult a qualified professional, such as a mechanic or dealership, before making any decisions related to their vehicle's engine oil or maintenance.