Disclosure: we may earn money or products from the companies mentioned in this post via affiliate links to products. This doesn't make any additional cost to you.
GM's 8.1L motor, referred as 8100 Vortec and first produced in 2001, was employed for Chevy Avalanche 2500, Silverado 2500HD and 3500HD plus their GMC Sierra doubles in 2001-2006. In 2007, smaller but more high-performance 6.0L V8 substituted it. Basically, GM created these motors for pickups to work steadily for a long time.
Being a gas motor, the 8.1L demonstrates imposingly flat torque curve, being powerful at 1200-1400 rpm and finally coming to naught below 400 lb/ft after 4000 rpm. That's a range of 2600 rpm of usable torque higher than 400 lb/ft, peaking at 440-455 lb/ft (depending on the year of production) at 3200 rpm. The power increases to 320-340 hp at 4200 rpm.
Along with Chevrolet and GMC vehicles, this motor was also utilized for Kodiak, vessels and motorhomes. Actually, this motor was produced till 2009 for diverse motorhomes and ships. The 8.1L features large bore and stroke with almost square bore-to-stroke proportion and redline of approximately 5000 rpm. The motor was offered only with a 4L85E 4-speed automatic transmission with no options for manual one.
Vortec 8100
When it breaks, GM's 8.1L is a stroked out variant (4 inches vs 4.37 inches) of company's 7.4L Vortec V8, the production of which was ceased for the sake of the 496 cu in version. Both 7.4L and 8.1L motors feature bore of 4.25 inches. Moreover, 8.1L's undersquare styling enhances low-end torque and contributes to torque curve flattening. And these are astonishing specifications for heavy truck motors.
Aspiring to better fuel economy and lower emissions level, GM ceased the production of their 2500/3500HD series to give way to more compact 6.0L motor. Though its maximum output of 360 hp is lower and it keeps 380 lb/ft maximum torque, the company releases more productive 6.6L Duramax diesel for the cases when an enhanced towing ability is required.
8.1 Vortec Specs
Engine name
General Motors Vortec 8100
Type
90° V-8
RPO Code
L18
Displacement
496 CID (495.95)
8.1 liters (8.1266)
Cylinder Head Material
Cast iron
Engine Block Material
Cast iron
Compression Ratio
9.1:1
Firing Order
1 – 8 – 7 – 2 – 6 – 5 – 4 – 3
Cylinder Bore Dia
4.250 in (107.95 mm)
Cylinder Stroke Len
4.370 in (110.99 mm)
Aspiration
Naturally aspirated
Fuel System
Sequential multi-port fuel injection
Valvetrain
2 valves per cylinder, OHV, typical cam-in-block pushrod engine
Fuel Requirements
Regular 87 octane unleaded gasoline
Oil Capacity
6.5 US quarts with oil filter
Max Engine Speed
5,000 RPM (truck, van, SUV applications; governed speed may vary in marine, motorhome, and medium-duty applications)
Peak Horsepower
330 – 340 hp @ 4,200 rpm (truck, van, SUV applications)
Peak Torque
440 – 455 lb-ft @ 3,200 rpm (truck, van, SUV applications)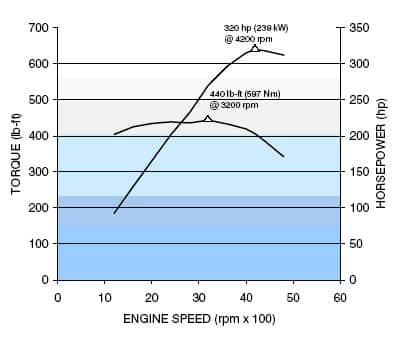 The 8.1L's output and torque could differ depending on its application like in the case with all other motors built on various platforms. The maximum power of 340 hp was achieved at 4200 rpm with the peak torque of 455 lb/ft at 3200 rpm.
The precise displacement slightly differed because of some alterations in the cylinder head and was between 8.095 and 8.128 liters (approximately 494 cu in).
The 8.1L inherited a bore of 4.25 inches from 7.4L motor, but obtained a bigger stroke of 4.37 inches (in comparison with 4 inches one in the 7.4L).
Engine Applications
Chevy Silverado/Sierra 2500HD & 3500HD
Chevy Suburban/Yukon XL 2500
Chevy Express 2500 & 3500
Chevy Avalanche 2500
Chevy Kodiak
Workhorse Class A motorhomes
T-98 Kombat armored vehicles
Malibu Boats
MasterCraft Boats
Head and Block Design
Being built mainly of iron, this General Motor's engine featured cast-iron block and cylinder head.
This V8 motor kept classic camshaft in the block with pushrods along with having 1 inlet and 1 exhaust valves per cylinder (16 in total). Moreover, it was equipped with the same electronic fuel injection system as the 7.4L.
The 8100 Vortec turned out to be the latest GM's big-block gas motor, being initially manufactured as a workhorse for people, who needed such great power. However, its big size contributed to high fuel consumption and that was the main reason for its replacement with a smaller and less voracious small block 6.0L motor.
Chevy 8.1 Vortec Tuning Opportunities
Though it was manufactured for heavy-duty work, Vortec 8100 could hardly boast of superb performance. Mainly, the parts employed for other big block motors aren't compatible with the 8.1L. So, it's not so easy to find the appropriate ones. The good news: one company sells very cool details for this motor.
Raylar Engineering is the only company, dealing with the production of parts for Vortec 8100. They offer some cool stroker kits, enhancing a motor from 496ci to 511ci and, in some cases, even to 540ci.
Moreover, they are manufacturers of many other details, from camshafts to blowers. The brand's stage 3 package 540ci motor will increase the output to 685 hp with a torque of 680 lb/ft. Please note that the original Vortec internal parts are pretty slim. That's why, if you install many new details, it's required to have a forged bottom end.
So, Raylar Engineering offers some great tuning opportunities for your motor, but not everyone needs it. The 511 stroker kit will be too much for your motor if you simply towing their towing camshaft. Simultaneously, if you aspire to drive faster, a larger camshaft and a 540 stroker kit will assist you in gaining more power.