4G63 Engine
14 September 2016
Writer
Views: 111
Mitsubishi 4G63 2.0 L engine
The most famous, popular and iconic representative of a Mitsubishi Sirius 4G6 series (in the family entered 4G63T, 4G61, 4G62, 4G64, 4G67, 4G69, 4D65 and 4D68) appeared in 1981 and replaced the past inline four-cylinder engine 4G52. It is based on a cast-iron cylinder block with two balancing shafts, covered with a simple single-shaft cylinder head with valves 8, which was later replaced by a more modern 16 valve SOHC with the same configuration, and has been applied and the 16 valve DOHC since 1987. These heads were equipped with hydraulic lifter and valves do not require adjustment. The diameter of the inlet valves 33 mm, 29 mm outlet.
Drive timing belt, the average life of the belt is about 90 thousand. Km.
In parallel with the atmospheric engine, since the 1988, company produced a turbocharged engine and the most famous Mitsubishi engine – 4G63T, namely turbo version in the majority of enthusiasts associated with the name of 4G63.
Issue of the two-liter Sirius continues to this day by third-party manufacturers by the Mitsubishi license. The company itself as the Japanese company has replaced the engine for the next generation of 2 liters – 4B11 engine.
4G63 Specs
Manufacturer
Shenyang Aerospace Mitsubishi Motors Engine Manufacturing Co Ltd
Mizushima Plant
Production
1981-nowadays
Construction
Aluminium Head
Type
In-line OHV, SOHC
Cam Timing
MIVEC intake
Number of cylinders
4
Combustion chamber
Pentroof type
Total displacement dm3
1,997
Cylinder bore mm
85.0
Piston stroke mm
88.0
Compression ratio
10
Valve timing
Intake valve:

Opens (BTDC) – 18
Closes (ABDC) – 58

Exhaust valve:

Opens (BBDC) – 58

Closes (ATDC) – 18

Power output h.p at rpm
109/5500
133/6000
135/5750
137/6000
144/6500
Lubrication system
Pressure feed, full-flow filtration
Oil pump type
Involute gear type
Auto-tensioner rod projection length mm
12
Camshaft journal outer diameter mm
45
Valve face angle mm
45 degree – 45.5 degree
Valve seat valve contact width mm
0.9 – 1.3
Piston outer diameter mm
85.0
Oil consumption , L/1000 km
(qt. per miles)
up to 1.0
(1 qt. per 750 miles)
Recommended engine oil
0W-40
5W-30
5W-40
5W-50
10W-30
10W-40
10W-50
10W-60
15W-50
Engine oil capacity, L
4.0
Oil change interval, km (miles)
7,000-10,000
(4,500-6,000)
Engine lifespan, km (miles)
-Official information
-Real

–

400,000+ (245,000+)

Tuning, HP
-Max HP
-No life span loss
200+
–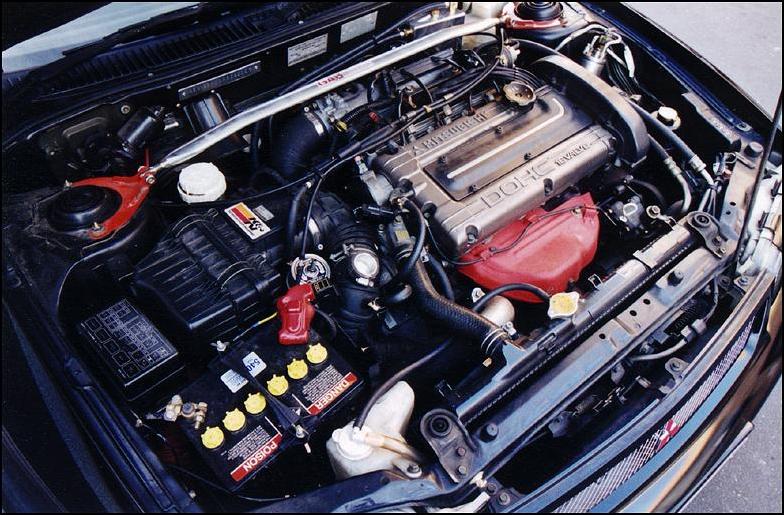 The engine is installed in
Mitsubishi Eclipse
Mitsubishi Galant
Mitsubishi L200/Triton
Mitsubishi Lancer
Mitsubishi Outlander
Mitsubishi Space Runner/RVR
Hyundai Elantra
Hyundai Sonata
Kia Optima
Mitsubishi Chariot/Space Wagon
Mitsubishi Cordia
Mitsubishi Delica
Mitsubishi Dion
Mitsubishi Fuso Canter
Mitsubishi Starion
Mitsubishi Tredia
Brilliance BS6
Dodge Colt Vista/Eagle Vista Wagon
Dodge Ram 50
Eagle Talon/Plymouth Laser
Hyundai Stellar
Proton Perdana
4G63 engine modifications and generations
4G631 – version with one camshaft and 16 valves (SOHC 16V), the compression ratio of 10, with a capacity of 133 hp at 6000 rev / min, 176 Nm of torque at 4750 rev / min. It fits on Mitsubishi Galant E33, Chariot / Space Wagon and others.
4G632 – SOHC 16V, a compression ratio of 10, with a capacity of 137 hp at 6000 rev / min, 176 Nm of torque at 4750 rev / min. It fits on Mitsubishi Galant E55 and others.
4G633 – 8 valve version SOHC 8V, 9 compression ratio, capacity of 109 hp at 5500 rev / min, 159 Nm of torque at 4500 rev / min. It fits on Mitsubishi Galant E33, Chariot / Space Wagon and others.
4G635 – twin-shaft variation DOHC 16V, 9.8 compression ratio, with a capacity of 144 hp at 6500 rev / min, 170 Nm of torque at 5000 rev / min. It fits on Mitsubishi Galant E33, Eclipse and others.
4G636 – SOHC 16V, a compression ratio of 10, with a capacity of 133 hp at 6000 rev / min, 176 Nm of torque at 4750 rev / min. Fits on Mitsubishi Galant E33 / EA2A, Chariot / Space Wagon, RVR / Space Runner and others.
4G637 – DOHC 16V, the compression ratio of 10.5, with a capacity of 135 hp at 5750 rev / min, 176 Nm of torque at 4500 rev / min. Sets at 9 Mitsubishi Lancer, Outlander, and others.
Buy Rev9Power Rev9_MF-029 Turbo Manifold on Amazon
4G63 Engine problems and malfunctions
The problem of balancing shafts c. At defective supply of lubricant on bearings of shaft, the risk of their chock and break of a belt of balancer shafts sharply increases that leads to a break of the timing belt with all its consequences. Solution: buy only high-quality oil, monitor the condition of the belts regularly and change it. Another option is to remove the balancer shafts.
Engine Vibration. The most common problem here is the wear of engine mountings (left-most). Check and replace.
Turns of XX float. The main reasons: the injector, a temperature sensor, a dirty throttle control and idle. Check, wash and everything will work as it should.
In addition, hydraulic lifter die quickly from low-quality oil lifters, replace it every 50 thousand. Km. In general, timely service and good quality motor oil will provide trouble-free operation for a long time. Under these conditions, the average life of 4G63 is 300-400 and more thousand. Km. However, the turbo version is buying not for a peaceful movement, the motor is easy to tune, has a distinct sporty character and the owners take advantage of this, so that the resource is significantly reduced.
4G63 Turbo
4G63 engine turbo on Mitsubishi Lancer Evo IX:
Type – TD05HRA-16G6C-10.5T
Compressor inlet – 41.00 mm
Compressor inducer – 48.30 mm
Compressor exducer – 68.00 mm
Turbine wheel – 56.00 mm
4G63 Tuning and swap
The easiest and the most affordable way to increase the atmospheric 4G63 power is to put shafts. Our choice falls on camshafts with phase 264/264, we add the cold inlet, Exhaust as 4-2-1, and firmware. This allows the motor to increase its capacity on 15-20 hp.
For turbo tuning of the 4G63 you need to buy a connecting rod and piston group, liners, pan, head, head gasket, turbine, intercooler, intake manifold, rail, injectors, fuel pump, exhaust, ECU, engine mounts, everything from the Evolution, welded an exhaust manifold, assemble and set up, and eventually you obtain power as in EVO.
Alternatively, you can just buy the engine Mitsubishi RVR Turbo, with TD04 and swap it. But you must know that Evo engine won't be established easely, – need improvement.
4G63 intake manifold and 4G63 exhaust manifold instruction you can find at 4g63 guide
Swap 4G63 Mitsubishi Powered Mustang
4G63 Datsun 1200 – Jett Racing
Building a 4G63T Engine in 10 minutes
2g 7-bolt 4g63 Engine Removal & Disassembly
IVLEGAL DSM Frankenstein 6-bolt 4G63 Goes Fully Built