Engine oil is a vital component that significantly affects your vehicle's performance and longevity. Driving with insufficient or deteriorated oil can lead to engine failure or damage. Using an energy-conserving oil that meets the American Petroleum Institute's latest requirements is crucial for maintaining your engine's health.
The 2021 Honda Civic is a popular compact car known for its fuel efficiency, performance, and reliability. Choosing the right engine oil and performing regular maintenance is essential for keeping your Civic in top condition.
In this article, we will discuss the recommended oil type, oil capacity, and the best oil and oil filter brands for the 2021 Honda Civic, as well as the importance of selecting an oil with suitable viscosity for the ambient temperature.
Recommended Oil Type for 2021 Honda Civic
According to the owner's manual, the 2021 Honda Civic requires:
Honda Genuine Motor Oil 0W-20
API Premium-grade 0W-20 detergent oil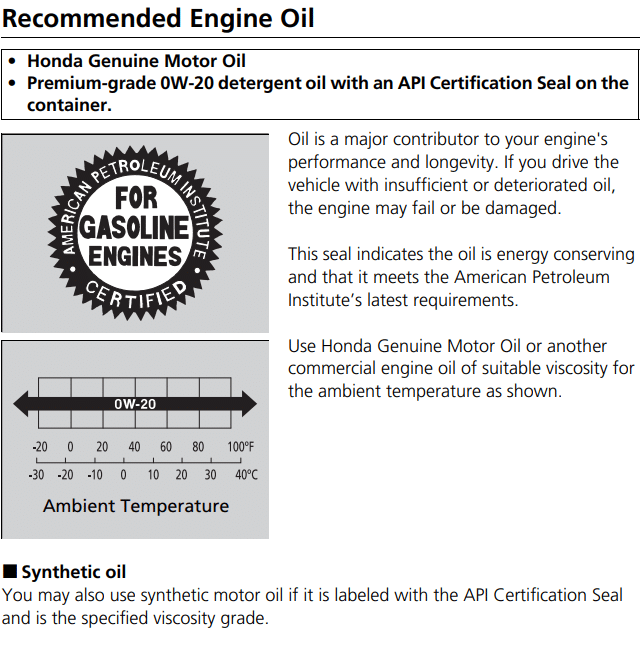 These oil types are recommended for both the 1.5L turbo and the 2.0L engine models.
Best Motor Oil for 2021 Honda Civic
Several reputable motor oil brands are compatible with the 2021 Honda Civic. Here are a few top options:
Sale
Mobil 1 Advanced Fuel Economy Full Synthetic Motor Oil 0W-20, 5 Quart
Mobil 1 Advanced Fuel Economy full-synthetic motor oil 0W-20 is low-viscosity to help improve fuel economy.*
Utilizes Mobil 1's signature Triple Action Formula to deliver outstanding engine performance, protection, and cleanliness
Helps protect critical engine parts for up to 10,000 miles between oil changesm,** controlling oxidation to prevent oil breakdown and maintaining excellent viscosity
Meets ILSAC GF-6 standards to help provide low-speed pre-ignition (LSPI) and timing chain wear protection while keeping your engine clean
Castrol Edge 0W-20 Advanced Full Synthetic Motor Oil, 5 Quarts
3X stronger against viscosity breakdown than leading full synthetic, based on Kurt Orbahn test in 5W-30 grade
10X better high temperature performance, as measured in Sequence IIIH engine test vs. API SP test limit
6X better wear protection, Protection for 10,000 miles between oil changes
1.4X better sludge protection, as measured in Sequence VH engine test vs. API SP test limit
Sale
Valvoline Extended Protection 0W-20 Full Synthetic Motor Oil 5 Quart
ULTIMATE PROTECTION AGAINST the four main causes of engine breakdown: wear, friction, heat and deposits
10X STRONGER AGAINST OIL BREAKDOWN vs. industry standards as tested in the Sequence IIIH
50% BETTER WEAR PROTECTION than industry standards as tested in the Sequence X engine test
SUPERIOR CLEANING AND PERFORMANCE with Dual Defense Additive Technology to keep your engine running like new
Pennzoil Platinum Full Synthetic 0W-20 Motor Oil (5-Quart, Case of 3)
Full synthetic 0W-20 engine oil made from made from natural gas, not crude, using Pennzoil's patented gas-to-liquid PurePlus Technology
Pennzoil 0W-20 is a carbon neutral motor oil, achieved through verified Nature Based Carbon Credits that offset the CO2 lifecycle emissions
Provides better fuel economy—drive on average an extra 550 miles per year (versus a dirty engine)
Pennzoil Platinum 0W-20 keeps pistons up to 45% cleaner than the toughest industry standard (based on Sequence IIIH results)
Best Engine Oil Filter for 2021 Honda Civic
Choosing a high-quality oil filter is crucial for maintaining your Civic's engine health. Some of the best oil filters for the 2021 Honda Civic include:
FRAM Ultra Synthetic Automotive Replacement Oil Filter, Designed for Synthetic Oil Changes Lasting up to 20k Miles, XG7317 with SureGrip (Pack of 1)
EASY INSTALLATION: Engine oil filter comes with Suregrip non-slip surface making it easy to remove and implement your filter without slippery mess ups. Perfect for the DIYer like yourself, just screw new filter on until gasket reaches base contact and tighten.
DURABLE DUAL LAYER: Compare to standard oil filters, FRAM Ultra Synthetic provides 99%+ filtration efficiency with pleated media that entraps all kinds of dirt and exhaust for a cleaner output.
SUPERIOR ENGINE PROTECTION: FRAM car oil filter is composed of a slick silicone anti-drainback valve, delivering superior start-up engine protection with up to 3X the hot oil resistance. Keep your filter clean without the dangerous mess.
HIGH TEMP RESISTENCE: Filter combats high heat pressure for longer shelf life with advanced high nitrile gasket for extended durability and quality.
Sale
Sale
Oil Capacity of a 2021 Honda Civic
The oil capacity for the 2021 Honda Civic varies depending on the engine model:
1.5L engine models (including 1.5 Turbo): Oil change with filter requires 3.7 US qt (3.5 L)
2.0L engine models: Oil change with filter requires 4.4 US qt (4.2 L)
The 2021 Honda Civic requires 0W-20 engine oil for optimal performance and fuel efficiency. The oil capacity depends on the engine model, with the 1.5L (including 1.5 Turbo) needing 3.7 US qt (3.5 L) and the 2.0L requiring 4.4 US qt (4.2 L). When selecting the best motor oil and oil filter for your Civic, consider reputable brands like Honda Genuine, Mobil 1, Castrol, Valvoline, Pennzoil, Bosch, FRAM, and K&N.
Thanks for your feedback!
The information provided in this article is for general informational purposes only. The author and publisher make no representations or warranties of any kind, express or implied, regarding the accuracy, adequacy, validity, reliability, availability, or completeness of any information presented. The reader is advised to consult a qualified professional, such as a mechanic or dealership, before making any decisions related to their vehicle's engine oil or maintenance.
Last update on 2023-06-09 / Affiliate links / Images from Amazon Product Advertising API