Choosing the right engine oil is essential for maintaining the performance and longevity of your vehicle. The recommended oil for 2007 Honda Fit owners is 5W-20 Genuine Honda Motor Oil, while 2011 and newer models should use 0W-20 Genuine Honda Motor Oil. These oil codes might seem like a jumble of letters and numbers, but they serve a vital purpose in indicating the oil's properties.
What Type Of Oil Does a 2007 Honda Fit Take?
The 2007 Honda Fit requires 5W-20 engine oil, which provides year-round protection, improved cold weather starting, and better fuel economy. Honda Motor Oil is the preferred choice for optimum engine protection. Ensure the oil you use has the API Certification Seal for gasoline engines.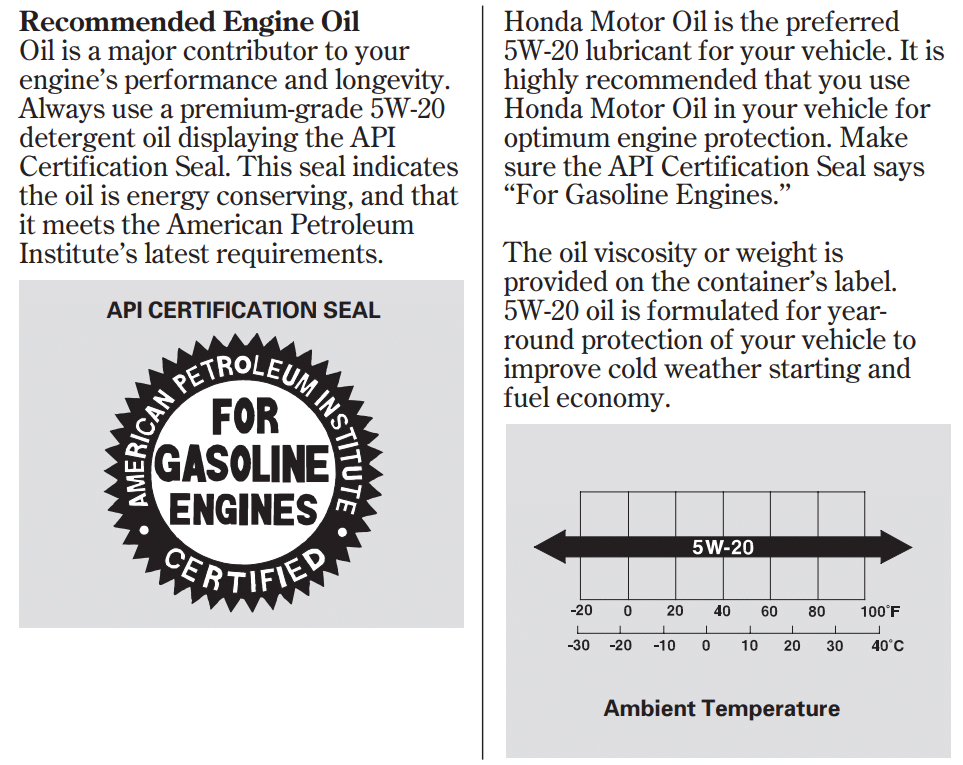 Best Motor Oil For 2007 Honda Fit
The best motor oil for your 2007 Honda Fit is Honda Motor Oil 5W-20, as it is specifically designed for Honda vehicles. However, you can also use other premium-grade 5W-20 oils that carry the API Certification Seal for gasoline engines. Some popular options include:
Sale
Valvoline Full Synthetic High Mileage 5W-20 Motor Oil 5 Quart
ENHANCED MAXLIFE TECHNOLOGY PREVENTS engine breakdown in extreme conditions with 50% better wear protection than the industry standard
TREAT AND PREVENT LEAKS with premium seal conditioners to keep oil out of places it shouldn't be
25% EXTRA DEFENSE AGAINST DEPOSITS, sludge, corrosion and rust via interior-cleansing detergents
EXTREME TEMPERATURE PROTECTION through our high-quality base oils and superior viscosity modifiers
Sale
Valvoline High Mileage with MaxLife Technology 5W-20 Synthetic Blend Motor Oil 5 Quart
MAXLIFE TECHNOLOGY PREVENTS engine breakdown with 40% better wear protection than the industry standard
REFRESH AGING SEALS AND PREVENT LEAKS with seal conditioners
REDUCE SLUDGE, DEPOSITS, CORROSION, AND RUST with added detergents – keep motors clean inside
ENHANCED FRICTION PERFORMANCE HELPS MAXIMIZE POWER with advanced friction-fighting agents
Valvoline Extended Protection 5W-20 Full Synthetic Motor Oil 5 Quart
ULTIMATE PROTECTION AGAINST the four main causes of engine breakdown: wear, friction, heat and deposits
10X STRONGER AGAINST OIL BREAKDOWN vs. industry standards as tested in the Sequence IIIH
50% BETTER WEAR PROTECTION than industry standards as tested in the Sequence X engine test
SUPERIOR CLEANING AND PERFORMANCE with Dual Defense Additive Technology to keep your engine running like new
TRUEGARD 5W-20 Motor Oil, 55 Gallons Drum
Provides fine performance for modern gasoline-powered cars, light trucks and vans
Controls sludge and engine deposits
Anti-wear additive reduces wear and extends life
Suitable for use where API SN is recommended for engine oils
Mobil Full Synthetic Motor Oil 5W-20, 5 Quart
Mobil Full Synthetic 5W-20 motor oil is formulated for vehicles upgrading from conventional oil or synthetic blend, or requiring full synthetic motor oil
Provides guaranteed protection that's 1.5X longer than our conventional and synthetic blend oils, up to 7,500 miles between oil changes*
Helps to prevent sludge and deposit formation, to help reduce engine wear, and has balanced additive system formulation
Provides excellent resistance to oil breakdown, for proven long-lasting protection, and maintains oil viscosity at high operating temperatures
Synthetic motor oils are acceptable if they meet the abovementioned requirements and display the API Certification Seal.
Best Engine Oil Filter For 2007 Honda Fit
Selecting the right oil filter is crucial for maintaining your vehicle's performance and engine life. The best oil filters for the 2007 Honda Fit include:
FRAM Ultra Synthetic Automotive Replacement Oil Filter, Designed for Synthetic Oil Changes Lasting up to 20k Miles, XG7317 with SureGrip (Pack of 1)
EASY INSTALLATION: Engine oil filter comes with Suregrip non-slip surface making it easy to remove and implement your filter without slippery mess ups. Perfect for the DIYer like yourself, just screw new filter on until gasket reaches base contact and tighten.
DURABLE DUAL LAYER: Compare to standard oil filters, FRAM Ultra Synthetic provides 99%+ filtration efficiency with pleated media that entraps all kinds of dirt and exhaust for a cleaner output.
SUPERIOR ENGINE PROTECTION: FRAM car oil filter is composed of a slick silicone anti-drainback valve, delivering superior start-up engine protection with up to 3X the hot oil resistance. Keep your filter clean without the dangerous mess.
HIGH TEMP RESISTENCE: Filter combats high heat pressure for longer shelf life with advanced high nitrile gasket for extended durability and quality.
Sale
Remember to change your oil filter according to the maintenance messages displayed on your vehicle's information display. It is essential to use an appropriate filter to ensure contaminants are efficiently removed from the engine oil.
2007 Honda Fit Oil Capacity
When performing an oil change, knowing your vehicle's oil capacity is crucial to ensure optimal engine performance and avoid overfilling or underfilling the engine. For the 2007 Honda Fit oil capacity is as follows:
With a filter change: 3.8 quarts (3.6 liters)
Without a filter change: 3.6 quarts (3.4 liters)
It's always recommended to change the oil filter whenever you change the engine oil. This helps maintain the engine's overall cleanliness and performance by efficiently removing contaminants from the oil. When adding the new oil, it's a good idea to add slightly less than the specified capacity and then check the oil level using the dipstick. This will allow you to fine-tune the oil quantity, ensuring the engine has the proper amount without overfilling. Remember always to use the recommended 5W-20 engine oil for your 2007 Honda Fit to ensure optimal performance, protection, and fuel economy.
Conclusion
In conclusion, using the right oil type and oil filter is crucial for the performance and longevity of your 2007 Honda Fit. Always follow the manufacturer's recommendations and stick to 5W-20 engine oil and high-quality oil filters for the best results.
Thanks for your feedback!
The information provided in this article is for general informational purposes only. The author and publisher make no representations or warranties of any kind, express or implied, regarding the accuracy, adequacy, validity, reliability, availability, or completeness of any information presented. The reader is advised to consult a qualified professional, such as a mechanic or dealership, before making any decisions related to their vehicle's engine oil or maintenance.
Last update on 2023-06-09 / Affiliate links / Images from Amazon Product Advertising API