The Mazda RX-8 stands as a testament to Mazda's pursuit of engineering prowess and a passion for driving. Launched in the early 2000s, the RX-8 captured the hearts of car enthusiasts around the globe. It wasn't just any sports car; it was the spiritual successor to the legendary RX-7 and carried forward the legacy of the Wankel rotary engine.
Key Takeaways:
Rotary Legacy: The Mazda RX-8 is celebrated for its unique Wankel rotary engine, which while offering unique performance characteristics, also comes with specific maintenance needs.
Special Oil Needs: The RX-8's rotary engine has distinct lubrication requirements, making the choice of engine oil crucial for its longevity and performance.
Oil Types: It's essential to understand viscosity grades and types of engine oils. For the RX-8, high-quality 5W-20 engine oils, preferably fully synthetic or semi-synthetic, are often recommended.
Oil Capacity: Familiarizing oneself with the precise oil capacity for the RX-8's different generations ensures that the engine is neither under-lubricated nor overfilled. Generally, it is needed between 3.7 and 4.6 quarts (depending on the generations).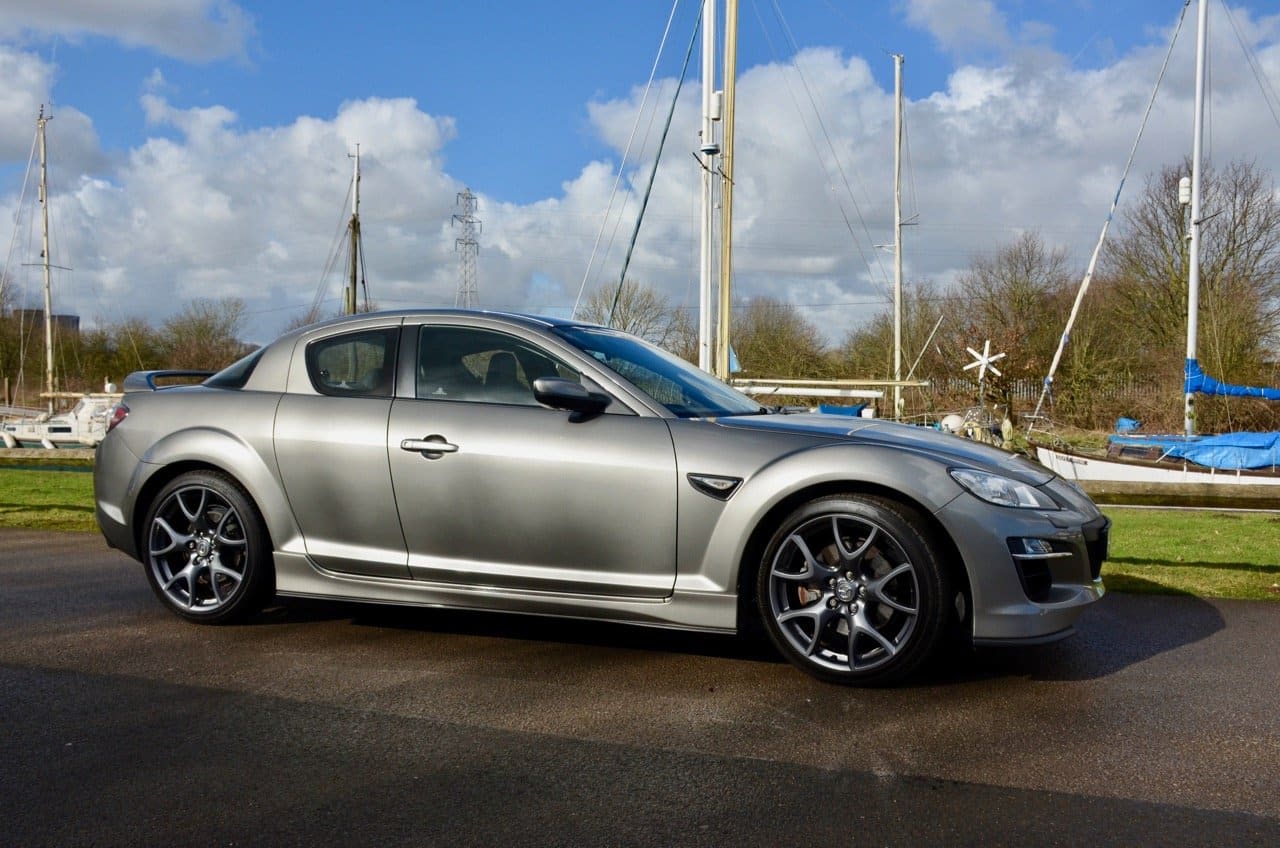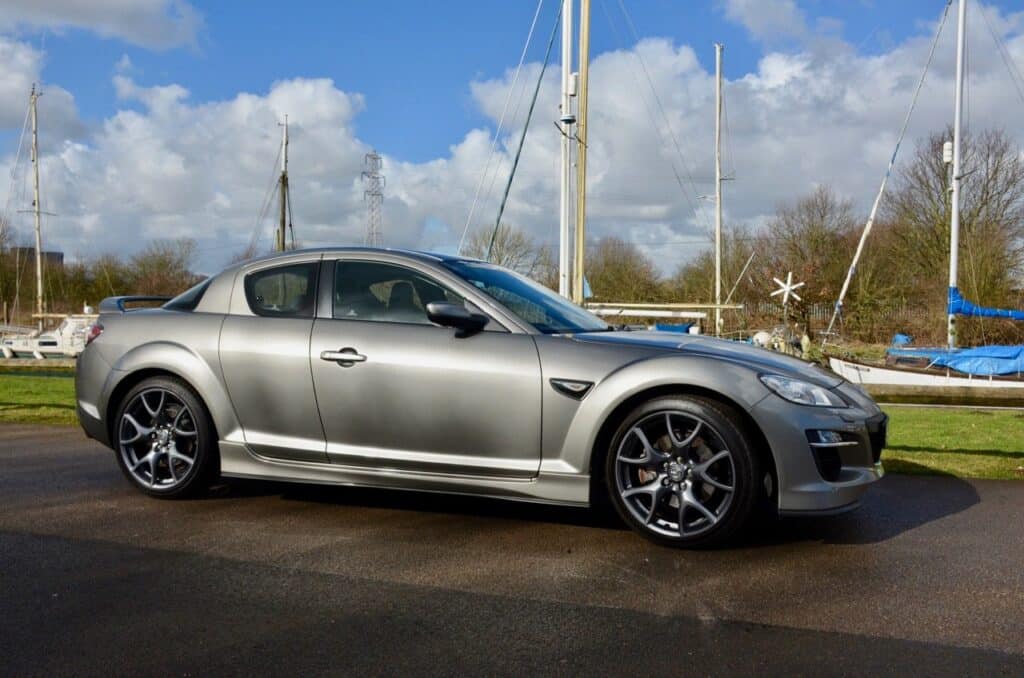 ---
This unique engine set-up, characterized by its spinning triangle rotor, was both the RX-8's claim to fame and its challenge. A stark departure from traditional piston engines, the rotary engine delivered smooth acceleration and a distinctive sound that became synonymous with Mazda's racing heritage.
For any vehicle, engine oil plays a pivotal role as the lifeblood that lubricates and protects internal components from wear and tear. However, for the RX-8 and its rotary engine, the choice and maintenance of engine oil become even more critical.
The rotary design, while innovative, is more susceptible to specific issues like apex seal wear if not adequately lubricated. Ensuring that the right type and amount of oil is used becomes paramount to prolonging the engine's lifespan and maintaining its performance.
In essence, the engine oil does more than just lubricate; it acts as a guardian for the RX-8's rotary engine, ensuring that the car continues to perform at its peak, delivering exhilarating drives time and again.
1st Gen Mazda RX-8 Engine Oil Capacity
The Mazda RX-8 holds between 4.6 and 3.7 quarts of oil, depending on the model year. For the RX-8, Mazda recommends using SAE 5W-20 grade oil. Using synthetic oil is beneficial for its high-temperature stability and resistance to oxidation, both crucial for rotary engines' health.
2011 Mazda RX-8 Engine Oil Capacity
| | |
| --- | --- |
| Engine | 1.3L Rotary |
| Oil Capacity (with filter change) | 4.4 L (4.6 US qt, 3.9 Imp qt) |
| Oil type | 5W-20 |
| Drain plug torque | 22-29 ft/lbs |
2010 Mazda RX-8 Engine Oil Capacity
| | |
| --- | --- |
| Engine | 1.3L Rotary |
| Oil Capacity (with filter change) | 4.4 L (4.6 US qt, 3.9 Imp qt) |
| Oil type | 5W-20 |
| Drain plug torque | 22-29 ft/lbs |
2009 Mazda RX-8 Engine Oil Capacity
| | |
| --- | --- |
| Engine | 1.3L Rotary |
| Oil Capacity (with filter change) | 4.4 L (4.6 US qt, 3.9 Imp qt) |
| Oil type | 5W-20 |
| Drain plug torque | 22-29 ft/lbs |
2008 Mazda RX-8 Engine Oil Capacity
The 2008 Mazda RX-8 requires 3.7 quarts (3.5 liters) of 5W-20 oil with a filter change.
| | |
| --- | --- |
| Engine | 1.3L Rotary |
| Oil Capacity (with filter change) | 3.7 qt (3.5 l) |
| Oil type | 5W-20 |
| Drain plug torque | 22-29 ft/lbs |
2007 Mazda RX-8 Engine Oil Capacity
| | |
| --- | --- |
| Engine | 1.3L Rotary |
| Oil Capacity (with filter change) | 3.7 qt (3.5 l) |
| Oil type | 5W-20 |
| Drain plug torque | 22-29 ft/lbs |
2006 Mazda RX-8 Engine Oil Capacity
| | |
| --- | --- |
| Engine | 1.3L Rotary |
| Oil Capacity (with filter change) | 3.7 qt (3.5 l) |
| Oil type | 5W-20 |
| Drain plug torque | 22-29 ft/lbs |
2005 Mazda RX-8 Engine Oil Capacity
| | |
| --- | --- |
| Engine | 1.3L Rotary |
| Oil Capacity (with filter change) | 3.7 qt (3.5 l) |
| Oil type | 5W-20 |
| Drain plug torque | 22-29 ft/lbs |
2004 Mazda RX-8 Engine Oil Capacity
| | |
| --- | --- |
| Engine | 1.3L Rotary |
| Oil Capacity (with filter change) | 3.7 qt (3.5 l) |
| Oil type | 5W-20 |
| Drain plug torque | 22-29 ft/lbs |
Recommended Oil Types for the Mazda RX-8
The Mazda RX-8, with its rotary engine, demands a higher quality of engine oil to ensure its unique mechanics remain lubricated and perform at their best. For the RX-8:
Viscosity: Mazda recommends a 5W-20 oil for the RX-8. This multi-grade oil provides adequate flow at low temperatures, ensuring the engine gets lubricated quickly during cold starts. At operating temperatures, it remains thick enough to provide optimal lubrication.
Type: A high-quality synthetic oil is often recommended for the RX-8 due to its performance benefits. Synthetic oils offer better protection at high temperatures, superior low-temperature flow, and better engine protection overall.
Always refer to the owner's manual or consult with a Mazda specialist for the best oil recommendations tailored to specific driving conditions and climates.
When to Replace Engine Oil
Mazda recommends changing the oil every 3000 miles (5000 kilometers).
When it comes to the Mazda RX-8, Engine Oil Capacity is important because this sports car requires more oil than your average vehicle. In addition, the type of oil you use is also important as the wrong type of oil can cause damage to your engine.
Mazda RX-8 owners must be diligent about oil changes, more so than most other car owners, because of the unique rotary engine design.
Regular Driving Conditions: For average driving conditions, Mazda typically recommends changing the engine oil and oil filter every 3,000 miles (5,000 kilometers) or every 6 months, whichever comes first.
Severe Driving Conditions: If the vehicle frequently experiences stop-and-go traffic, short trips, driving in dusty or sandy conditions, or extensive idling, then it's operating under severe conditions. In such cases, the engine oil and filter should be changed every 2,000 miles or every 3 months, whichever comes first.
However, given the rotary engine's unique consumption properties, it's vital to check the engine oil level at every fuel fill-up and top it off if necessary.
Signs Indicating Oil Replacement or Top-up
1. Oil Level Indicator: If the oil level drops below the "Low" or "Add" mark on the dipstick, it's time to add more oil. Given the RX-8's rotary engine design, owners might need to add oil more frequently than other vehicles.
2. Dark and Dirty Oil: Fresh oil has a transparent amber color, but over time it will darken. If the oil is very dark and has visible particles, it needs to be changed.
3. Increased Engine Noise: If the engine starts to sound louder or you hear knocking or rumbling noises, it might be an indication that the oil needs changing or that the engine isn't adequately lubricated.
4. Oil Change Light or Engine Light: Modern vehicles, including the RX-8, have sensors and onboard diagnostics. If the oil change light illuminates, it's a clear sign to replace the oil. If the engine light turns on, it could be due to multiple reasons, including oil-related issues.
5. Oil Smell Inside the Car: A strong oil odor inside the cabin can indicate a leak. If this smell is accompanied by the scent of gas or exhaust fumes, the vehicle should be checked immediately.
6. Excessive Mileage: If you can't remember the last time you had an oil change and you've driven significant miles since, it's a good idea to replace it.
Considering the Mazda RX-8's rotary engine, regular oil checks and changes are crucial. It not only keeps the engine running smoothly but also extends its lifespan.
The Rotary Engine and Its Special Needs
The heart of the Mazda RX-8, the Wankel rotary engine, stands apart from the sea of traditional internal combustion engines. Instead of the usual pistons moving up and down inside cylinders, the rotary engine employs a triangular rotor that revolves inside an oval-like epitrochoid chamber.
As this rotor spins, it creates three separate combustion chambers, with each face of the rotor responsible for one part of the combustion cycle – intake, compression, combustion, and exhaust.
While this design offers some key advantages, such as fewer moving parts and a smoother delivery of power, it also presents unique challenges. The absence of valve timings and the engine's nature means that some unburned fuel can often find its way into the exhaust, leading to higher emissions.
The rotating design also causes the engine's side seals and apex seals to undergo continual stress, and their integrity is vital for the engine to operate efficiently.
Why Engine Oil Choice Matters for Rotary Engines
For the Wankel rotary engine, lubrication is not a mere routine; it's an essential procedure that ensures the longevity and performance of the motor. Given the rotary engine's design, specific points of friction – like the apex seals – are more susceptible to wear. Proper lubrication reduces this wear, preventing premature engine damage.
The uniqueness of the rotary engine also demands certain oil properties that might not be as critical for conventional engines. For instance, a higher flash point can help reduce the risk of pre-ignition due to the engine's design. Additionally, the oil needs to provide enhanced seal lubrication, as the seals are integral to the engine's performance.
Choosing the right engine oil for the RX-8 is, therefore, not just about meeting standards; it's about ensuring that the oil can cater to the specific needs of the rotary engine, providing protection, reducing wear, and enhancing overall engine life.
Proper engine oil maintenance becomes an act of preserving the distinct legacy of the RX-8 and ensuring that the rotary engine continues to deliver its unmatched performance.
Cost of Changing Engine Oil
When it comes to changing the engine oil for the Mazda RX-8, the cost can vary based on location, the type of oil used, and whether the service is performed at a dealership or an independent mechanic.
Dealership: Having the oil changed at an authorized Mazda dealership ensures that the technicians are well-versed with the RX-8's rotary engine and will use oil that meets Mazda's specifications. The cost at a dealership typically ranges from $70 to $130. The higher end of this range usually involves fully synthetic oil, which is often recommended for the RX-8.
Independent Mechanic: Costs at independent garages can be slightly lower, with prices ranging from $50 to $100. However, it's essential to ensure that the mechanic has experience with rotary engines and uses the correct type and quality of oil.
Factors Affecting Oil Change Costs
Type of Oil: The RX-8 benefits from high-quality engine oil, especially given its rotary engine design. Synthetic oils, which are superior in quality and longevity, are more expensive than conventional oils. There's also a semi-synthetic option, which is priced in between.
Oil Filter: Changing the engine oil usually comes with changing the oil filter. Some filters are pricier than others due to brand reputation and build quality.
Location: Labor rates vary depending on the region or city. Urban areas with higher living costs typically have higher service prices.
Additional Services: Some garages offer package deals that include tire rotation, brake checks, or fluid top-ups in addition to the oil change. While these packages can offer value, they also increase the overall price.
Rotary Engine Familiarity: Mechanics familiar with the RX-8's Wankel rotary engine might charge a premium due to their specialized knowledge.
Coupons and Promotions: Dealerships and auto service centers often have promotions or coupons, especially for regular maintenance tasks like oil changes. It's worth keeping an eye out for these discounts.
How Much Oil Does a Mazda RX-8 Take?
The Mazda RX-8 has a total Engine Oil Capacity of just over five quarts. This includes both the engine oil and the oil in the rotary chamber. The recommended oil type for the Mazda RX-8 is synthetic motor oil with a viscosity of 5W-20. These oils will provide the best protection for your engine and will help it to run more efficiently.
The information provided in this article is intended for informational and educational purposes only and should not be construed as professional mechanical advice. While the author has made every effort to ensure the accuracy and completeness of the information contained in this article, we make no warranties or representations as to the accuracy, completeness, reliability, or suitability of the information provided.
Any action you take upon the information provided in this article is strictly at your own risk, and we will not be liable for any losses, damages, or injuries incurred as a result of or in connection with the use of this information. It is strongly advised that you consult with a certified BMW mechanic or service center before attempting any maintenance or repair work.