The 2022 Kia Seltos is a popular compact SUV with a perfect blend of style, comfort, and performance. To keep your Seltos running smoothly, following the manufacturer's recommendations for engine oil types is essential. In this article, we will explore the appropriate oil types for both the 1.6 T-GDi and 2.0 MPI engines and the importance of using the recommended oil to maintain optimal engine performance.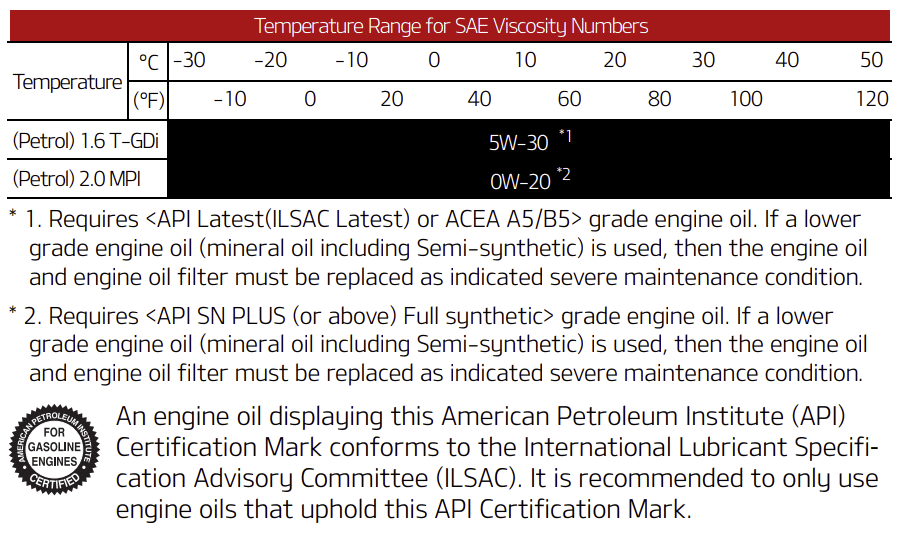 Kia Seltos 1.6 T-GDi Engine Oil Type
The 2022 Kia Seltos with a 1.6 T-GDi engine requires 5W-30 API Latest (ILSAC Latest) or ACEA A5/B5 grade engine oil. These oils are designed to provide optimal protection and performance for this particular engine type. Using the right oil will help to ensure that your engine runs smoothly, reduces wear, and maintains fuel efficiency.
Kia Seltos 2.0 MPI Engine Oil Type
For the 2022 Kia Seltos with a 2.0 MPI engine, the manufacturer recommends using 0W-20 API SN PLUS (or above) Full synthetic grade engine oil. This oil type is formulated to provide excellent protection against engine wear and to ensure proper performance under various driving conditions. Using the appropriate oil will help to maintain the engine's efficiency and longevity.
The Best Motor Oil For Kia Seltos
Liqui Moly 20238 Top Tec 6200 0W-20 Fully Synthetic Motor Oil – 5 Liter, 1 pack
For best performance, follow the manufacturer's recommendations in your vehicle owner's manual.
Developed for the high requirements of Audi, Porsche and VW.
The lower viscosity ensures excellent cold-start behavior, improves engine efficiency and reduces consumption.
The innovative additive technology ensures excellent protection against wear, impressive engine cleanness and greater oxidation stability.
Valvoline European Vehicle Full Synthetic XL-III SAE 5W-30 Motor Oil 5 QT, Case of 3
PROVEN TO MINIMIZE WEAR with enhanced anti-wear additives that form an extra layer of defense between your engine's critical moving parts
RESIST OIL BREAKDOWN with superior antioxidants that guard against oil-degrading oxygen, keeping oil working longer and extending the life of your engine
FIGHT SLUDGE & DEPOSITS with our advanced detergent system that keeps cylinder walls and moving parts in your engine clean
MINIMIZE EXPENSIVE REPAIRS by safeguarding vital engine components from exhaust system damage
Sale
Valvoline Advanced Full Synthetic SAE 5W-30 Motor Oil 5 QT, Case of 3
ADVANCED PROTECTION AGAINST the four main causes of engine breakdown: wear friction heat and deposits
40% BETTER WEAR PROTECTION vs. industry standard as tested in the Sequence IVB engine test
25% BETTER DEPOSIT PROTECTION with superior engine cleaning detergents as tested in the GMOD engine test
EXCEPTIONAL HIGH/LOW TEMPERATURE PROTECTION defends your motor no matter the weather conditions
Royal Purple SAE 5W-30 Synthetic Motor Oil – 6 quarts and a 10-2808 Extended Life Premium Oil Filter
This bundle comes with 6 qts of Royal Purple synthetic SAE 5W-30 motor oil and a Royal Purple 10-2808 extended life oil filter
FILTER CROSS REFERENCES: Bosch 3310, 3312; FRAM PH3593A, TG3593A, XG3593A, HP15; K&N HP-1004; Mobil1 M1-104A; Purolator L24458, P1290, PL14460, PSL14459, PBL14460; WIX 51334, 51334XP
VEHICLE APPLICATIONS: 1983-2014 Acura & Honda (1.5L-1.8L, 2.0L, 2.2L, 2.3L, 2.5L-2.7L, 3.0L, 3.2L, 3.5L); 1986-2020 Hyundai & Kia (1.3L-1.6L, 2.0L, 2.4L, 2.5L, 3.0L, 3.5L);1987-2016 Mitsubishi (1.5L, 1.8L, 2.0L, 2.4L, 3.0L, 3.5L, 3.8L); 1987-2019 SUBA (1.2L, 2.0L, 3.0L, 3.3L, 3.6L)
Theses products are proudly MADE IN THE USA!
The Importance of Using the Recommended Oil
Using a lower-grade engine oil, such as mineral oil or semi-synthetic oil, can lead to the need for more frequent maintenance. Kia specifies that if a lower grade engine oil is used, the engine oil and engine oil filter must be replaced as indicated under severe maintenance conditions. This means that your vehicle will require more frequent oil changes, which can be both time-consuming and costly.
When changing the oil, it's essential to follow the recommended oil capacity and not to overfill the engine. Overfilling can cause increased pressure in the crankcase, leading to potential damage to engine seals and gaskets. Always double-check the oil level using the dipstick after filling and make any necessary adjustments.
Consequences of Using Lower-Grade Engine Oil
Using lower-grade engine oil can negatively affect your vehicle's performance and engine life. Some of these consequences include:
Increased engine wear: Lower-grade oils may not provide the same level of protection as the recommended oil, leading to increased wear on engine components.
Decreased fuel efficiency: Lower-grade oils can affect engine performance, reducing fuel efficiency.
Potential damage: Using a lower grade oil can cause damage to the engine, ultimately leading to costly repairs or even engine failure.
It's crucial to follow the manufacturer's recommendations when it comes to selecting the right engine oil for your 2022 Kia Seltos. Using the correct oil type for your vehicle's engine will help to ensure optimal performance, maintain fuel efficiency, and prolong the life of your engine. Always refer to your owner's manual for the most accurate and up-to-date information on oil types and maintenance schedules.
Thanks for your feedback!
The information provided in this article is for general informational purposes only. The author and publisher make no representations or warranties of any kind, express or implied, regarding the accuracy, adequacy, validity, reliability, availability, or completeness of any information presented. The reader is advised to consult a qualified professional, such as a mechanic or dealership, before making any decisions related to their vehicle's engine oil or maintenance.
Last update on 2023-06-09 / Affiliate links / Images from Amazon Product Advertising API