Choosing the correct oil type for your 2015 Kia Optima is essential to ensure optimal engine performance, longevity, and reliability. The right engine oil protects the engine's internal components from wear and tear, maintains the correct operating temperature, and minimizes friction between moving parts.
Oil viscosity, or thickness, significantly influences fuel economy and engine performance, especially during cold weather starts and in hot weather conditions. Lower viscosity oils provide better fuel economy and improved cold weather performance, as they flow more easily and allow the engine to start with less effort.
However, higher-viscosity oils are necessary for adequate lubrication and engine protection in hot weather. Using the recommended oil viscosity for your 2015 Kia Optima ensures that you maintain the ideal balance between fuel efficiency and engine protection under various operating conditions.
What Kind Of Oil Does My 2015 Kia Optima Take?
The recommended oil types for the 2015 Kia Optima with a 2.0 T-GDI engine are 5W-30 or 5W-40 with ACEA A5 classification or higher. These oil types provide the necessary protection and lubrication for your turbocharged engine, ensuring optimal performance and fuel efficiency under various driving conditions.
For the 2.4 GDI engine in the 2015 Kia Optima, it is recommended to use 5W-20 or 5W-30 engine oil with API Service SM, ILSAC GF-4 or above, and ACEA A5 or above classifications. These oil types offer the ideal balance between engine protection, performance, and fuel efficiency, ensuring that your vehicle operates smoothly and reliably in different driving conditions.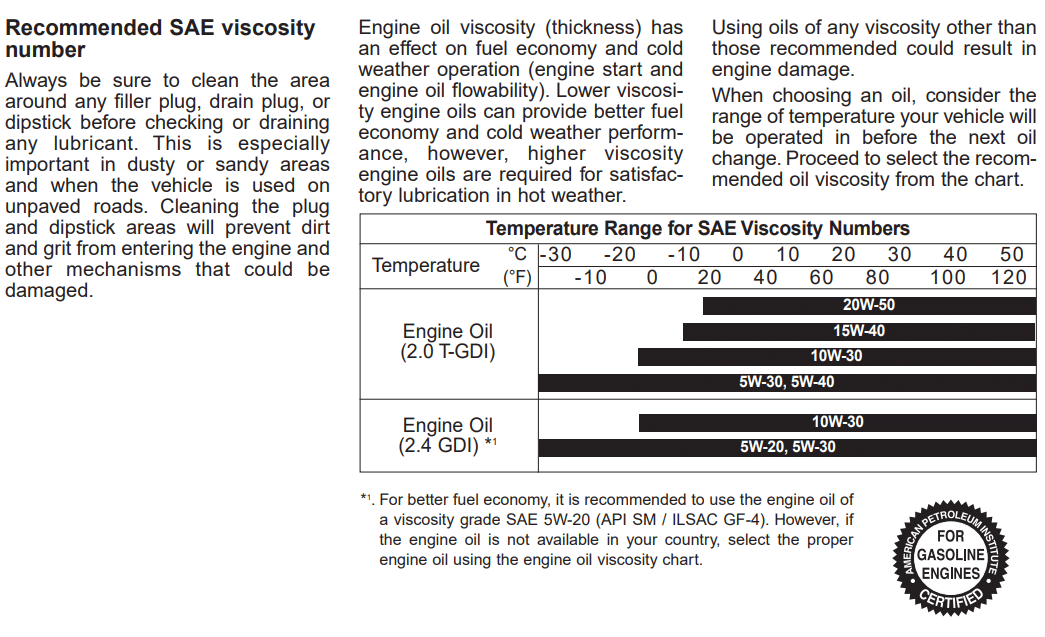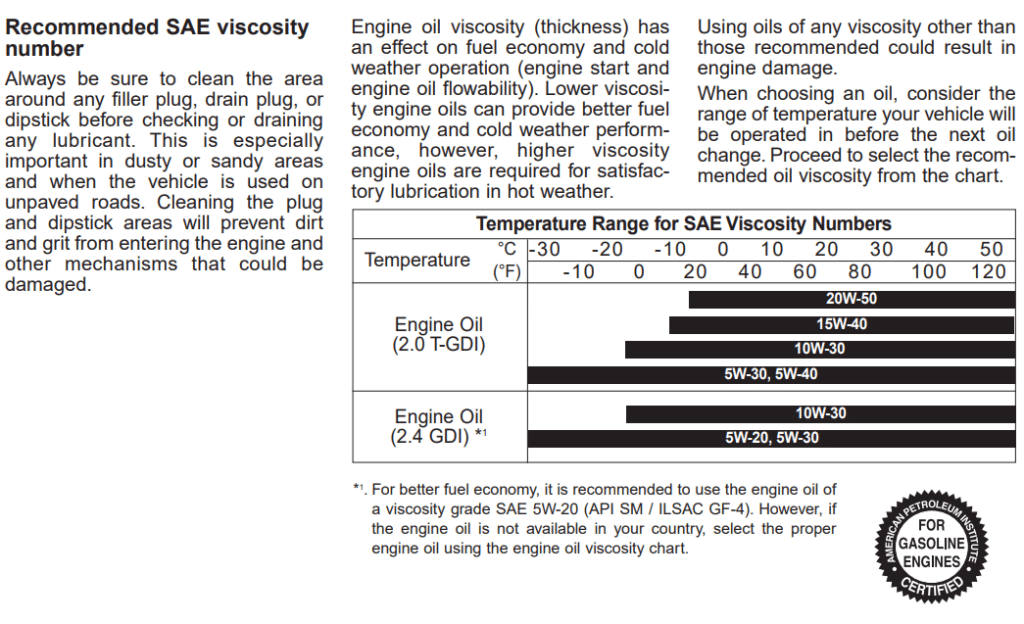 Sale
Sale
Valvoline Full Synthetic High Mileage 5W-20 Motor Oil 5 Quart
ENHANCED MAXLIFE TECHNOLOGY PREVENTS engine breakdown in extreme conditions with 50% better wear protection than the industry standard
TREAT AND PREVENT LEAKS with premium seal conditioners to keep oil out of places it shouldn't be
25% EXTRA DEFENSE AGAINST DEPOSITS, sludge, corrosion and rust via interior-cleansing detergents
EXTREME TEMPERATURE PROTECTION through our high-quality base oils and superior viscosity modifiers
Liqui Moly (2011) Top Tec 4200 SAE 5W-30 Longlife Motor Oil – 5 Liter
High-tech low-friction motor oil based on synthetic technology.
Outstanding protection against wear, reduces oil and fuel consumption and ensures fast oil penetration of the engine
oil change intervals of up to 30,000 or 50,000 km or every 2 years for low mileage drivers are thus possible.
Made in Germany
Valvoline European Vehicle Full Synthetic XL-III SAE 5W-30 Motor Oil 5 QT, Case of 3
PROVEN TO MINIMIZE WEAR with enhanced anti-wear additives that form an extra layer of defense between your engine's critical moving parts
RESIST OIL BREAKDOWN with superior antioxidants that guard against oil-degrading oxygen, keeping oil working longer and extending the life of your engine
FIGHT SLUDGE & DEPOSITS with our advanced detergent system that keeps cylinder walls and moving parts in your engine clean
MINIMIZE EXPENSIVE REPAIRS by safeguarding vital engine components from exhaust system damage
Royal Purple SAE 5W-30 Synthetic Motor Oil – 6 quarts and a 10-2808 Extended Life Premium Oil Filter
This bundle comes with 6 qts of Royal Purple synthetic SAE 5W-30 motor oil and a Royal Purple 10-2808 extended life oil filter
FILTER CROSS REFERENCES: Bosch 3310, 3312; FRAM PH3593A, TG3593A, XG3593A, HP15; K&N HP-1004; Mobil1 M1-104A; Purolator L24458, P1290, PL14460, PSL14459, PBL14460; WIX 51334, 51334XP
VEHICLE APPLICATIONS: 1983-2014 Acura & Honda (1.5L-1.8L, 2.0L, 2.2L, 2.3L, 2.5L-2.7L, 3.0L, 3.2L, 3.5L); 1986-2020 Hyundai & Kia (1.3L-1.6L, 2.0L, 2.4L, 2.5L, 3.0L, 3.5L);1987-2016 Mitsubishi (1.5L, 1.8L, 2.0L, 2.4L, 3.0L, 3.5L, 3.8L); 1987-2019 SUBA (1.2L, 2.0L, 3.0L, 3.3L, 3.6L)
Theses products are proudly MADE IN THE USA!
Pennzoil Synthetic Blend 5W-30 Motor Oil (5-Quart, Single-Pack)
Synthetic blend 5W-30 engine oil formula that keeps engines clean and responsive
No leading synthetic blend oil provides better wear protection (Based on Sequence IVA wear test using SAE 5W-30)
Helps prevent sludge and other damaging deposits (Based on Seq VH Sludge Test)
Compatible with engine seals and all conventional oils
Proper Oil Selection
Before checking or draining any lubricant from your 2015 Kia Optima, cleaning the area around the filler plug, drain plug, and dipstick is crucial. This helps prevent dirt, grit, and other contaminants from entering the engine and causing damage to its internal components. This step is particularly important if you drive in dusty or sandy areas or on unpaved roads, as the risk of contamination is higher in these conditions. By keeping these areas clean, you can ensure the longevity and proper functioning of your vehicle's engine and other mechanisms.
When selecting an engine oil for your 2015 Kia Optima, it is essential to consider the range of temperatures in which your vehicle will be operated before the next oil change. The correct oil viscosity is crucial for maintaining optimal engine performance and fuel economy in various weather conditions. Refer to the owner's manual and the recommended oil viscosity chart to determine the most suitable oil type for your driving conditions. You can achieve the best balance between engine protection, performance, and fuel efficiency by selecting the appropriate oil viscosity for your vehicle and the expected temperature range.
Engine Oil Capacity and Maintenance Schedule
The 2015 Kia Optima, whether equipped with the 2.0 T-GDI or the 2.4 GDI engine, has an engine oil capacity of 4.8 L (5.07 US qt.) for a complete drain and refill. It is essential to use the correct amount of oil to maintain proper engine lubrication and performance.
To keep your 2015 Kia Optima running smoothly and efficiently, it is recommended to change the engine oil and filter every 5,000 km (3,000 miles) or every 6 months, whichever comes first. Regular oil and filter changes ensure that your engine stays clean and well-lubricated, reducing the risk of engine damage and prolonging its life.
If your 2015 Kia Optima is driven under severe conditions, such as extreme temperatures, heavy traffic, or frequent short trips, you may need to change the engine oil and filter more frequently. Severe driving conditions can cause the engine oil to degrade faster, leading to increased engine wear and reduced performance. Consult your owner's manual for specific recommendations on oil change intervals under severe driving conditions to keep your vehicle in optimal condition.
Conclusion
Using the recommended oil types for your 2015 Kia Optima and adhering to the maintenance schedule is crucial for your vehicle's longevity, performance, and reliability. By selecting the appropriate oil viscosity based on your driving conditions and ensuring regular oil and filter changes, you can protect your engine from damage, reduce wear, and maintain optimal performance throughout the life of your vehicle.
By choosing the right oil type for your 2015 Kia Optima's engine and following the recommended maintenance schedule, you can maximize both its performance and fuel economy. Proper engine lubrication and cleanliness are essential for ensuring smooth operation, reduced friction, and optimal fuel efficiency. By taking care of your vehicle and using the right oil, you can enjoy a reliable and efficient driving experience for years to come.
Thanks for your feedback!
The information provided in this article is for general informational purposes only. The author and publisher make no representations or warranties of any kind, express or implied, regarding the accuracy, adequacy, validity, reliability, availability, or completeness of any information presented. The reader is advised to consult a qualified professional, such as a mechanic or dealership, before making any decisions related to their vehicle's engine oil or maintenance.
Last update on 2023-06-09 / Affiliate links / Images from Amazon Product Advertising API