The K20 engine series, launched by Honda in the early 2000s, quickly set a new benchmark for 4-cylinder performance engines. This engine series distinguished itself with its i-VTEC system, a revolutionary variable valve timing technology that allowed the K20 to offer an impressive balance of efficiency and power. Whether it was gracing the engine bay of a sprightly Civic or the more refined Accord, the K20 was versatile enough to enhance the driving experience across different vehicle classes.
Crafted with precision, the K20 engines are a lineup of 2.0-liter, four-cylinder wonders that have powered some of the most exhilarating front-wheel-drive cars in the market. They are renowned for their high-revving character, producing horsepower figures that eclipse those of many larger displacement engines.
With a naturally aspirated heart, these engines evoke the pure joy of driving, responding crisply to throttle inputs and offering a symphony of mechanical harmony that resonates with the soul of a driver.
Understanding the heart of your vehicle – the K20 engine – is crucial for several reasons. Knowledge of your engine's capabilities and requirements enhances the driving experience and ensures its longevity. Familiarity with the K20 allows owners to optimize performance, anticipate maintenance needs, and address issues before they escalate into costly repairs. It also empowers you, the owner, to make informed decisions about modifications and upgrades, ensuring that every change is a step towards improved performance and reliability.
Moreover, being conversant with the nuances of your K20 engine can significantly contribute to its resale value. A well-maintained engine is a testament to an owner's diligence and the vehicle's robustness, making it more appealing in a competitive market. This guide aims to equip you with all the information you need to thoroughly understand your Honda K20 engine, from its technical specifications to tips for keeping it in peak condition.
K20 Engine Specs
The Honda K20 engine is an engineering marvel that has powered various vehicles, from spirited compacts to versatile crossovers. Its reputation for high performance, adaptability, and reliability is reflected in the detailed specifications catering to various driving demands.
The K20 is a 2.0-liter, inline-four engine that stands out in Honda's lineup for its innovative technology and design. It features an aluminum block and head, contributing to its lightweight and exceptional thermal efficiency. The engine's i-VTEC system—Honda's intelligent Variable Valve Timing and Lift Electronic Control—optimizes performance at various RPMs, improving both fuel efficiency and power output.
Here are the general specifications for the Honda K20 engine:
| Specification | Detail |
| --- | --- |
| Engine Type | 4-Cylinder, DOHC, i-VTEC |
| Displacement | 1998 cc |
| Bore x Stroke | 86 mm x 86 mm |
| Compression Ratio | Ranges from 9.8:1 to 11.7:1 depending on model |
| Power Output | Ranges from 155 hp to 306 hp |
| Torque | Ranges from 139 lb-ft to 295 lb-ft |
| Redline | Typically 7,000 to 8,000 RPM |
| Fuel System | Multi-Point Fuel Injection |
| Throttle Control | Drive-By-Wire Throttle System |
Note: The exact specifications can vary based on the specific K20 engine code variant.
Honda has produced several variants of the K20 engine, each with a unique code that signifies its specifications and intended application. For example, the K20A2 is known for its presence in the early 2000s Acura RSX Type-S, delivering a higher performance profile than the K20A3 found in the base model RSX and Civic Si.
Here's a simplified look at some of the common K20 engine variants:
| Engine Code | Vehicle Application | Power | Torque | Compression Ratio | Notes |
| --- | --- | --- | --- | --- | --- |
| K20A | Honda Integra Type R | 217 hp | 152 lb-ft | 11.5:1 | High-performance Japanese variant |
| K20A2 | Acura RSX Type-S | 200 hp | 142 lb-ft | 11.0:1 | Performance variant for North America |
| K20A3 | Honda Civic Si | 160 hp | 132 lb-ft | 9.8:1 | Economy-focused variant |
| K20C1 | Honda Civic Type R | 306 hp | 295 lb-ft | 9.8:1 | Turbocharged, highest output K20 |
Each variant was engineered with a specific balance of performance and efficiency in mind, tailored to the vehicle's character and target market. The K20A and K20A2 are particularly celebrated for their high-revving nature and responsive power delivery, making them favorites among tuning enthusiasts.
On the other hand, the K20A3 offers a more balanced approach, providing ample power with a focus on fuel economy and daily drivability. The latest K20C1 showcases Honda's advancement in turbocharging technology, bringing a new level of power to the K20 lineage.
Whether you own a vehicle with a K20 engine or are planning to modify one, understanding these specifications is crucial to maximizing the engine's potential and ensuring its longevity. The K20 engine remains a testament to Honda's commitment to precision engineering and performance innovation.
K20 Engine Modifications
K20A, released in 2001, is a sports modification for the Japanese domestic market. It reaches 220 horsepower at 8,000 rpm while torque is 215 Nm at 6,100 rpm. The cylinder block contains balancer shafts, a stronger crankshaft, high-compression pistons (CR=11.5), plus strengthened connecting rods. Additionally, the motor features dual valve springs, vigorous camshafts, lighter flywheel, PRC intake manifold or RBC one for Euro R, enhanced header 4-2-1, 310 cc fuel injectors plus 54 millimeters exhaust system.
K20A camshafts for the Japanese market keep such characteristics: intake 244/280/245 degrees and lift 8.84/12.65/9.68 millimeters; exhaust 240/278/244 degrees and lift 8.59/12.14/8.74 millimeters.
The motor's head porting is built in-house, keeping the 62-millimeter throttle body. In 2007, the motor was subjected to some alterations. Among the additions were a short RRC intake manifold, 64 millimeters throttle body, enhanced inlet plus exhaust head ports strengthened connecting rods.
The compression index became equal to 11.7. Those alterations led to the VTEC system triggering at 5,800 rpm in lieu of 6,000 rpm. Moreover, K20A received a 4-2-1 short header plus a straighter exhaust system of 54 millimeters. Consequently, the output reached 225 horsepower at 8,000 rpm and a torque of 215 Nm at 6,100 rpm, while the revolutions limiter was launched at 8,000 rpm.
Motor with these characteristics is available only at Civic Type R FD2, sold in Japan.
K20A1 has already been mentioned above. It reaches an output of 156 horsepower at 6,500 rpm and torque of 188 Nm at 4,000 rpm.
K20A2 is analogous to K20A, though it employs other camshafts plus PRB intake manifold. Camshafts have such specifications: intake 238/278/240 degrees and lift 7.36/12.42/7.82 millimeters; exhaust 240/280/242 degrees and lift 7.14/11.12/7.72 millimeters. The compression index equals to 11 while the i-VTEC system starts to operate at 5,800 rpm. The output is 201 horsepower at 7,400 rpm while the torque is 193 Nm at 6,000 rpm while the revolution limiter is launched at 8,250 rpm. Moreover, the motor features 310 cc original fuel injectors.
K20A3 is almost identical to K20A1 but is utilized for Acura RSX (2002-2006) plus Honda Civic Si (2002-2005). Keeping 270 cc injectors, i-VTEC is launched at 2,200 rpm, and it also applies PPA intake manifold, triggered at 4,600 rpm. However, a 1-stage PRB intake manifold was utilized for Honda Civic Si.
K20A4 is a K20A3 modification for the USDM Honda Accord (2003-2007) and Honda CR-V (2002-2006).
K20A6 is another modification of K20A3 but for the Honda Accord (2003-2007), sold in Europe and Australia.
K20Z1 is a variation of K20A2, keeping a restyled intake system plus fresh exhaust manifold. Furthermore, it features more vigorous camshafts, allowing to reach 210 horsepower at 7,800 rpm and torque of 194 Nm at 6,200 rpm.
K20Z2 is a substitute to K20A, featuring a fresh longer runner intake manifold, restyled camshafts plus the Drive by wire mechanism. The output equals to 155 horsepower at 6,000 rpm with torque of 188 Nm at 4,500 rpm.
K20Z3 is a variation of K20Z1, but keeps other camshafts plus RRB intake manifold. Keeping the power of 197 horsepower at 7,800 rpm and torque of 188 Nm at 6,200 rpm, it was built for Honda Civic Si (2006-2011) plus Acura CSX Type S (2007-2010).
K20Z4 is a modification of K20Z3 for Civic Type R (2007-2010), sold in Europe. It reaches an output of 201 horsepower at 7,800 rpm and torque of 199 Nm at 6,800 rpm.
K20C1 is a motor with turbocharging utilized for the Honda Civic Type R (starting from 2015). It's provided with fresh lightweight crankshaft, forged connecting rods plus restyled pistons with a compression index of 9.8. Additionally, it features a fresh cylinder head with direct injection plus i-VTEC system for inlet and exhaust valves. Honda enhanced inlet plus exhaust head ports, also adding a single-scroll MHI TD04 turbocharger, keeping the boost pressure of 23.2 psi (1.58 bar).
The stated above updates allowed the motor to reach 310 horsepower at 6,500 rpm and torque of 400 Nm at 2,500-4,500 rpm with the revolution limit equal to 7,000 rpm.
K20C2, a naturally aspirated variant of K20C, was built for Honda Civic (starting from 2016). It keeps a redesigned i-VTEC head with a direct injection system plus restyled combustion chambers. Like K20C1, it's supplied with a lightweight crankshaft plus restyled pistons with a compression rate of 10.8. Output is 158 horsepower at 6,500 rpm and torque is 187 Nm at 4,200 rpm.
K20C3 is analogous to K20C1, but it employs an MHI TD03 turbocharger, reaching a compression index of 10.8. Output is 272 horsepower at 6,500 rpm while torque is 370 Nm at 1,500-4,000 rpm.
K20C4 is another version of K20C1, keeping an MHI TD03 turbocharger, and having a boost pressure of 20.8 psi (1.43 bar). It reaches 252 horsepower at 6,500 rpm with a torque of 370 Nm at 1,500-4,000 rpm.
What Cars Have The K20 Engine?
K20A
2001–2006 Honda Civic Type R (JDM)
2001–2006 Honda Integra Type R (JDM)
2002–2008 Honda Accord Euro R (JDM)
2007–2011 Honda Civic Type R (JDM)
K20A1
2001–2006 Honda Stream (RN3, FWD)
2001–2006 Honda Stream (RN4, AWD)
K20A2
2001–2006 Honda Civic Type R (EDM)
2002–2004 Acura RSX Type S
2002–2004 Honda Integra Type R (AUDM/NZDM)
K20A3
2002–2006 Acura RSX
2002–2005 Honda Civic Si
2002–2005 Honda Civic SiR
2002–2005 Honda Civic Type S
2003–2006 Honda Civic 2.0 i-VTEC (SEA)
K20A6
2003–2006 Honda Accord (EDM)
2003–2006 Honda Accord (ADM)
K20C1
2015–present Honda Civic Type R (EDM)
K20C2
2016–present Honda Civic LX (USDM)
2016–present United States Formula 4 Championship
K20C3
2016–present Honda Avancier (China)
K20C4
2018–present Honda Accord
Honda K20A Engine
Honda initiated the production of K20, a 4-cylinder 4-stroke motor in 2001. Steering clear of old traditional timings employs computer ignition timings, contributing to the vehicle's better start and more efficient handling. Honda planned to substitute the B-range motors with K engines with a more efficient design, an advanced Valvetrain, and improved build quality.
K20 motor features a clockwise rotation in its construction. Until K20 was presented, all Honda motors kept a counterclockwise rotation. The brand worked pretty hard to make its motors meet contemporary demands, reducing emissions and achieving better reliability and durability.
The K20's Performance
The K20 engine series is a testament to Honda's prowess in creating power plants that offer an exhilarating blend of horsepower and torque while maintaining a favorable power-to-weight ratio. This balance is a key contributor to the dynamic driving experience associated with Honda's K20-equipped models.
Horsepower and Torque Output Across K20 Models
Across its various iterations, the K20 engine has been fine-tuned to deliver a wide range of power outputs to suit diverse driving styles and preferences. From the K20A's 217 horsepower in the Integra Type R to the turbocharged K20C1's robust 306 horsepower found in the latest Civic Type R, the K20 series has consistently pushed the boundaries of 2.0-liter performance.
Torque figures complement this power, with the engines producing anywhere from 139 to 295 lb-ft, ensuring that each model has ample low-end grunt and a spirited mid-range.
Analyzing the K20 Engine's Power-to-Weight Ratio
The power-to-weight ratio is a crucial factor in a vehicle's overall performance, and the K20 engines excel in this area. The lightweight design of the aluminum block and head, combined with the high output, enables cars equipped with the K20 to achieve impressive acceleration and nimbleness.
This agility is a hallmark of the K20, allowing for responsive handling and an engaging drive that is both accessible and rewarding for drivers of all skill levels.
The K20 engine's blend of lightweight architecture and potent power has made it a favorite for enthusiasts looking to extract sports-car-rivaling performance from a compact package. Honda's mastery in engineering these engines to punch above their weight is a core reason why the K20 remains a celebrated engine in the automotive community.
Reliability of the Honda K20 Engine
When discussing the attributes of the Honda K20 engine, its reliability is often at the forefront of the conversation. Revered for its durability, the K20 engine series has established itself as a workhorse capable of withstanding the rigors of daily driving and performance enthusiasts' demands.
Longevity and Durability of the K20 Series
Honda's K20 engine, from the moment it debuted, has been synonymous with robust longevity. Its construction employs high-quality materials and smart engineering choices, contributing to its lasting performance. Using an aluminum block and head reduces weight and enhances cooling efficiency, which is vital for engine health.
Moreover, the solid architecture of the K20's internals, including its forged steel crankshaft and rods, stands up well to the stresses of high RPMs and heavy usage.
Owners who keep up with regular maintenance can see their K20 engines surpass the 200,000-mile mark without major mechanical woes. It's not uncommon to hear of K20 units reaching these high mileage milestones, still performing with the zest of a much younger engine.
Common Maintenance Needs for K20 Engines
Like any engine, the K20 has its maintenance needs, which are key to its longevity. Regular oil changes with high-quality oil, adherence to coolant change intervals, and timely replacement of the timing chain (a more durable choice over a belt) are among the basics to keep a K20 in top shape.
Inspecting and replacing the engine air filter and spark plugs at recommended intervals is important to maintain optimal combustion and performance.
Valve adjustments are a part of routine upkeep, particularly for models equipped with the VTEC system, to ensure the engine continues to run smoothly. While the K20 is low on drama, attention to these maintenance points, along with regular inspections of the fuel and ignition systems, can prevent common issues and extend the engine's life.
Honda K20 Engine Problems and Solutions
The Honda K20 engine, known for its reliability and performance, has its share of issues. However, most problems that arise are well-documented, with known solutions that can help owners prevent long-term damage and maintain their engine's longevity.
Troubleshooting Common K20 Engine Issues
Despite the K20's reputation for durability, certain common issues can occur, particularly in engines that have seen extensive use or those that have not been regularly maintained. Below is a table that outlines some of these problems along with their potential solutions:
Common Problem
Potential Solution
Excessive Oil Consumption
– Replace worn piston rings.
– Use manufacturer-recommended oil grade.
Timing Chain Stretch
– Regularly inspect the timing chain for wear.
– Replace if necessary to prevent mis-timing.
VTEC Solenoid Failure
– Clean or replace the VTEC solenoid.
– Ensure proper oil levels and pressure.
Cracked Exhaust Manifold
– Inspect for cracks and replace the manifold if required.
– Consider aftermarket options for improved durability.
Idle Fluctuations
– Regularly inspect the timing chain for wear.
– Replace if necessary to prevent mistiming.
Preventative Measures for K20 Engine Longevity
Preventative maintenance is key to avoiding many of the common problems associated with the K20 engine. Here are some measures that can help ensure the engine runs smoothly for years:
Regular Oil Changes: Stick to a strict oil change schedule and use only high-quality oil to minimize wear on internal components.
Coolant System Maintenance: Replace the coolant at recommended intervals to prevent overheating and engine damage.
Timing Chain Checks: Inspect the timing chain regularly, especially in higher mileage engines, to avoid timing issues leading to engine failure.
Valve Adjustments: Perform periodic valve adjustments, especially in VTEC models, to maintain optimal engine performance and prevent misfires.
Intake System Maintenance: Clean the intake system, including the air filter and MAF sensor, to ensure proper air-fuel mixture and combustion efficiency.
By addressing common issues promptly and adhering to a preventative maintenance schedule, owners of K20-equipped vehicles can enjoy their engines' full potential without worrying about unexpected breakdowns.
K20 Engine Firing Order
The firing order of an engine is pivotal to its balance, smoothness, and overall performance. For the Honda K20 engine, this is no exception. This finely tuned sequence is a key contributor to the engine's celebrated efficiency and power delivery.
Understanding the Firing Sequence of the K20
The K20's firing order is 1-3-4-2. This means that when the engine begins its cycle, the first cylinder to ignite is cylinder 1, followed by cylinder 3, then 4, and finally, cylinder 2. This sequence is carefully designed to manage the engine's balance and minimize vibrations.
By following this order, the K20 ensures that the power delivery from the crankshaft is as smooth as possible, which is crucial in maintaining the engine's longevity and the vehicle's drivability.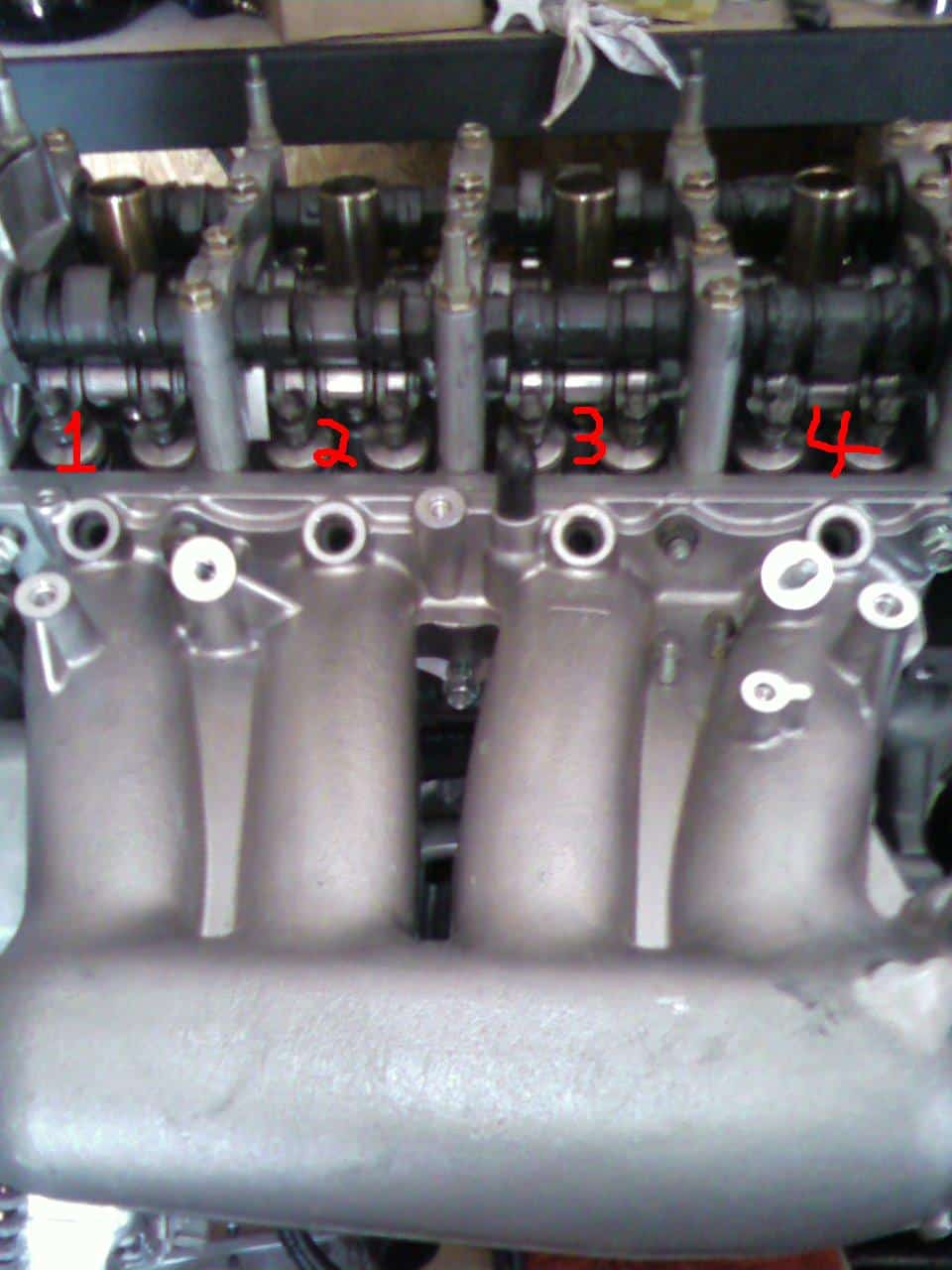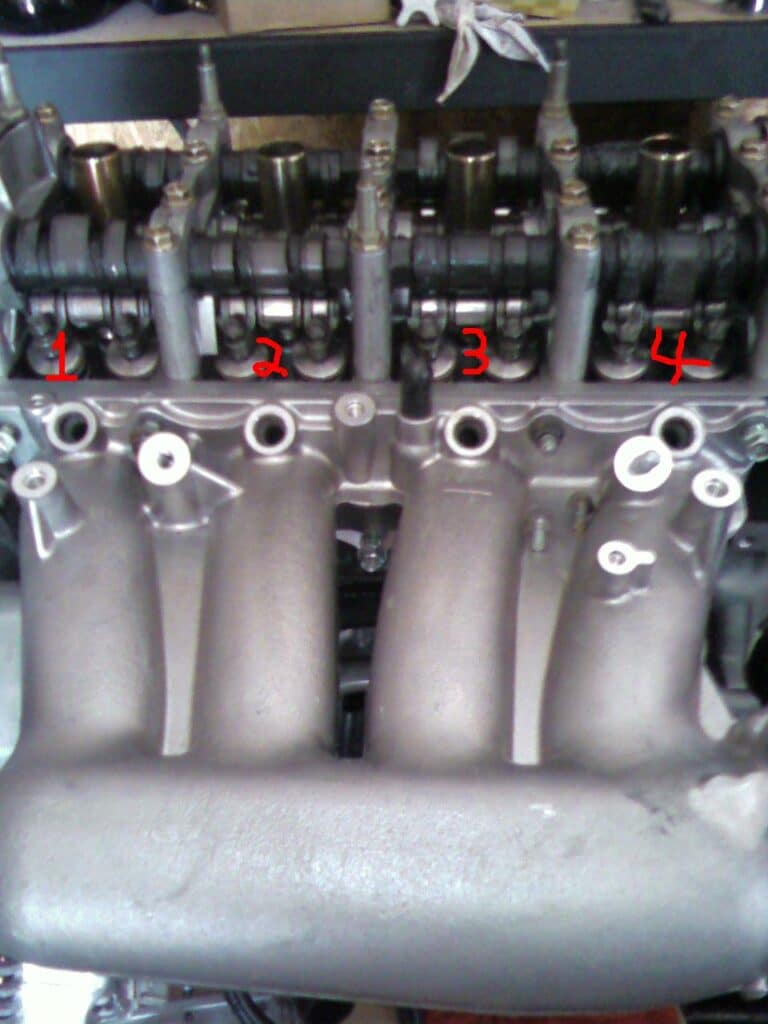 ---
The Impact of Firing Order on Engine Performance
A proper firing order is essential for optimizing an engine's performance. In the K20, the 1-3-4-2 sequence helps evenly distribute the combustion events, directly affecting the engine's responsiveness and power output. This sequence also contributes to heat distribution within the engine block, helping prevent hot spots that could lead to knocking or pinging.
Honda's engineering decision with the K20's firing order reflects their dedication to creating an engine that performs with precision and operates with the refinement expected from a brand that prioritizes both driving pleasure and mechanical harmony.
Honda K20 Oil Specifications
Maintaining the lifeblood of the Honda K20 engine means adhering to specific oil specifications and change intervals. The right oil nourishes the engine, ensuring peak performance and longevity.
Recommended Oil Type and Capacity for K20 Engines
Honda recommends using high-quality 5W-30 or 0W-20 oil for the K20 engines, in line with the API's latest standards. These multi-grade oils provide the ideal viscosity range, ensuring fluid engine starts at low temperatures and stable lubrication at high temperatures.
The typical oil capacity for a K20 engine is approximately 4.5 to 5.0 quarts (4.26 to 4.73 liters) with a filter change. However, always refer to the specific vehicle's owner manual for the exact capacity and recommended oil type.
Oil Change Intervals for Optimal K20 Performance
For optimal performance, K20 oil change intervals should generally be every 5,000 to 7,500 miles (8,000 to 12,000 kilometers) or every 6 months, whichever comes first. However, these intervals can vary based on driving conditions and performance demands. Vehicles subjected to more severe conditions, such as frequent short trips, extended idling, or high-performance driving, may require more frequent oil changes.
Adhering to these oil specifications and change intervals is crucial for keeping your K20 engine running smoothly, preserving its punchy performance, and ensuring its renowned reliability for the long haul.
Timing System: Belt or Chain?
Honda equipped the K20 engines with a timing chain instead of a belt. Timing chains are known for their durability and typically have a longer life span than belts. They are also less likely to snap unexpectedly, which reduces the risk of engine damage. The K20's timing chain is a key factor in the engine's reliability and longevity, contributing to the low maintenance needs of these engines.
Maintenance Tips for the K20 Timing Components
While timing chains are designed to last the engine's lifetime, they are not entirely maintenance-free. Maintaining proper oil levels and ensuring regular oil changes is essential to keep the timing chain lubricated and functioning smoothly. A well-maintained chain will exhibit minimal stretch over time.
However, should you notice unusual engine noises or a check engine light that suggests timing issues, it is crucial to have it checked by a professional. Regular inspections become increasingly important as the engine accrues high mileage. In the rare event of a timing chain failure, immediate replacement is necessary to prevent potential engine damage.
Interference vs. Non-Interference
The design of an engine's piston and valve movements can be classified into two types: interference and non-interference. The Honda K20 engine is an interference type, meaning the piston and valves occupy the same space within the cylinder but at different times.
The interference design of the K20 allows for higher compression ratios and better performance because the valves can open wider and come closer to the pistons. This configuration contributes to the engine's high-revving nature and its ability to produce more power.
For K20 owners, the interference design underscores the importance of maintaining the timing chain's integrity. If the timing chain fails, it can lead to the pistons and valves colliding, potentially causing significant engine damage.
Therefore, adhering to the recommended maintenance schedule is essential to prevent such costly repairs and ensure the engine performs optimally throughout its lifespan.
Honda K20 Fuel Consumption Rates
The Honda K20 engine, while known for its performance capabilities, also offers commendable fuel efficiency, a characteristic that adds to its appeal. The fuel consumption rates for K20 engine models vary, balancing power demands and the need for economy.
Fuel Economy Insights for K20 Engine Models (MPG)
Fuel economy for K20-equipped vehicles typically ranges between 22 to 31 miles per gallon (MPG) in city driving and 31 to 41 MPG on the highway, depending on the vehicle model and driving conditions. Models like the early 2000s Acura RSX and Honda Civic Si, which house the K20A3 and K20A2, respectively, are examples of this efficiency.
Tips for Maximizing Your K20's Fuel Efficiency
To maximize fuel efficiency in your K20 engine, consider the following tips:
Maintain a steady driving speed and avoid aggressive acceleration.
Ensure regular maintenance, such as oil changes and air filter replacements, to keep the engine running smoothly.
Keep your tires inflated to the proper pressure to reduce rolling resistance.
Use the recommended grade of fuel for your specific K20 engine variant.
Consider using highway cruise control to maintain a constant speed and reduce fuel consumption.
Spark Plugs and Gap Settings for the K20
The spark plugs are an essential component of the ignition system in the Honda K20 engine, directly impacting its performance and efficiency. Choosing the right spark plugs and maintaining the correct gap settings are fundamental for the engine's operation.
For the K20 engine, it is recommended to use iridium or platinum-tipped spark plugs due to their durability and ability to withstand high temperatures. These materials also maintain their sharpness for longer periods, providing a consistent spark and thereby ensuring efficient combustion. Honda typically recommends replacing spark plugs every 60,000 to 100,000 miles, but this interval can vary based on the specific K20 model and driving conditions.
Proper Gap Settings for Optimal Engine Performance
The gap setting for K20 spark plugs is crucial for proper ignition. The standard gap size ranges from 0.044 to 0.050 inches (1.1 to 1.3 mm), but always check the vehicle's service manual for the exact specifications for your engine variant. An incorrect gap can lead to misfires, poor fuel economy, and reduced engine performance. Using a feeler gauge to measure and adjust the gap can ensure that your K20 engine maintains its renowned performance and efficiency.
By paying attention to spark plug selection and gap settings, K20 owners can help their engines maintain peak performance, ensuring a smooth and responsive driving experience.
Enhancing Horsepower in Your K20
Enthusiasts looking to extract more horsepower from their Honda K20 engines have many modification options, with ECU tuning as a particularly effective method.
Increasing the horsepower of a K20 engine can be achieved through various modifications. Intake and exhaust upgrades can significantly improve airflow, while a high-performance camshaft and valvetrain can extend the engine's revving capability, allowing it to breathe better and produce more power.
Forced induction, through supercharging or turbocharging, can also offer substantial power gains by increasing the amount of air, and consequently fuel, entering the combustion chamber.
ECU tuning is pivotal in harmonizing these modifications and maximizing the engine's potential. Adjusting the engine control unit (ECU) can optimize fuel and ignition maps, ensuring the engine runs efficiently at increased power levels.
This fine-tuning process can also accommodate higher octane fuel, advanced timing, and increased boost pressure in turbocharged setups, ensuring that all modifications work together to achieve the desired increase in horsepower.
K20 Engine Coolant Essentials
Maintaining the cooling system is vital for the health of your Honda K20 engine, and it starts with selecting the appropriate coolant.
For the K20, Honda recommends using a coolant that meets their specific requirements, typically a 50/50 mix of antifreeze/coolant and distilled water. This mixture provides the necessary freezing and boiling protection while ensuring proper corrosion inhibition, which is crucial for the aluminum components within the K20 engine.
Coolant should be replaced every 60,000 miles or every 5 years, whichever comes first. However, it's always wise to consult your owner's manual for the exact interval. Regular inspections for leaks, hose condition, and coolant level should be part of ongoing maintenance. It's also important to use deionized or distilled water to prevent mineral deposits from forming in the cooling system.
FAQs
What is the Lifespan of the Honda K20 Engine?
The Honda K20 engine is renowned for its longevity, often reaching or exceeding 200,000 miles with proper maintenance. Its robust design and engineering contribute to a long lifespan, allowing owners to enjoy their vehicles for many years.
How Often Should I Service My K20 Engine?
Regular service intervals for the K20 engine typically include oil changes every 5,000 to 7,500 miles and more comprehensive services every 15,000 to 30,000 miles. It's crucial to refer to the owner's manual for specific service recommendations for your model.
Can the Honda K20 Engine Handle Turbocharging?
Yes, the K20 engine is a popular choice for turbocharging due to its strong internal components and high-revving capabilities. However, it's essential to ensure that the engine is properly tuned and that all necessary supporting modifications are made to handle the increased power and stress.
What Are the Signs of K20 Engine Failure?
Potential K20 engine failure signs include excessive oil consumption, unusual noises from the timing chain area, loss of power, inconsistent idling, and the check engine light. Any of these symptoms warrant immediate attention to prevent further damage.
The information provided in this article is intended for informational and educational purposes only and should not be construed as professional mechanical advice. While the author has made every effort to ensure the accuracy and completeness of the information contained in this article, we make no warranties or representations as to the accuracy, completeness, reliability, or suitability of the information provided.
Any action you take upon the information provided in this article is strictly at your own risk, and we will not be liable for any losses, damages, or injuries incurred as a result of or in connection with the use of this information. It is strongly advised that you consult with a certified BMW mechanic or service center before attempting any maintenance or repair work.