Welcome to our comprehensive guide on the 2012 Subaru Impreza oil type! As a Subaru Impreza owner, you know the importance of maintaining your vehicle to ensure its longevity, reliability, and performance. One of the critical aspects of car maintenance is using the right engine oil, as it plays a crucial role in keeping your engine running smoothly and efficiently.
Selecting the appropriate engine oil for your 2012 Subaru Impreza is not just a matter of preference – it's a necessity. The engine oil you use in your vehicle serves several vital functions, including lubricating engine components, reducing friction and wear, protecting against corrosion, and helping to maintain optimal engine temperature.
Using the correct oil type ensures that your Subaru Impreza's engine is well-protected and can perform at its best. In contrast, using the wrong oil can decrease fuel efficiency, increased engine wear, and even engine damage over time.
Our goal with this guide is to provide you with a thorough understanding of the recommended oil types for the different engine options available for the 2012 Subaru Impreza and the appropriate alternatives when necessary. We will discuss the benefits of using the recommended oil types, the importance of following Subaru's guidelines, and how to find Subaru-approved engine oil. Additionally, we will cover the engine oil capacity for each engine type and the importance of checking the oil level regularly.
By the end of this guide, you will have all the information you need to make informed decisions regarding your 2012 Subaru Impreza's engine oil, ensuring your vehicle remains in top condition for years to come. So, let's dive in and explore the world of engine oils for your Subaru Impreza!
What Oil Does a 2012 Subaru Impreza Take?
Oil Type for 2.0L 4-cyl FB20 Engine
The 2012 Subaru Impreza comes with a 2.0-liter 4-cylinder FB20 engine, known for its fuel efficiency and reliability. This horizontally-opposed engine features a compact design, offering a low center of gravity and improved handling characteristics.
The oil capacity for the 2.0L 4-cylinder FB20 engine is 5.3 quarts (5.0 liters) when changing the engine oil with an oil filter. It's essential to use the correct amount of oil to avoid overfilling or underfilling, which could lead to engine damage or poor performance.
Subaru recommends using 0W-20 synthetic oil for the 2012 Impreza with the 2.0L FB20 engine. This specific oil type provides the best balance of protection, performance, and fuel efficiency for your engine.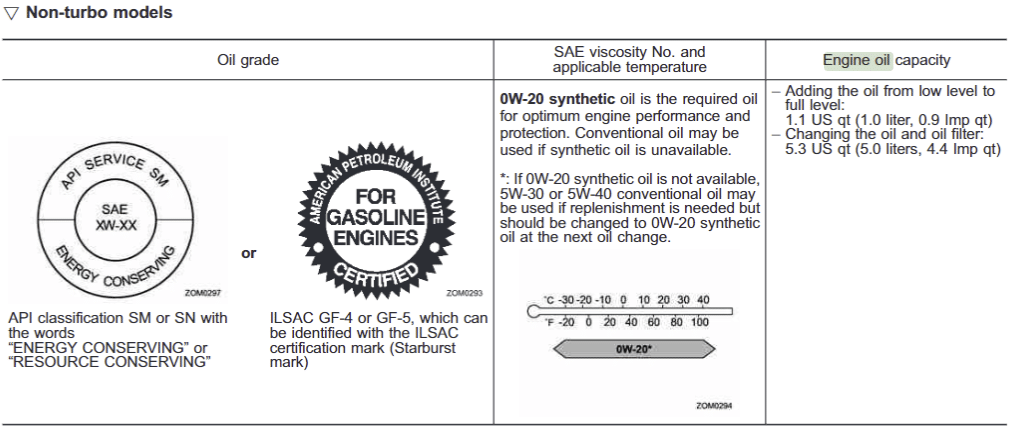 Benefits of Using 0W-20 Synthetic Oil
Sale
Genuine Subaru Certified 0W20 Full Synthetic Motor Oil 5 Quart Bottle
Genuine Subaru Certified 0W-20 Synthetic Motor Oil* Uniquely formulated to handle the low-friction design of the SUBARU BOXER non-turbocharged engine, 0W-20 is engineered for exceptional performance in a wide range of operating conditions, and its advanced formula withstands rigorous and prolonged engine operation without viscosity breakdown. Increased power and optimized fuel economy Proven to help protect against oil oxidation and breakdown Cleaner-running, longer engine life Increased protection against varnish and deposits
Sale
Valvoline™ Full Synthetic High Mileage with MaxLife™ Technology SAE 0W-20 Motor Oil 5 QT, (Model: 852399)
50% More wear protection than industry standard with enhanced anti-wear additives that prevent unwanted metal-on-metal contact and provide an extra layer of protection that keeps your engine in excellent shape for the many miles ahead
Reduce costly repairs by minimizing exhaust system damage with our fully synthetic formulation
Minimize heat and abrasion between moving parts help your high-mileage engine maintain its horsepower and perform its best for longer
25% More protection against deposits than the industry standard with extra detergents, keeping your engine clean and sustaining its performance
Using 0W-20 synthetic oil in your FB20 engine ensures peak performance under various driving conditions. Synthetic oil has a more consistent molecular structure, providing better lubrication, reducing friction, and improving overall engine efficiency.
0W-20 synthetic oil offers superior protection against wear and tear, corrosion, and deposit buildup in your engine. Its low viscosity allows it to flow quickly during cold starts, ensuring essential components receive immediate lubrication. Synthetic oil also maintains its protective qualities at high temperatures, safeguarding your engine during demanding driving conditions.
To ensure you're using the right engine oil for your 2012 Subaru Impreza, look for Subaru-approved 0W-20 synthetic oil. You can typically find this information on the oil container label or consult your Subaru dealer for assistance. Approved engine oils have undergone rigorous testing and meet the specific requirements set forth by Subaru, ensuring your engine receives the best possible protection and performance.
Oil Type for 2.5L 4-cyl EJ255 Turbo Engine
Sale
Sale
Valvoline Advanced Full Synthetic SAE 5W-30 Motor Oil 5 QT
ADVANCED PROTECTION AGAINST the four main causes of engine breakdown: wear friction heat and deposits
40% BETTER WEAR PROTECTION vs. industry standard as tested in the Sequence IVB engine test
25% BETTER DEPOSIT PROTECTION with superior engine cleaning detergents as tested in the GMOD engine test
EXCEPTIONAL HIGH/LOW TEMPERATURE PROTECTION defends your motor no matter the weather conditions
Mobil Full Synthetic High Mileage Motor Oil 5W-30, 5 Quart
Mobil Full Synthetic High Mileage 5W-30 motor oil is designed for vehicles with over 75,000 miles, upgrading from a conventional or synthetic blend, or requiring full synthetic motor oil
Provides guaranteed protection that's 1.5X longer than our conventional and synthetic blend oils, up to 7,500 miles between oil changes*
Helps to prevent oil leaks, sludge, and deposit formation to help reduce engine wear with a balanced additive system formulation and extra seal conditioner
Provides excellent resistance to oil breakdown, for proven long-lasting protection, and maintains oil viscosity at high operating temperatures
The 2012 Subaru Impreza with the 2.5L 4-cylinder EJ255 Turbo engine offers impressive power and performance. This turbocharged engine is designed for drivers seeking a more exhilarating driving experience while still enjoying Subaru's renowned reliability.
The oil capacity for the 2.5L EJ255 Turbo engine is 4.2 quarts (4 liters) when changing the engine oil along with an oil filter. Maintaining the appropriate oil level is crucial to prevent engine damage and ensure optimal performance.
For the EJ255 Turbo engine, Subaru recommends using 10W-30 or 10W-40 oil in temperatures above -20 degrees Fahrenheit (-29 degrees Celsius). These oil types provide adequate protection and lubrication for your engine under normal to high-temperature conditions.
In case you experience a wide range of temperatures or live in an area with colder climates, Subaru recommends using 5W-30 oil for the EJ255 Turbo engine. This oil type offers better cold-start performance and ensures proper lubrication during extreme temperature variations.
Importance of Choosing the Right Oil Type Based on Temperature
Selecting the appropriate oil type based on the ambient temperature is crucial for your EJ255 Turbo engine's performance and longevity. The viscosity of the engine oil changes with temperature, affecting its ability to lubricate and protect your engine's components. Using an oil type suitable for your climate ensures that the oil flows smoothly and maintains its protective qualities, regardless of temperature fluctuations.
By following Subaru's recommendations for oil types based on temperature, you can ensure optimal engine performance and protection, maximizing the lifespan of your 2012 Subaru Impreza's EJ255 Turbo engine.
Conclusion
In this guide, we've highlighted the significance of selecting the appropriate oil type for your 2012 Subaru Impreza, whether you have the 2.0L 4-cylinder FB20 engine or the 2.5L 4-cylinder EJ255 Turbo engine. Using the recommended oil types ensures optimal performance, fuel efficiency, and engine protection, resulting in a more enjoyable and reliable driving experience. Remember to consider temperature conditions when choosing the appropriate oil viscosity for your engine.
Maintaining your 2012 Subaru Impreza's engine health goes beyond merely selecting the right oil type. Regular oil changes, adherence to Subaru's recommended maintenance schedule, and periodic inspections by a Subaru dealer or qualified mechanic are all crucial components of responsible vehicle ownership. By staying informed and proactive, you can prolong the life of your Impreza and enjoy its performance for many years to come.
The information provided in this article is intended for informational and educational purposes only and should not be construed as professional mechanical advice. While the author has made every effort to ensure the accuracy and completeness of the information contained in this article, we make no warranties or representations as to the accuracy, completeness, reliability, or suitability of the information provided.
Any action you take upon the information provided in this article is strictly at your own risk, and we will not be liable for any losses, damages, or injuries incurred as a result of or in connection with the use of this information. It is strongly advised that you consult with a certified BMW mechanic or service center before attempting any maintenance or repair work.
Last update on 2023-12-06 / Affiliate links / Images from Amazon Product Advertising API