As a proud owner of a 2017 Mazda 6, I understand the importance of knowing the correct type of engine oil and oil filter to use for my vehicle. Following the owner's manual recommendations ensures that our cars run optimally and their lifespans are prolonged. In this article, I'll share the specific oil type and quantity needed for the 2017 Mazda 6 and answer some frequently asked questions about oil and oil filters from my experience and research.
What Kind of Oil Does a 2017 Mazda 6 Take?
According to the 2017 Mazda 6 owner's manual, your vehicle requires SAE 0W-20 engine oil. Mazda recommends using full synthetic oil for the best performance and protection. Mazda Genuine 0W-20 Oil is designed to achieve optimum fuel economy and is the recommended choice for your vehicle.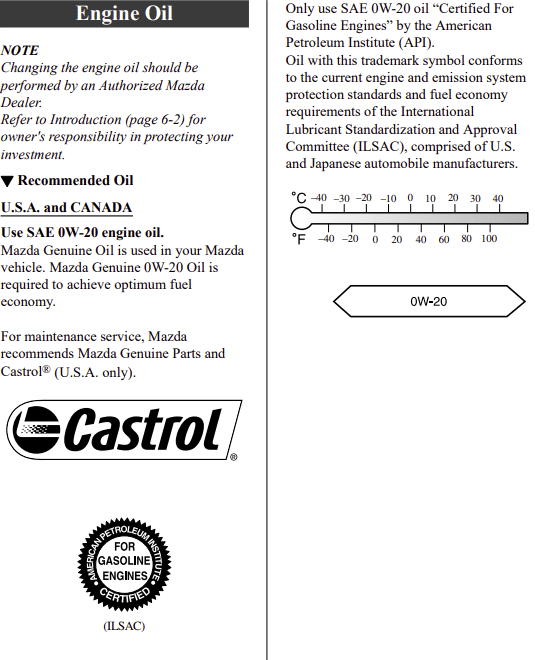 Best Motor Oil for 2017 Mazda 6
Mazda Genuine 0W-20 Oil is the top choice for your 2017 Mazda 6, as it is specifically designed to provide optimum fuel economy and performance. Other reputable brands that offer full synthetic 0W-20 oil, such as Mobil 1, Castrol EDGE, and Pennzoil Platinum, are also suitable alternatives.
Castrol Edge 0W-20 Advanced Full Synthetic Motor Oil, 5 Quarts
3X stronger against viscosity breakdown than leading full synthetic, based on Kurt Orbahn test in 5W-30 grade
10X better high temperature performance, as measured in Sequence IIIH engine test vs. API SP test limit
6X better wear protection, Protection for 10,000 miles between oil changes
1.4X better sludge protection, as measured in Sequence VH engine test vs. API SP test limit
Sale
Mobil 1 Extended Performance Full Synthetic Motor Oil 0W-20, 5 Quart
Mobil 1 Extended Performance full-synthetic motor oil 0W-20 helps protect critical engine parts for up to 20,000 miles between oil changes,* controlling oxidation to prevent oil breakdown and maintaining excellent viscosity
Utilizes Mobil 1's Triple Action+ Formula to combine outstanding engine performance, protection, and cleanliness with the added benefit of power
Meets ILSAC GF-6 standards to help provide low-speed pre-ignition (LSPI) and timing chain wear protection while keeping your engine clean and helping to improve your fuel economy
Helps extend engine life by working to prevent damaging deposits and sludge buildup
Pennzoil Platinum Full Synthetic 0W-20 Motor Oil (5-Quart, Case of 3)
Full synthetic 0W-20 engine oil made from made from natural gas, not crude, using Pennzoil's patented gas-to-liquid PurePlus Technology
Pennzoil 0W-20 is a carbon neutral motor oil, achieved through verified Nature Based Carbon Credits that offset the CO2 lifecycle emissions
Provides better fuel economy—drive on average an extra 550 miles per year (versus a dirty engine)
Pennzoil Platinum 0W-20 keeps pistons up to 45% cleaner than the toughest industry standard (based on Sequence IIIH results)
Best Engine Oil Filter for 2017 Mazda 6
Using a high-quality oil filter is important for maintaining the longevity and performance of your engine. For the 2017 Mazda 6, the Mazda Genuine Oil Filter is the best choice, as it is specifically designed for your vehicle. Other reputable aftermarket options include filters from brands like Bosch, K&N, and WIX.
How Much Oil Does a 2017 Mazda 6 Take?
When changing the oil and replacing the oil filter in a 2017 Mazda 6, you will need 4.5 L (4.8 US qt, 4.0 Imp qt) of SAE 0W-20 engine oil.
Does a 2017 Mazda 6 Take Synthetic Oil?
Yes, the 2017 Mazda 6 also requires SAE 0W-20 engine oil, and using full synthetic oil is recommended for optimum performance and protection.
What Oil Does Mazda Skyactiv Take?
Mazda Skyactiv engines use 0W20-MQ oil which is a synthetic oil with Moly added to reduce friction.
Conclusion
To ensure your 2017 Mazda 6 continues to perform at its best, always use the recommended SAE 0W-20 full synthetic engine oil and a high-quality oil filter. By following these guidelines, you will maximize fuel efficiency and prolong the life of your engine.
Thanks for your feedback!
The information provided in this article is for general informational purposes only. The author and publisher make no representations or warranties of any kind, express or implied, regarding the accuracy, adequacy, validity, reliability, availability, or completeness of any information presented. The reader is advised to consult a qualified professional, such as a mechanic or dealership, before making any decisions related to their vehicle's engine oil or maintenance.
Last update on 2023-06-09 / Affiliate links / Images from Amazon Product Advertising API