The 2011 Hyundai Sonata is a popular and reliable vehicle known for its fuel efficiency and performance. One crucial aspect of maintaining its performance is choosing the right engine oil. This article will provide a guide on the ideal oil type for the 2011 Hyundai Sonata, its impact on fuel economy, and the importance of following the recommended maintenance schedule.
What Type Of Oil Does A 2011 Hyundai Sonata Take?
According to the owner's manual, Hyundai recommends using SAE 5W-20 viscosity grade engine oil with API Service SM / ILSAC GF-4 classification. This oil type provides optimal fuel economy and cold-weather performance for your Sonata. In addition, lower-viscosity oils ensure better fuel efficiency and easier engine starts in colder temperatures, while higher-viscosity oils offer satisfactory lubrication in hotter weather.
Using the recommended viscosity grade is essential to prevent potential engine damage. When choosing an oil, consider your vehicle's temperature range before the next oil change.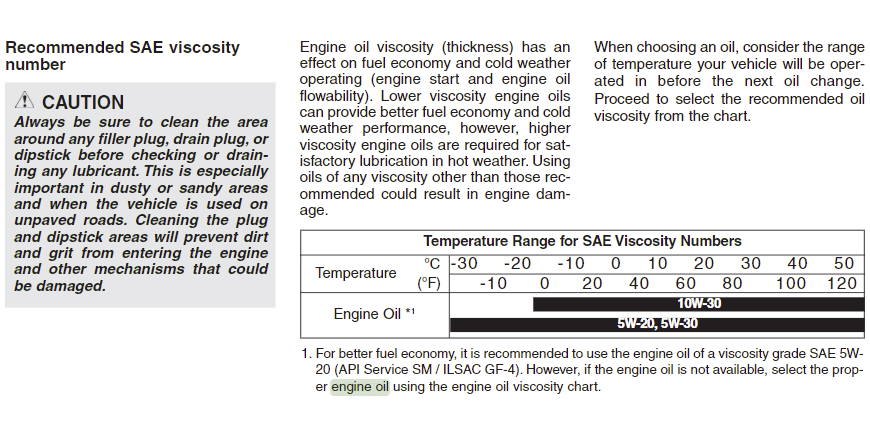 Sale
Sale
Sale
Valvoline High Mileage with MaxLife Technology 5W-20 Synthetic Blend Motor Oil 5 Quart
MAXLIFE TECHNOLOGY PREVENTS engine breakdown with 40% better wear protection than the industry standard
REFRESH AGING SEALS AND PREVENT LEAKS with seal conditioners
REDUCE SLUDGE, DEPOSITS, CORROSION, AND RUST with added detergents – keep motors clean inside
ENHANCED FRICTION PERFORMANCE HELPS MAXIMIZE POWER with advanced friction-fighting agents
Quaker State 550044965 Motor Oil, Synthetic Blend 5W-20 (5-Quart, Single Pack)
Synthetic blend 5W-20 engine oil that provides durable wear protection and reduces engine wear
Provides corrosion protection against harmful acids generated by engine contaminants
Maintains viscosity from start to finish, providing optimal oil film protection
Helps engines survive daily commutes from high-speed highway operation to repetitive, stop-and-go driving
Quaker State All Mileage 5W-20 Motor Oil (5 Quart, Case of Three)
Synthetic blend 5W-20 motor oil formula provides protection for new and old vehicles
Formulated to provide durable wear protection that helps engines survive daily commutes under all driving conditions
Designed to protect new engines, but also has anti-wear additives that help protect against wear experienced by high mileage engines
Engine protection for any number of miles — combats sludge and deposits and conditions seals to prevent and reduce leaks, and reduces oil burn-off and consumption
What Kind Of Oil Does A 2011 Hyundai Sonata 2.0 L Take?
For the 2011 Hyundai Sonata with a 2.0L turbo engine, it is advised to use 5W-40 or 5W-30 oil. In general, synthetic oil is the preferred choice for the 2.0L turbocharged engine.
Sale
Valvoline Advanced Full Synthetic SAE 5W-30 Motor Oil 5 QT
ADVANCED PROTECTION AGAINST the four main causes of engine breakdown: wear friction heat and deposits
40% BETTER WEAR PROTECTION vs. industry standard as tested in the Sequence IVB engine test
25% BETTER DEPOSIT PROTECTION with superior engine cleaning detergents as tested in the GMOD engine test
EXCEPTIONAL HIGH/LOW TEMPERATURE PROTECTION defends your motor no matter the weather conditions
2011 Hyundai Sonata 2.4 Oil Type
If you're looking for the right engine oil for your 2011 Hyundai Sonata 2.4, it's recommended to use either 5W-20 or 5W-30. Keep in mind that the engine oil capacity is 4.9 quarts.
Maintenance Schedule and Recommendations
To ensure the longevity and performance of your 2011 Hyundai Sonata, follow the recommended maintenance schedule:
Change the engine oil and filter every 7,500 miles (12,000 km) or every six months.
Inspect the air cleaner filter and vacuum hose during these intervals.
If your vehicle is driven in severe conditions, more frequent oil and filter changes may be necessary.
The 2011 Hyundai Sonata has an engine oil capacity of 4.86 US qt. (4.6 L) for a complete drain and refill. Always follow the manufacturer's guidelines for oil changes, as they are designed to provide the best possible care for your engine.
Conclusion
Choosing the right oil type and adhering to the recommended maintenance schedule is crucial for the optimal performance and fuel economy of your 2011 Hyundai Sonata. By using the recommended SAE 5W-20 engine oil and following the proper maintenance intervals, you can ensure the longevity of your vehicle, save on fuel costs, and minimize potential engine damage.
This comprehensive guide aims to provide valuable and original information to help you make informed decisions about your vehicle's maintenance. By following these guidelines, you can trust that your 2011 Hyundai Sonata will remain a reliable and efficient vehicle for years to come.
Thanks for your feedback!
The information provided in this article is for general informational purposes only. The author and publisher make no representations or warranties of any kind, express or implied, regarding the accuracy, adequacy, validity, reliability, availability, or completeness of any information presented. The reader is advised to consult a qualified professional, such as a mechanic or dealership, before making any decisions related to their vehicle's engine oil or maintenance.
Last update on 2023-06-09 / Affiliate links / Images from Amazon Product Advertising API