Disclosure: we may earn money or products from the companies mentioned in this post via affiliate links to products. This doesn't make any additional cost to you.
A multimeter is a traditional instrument of electricians, automechanics and other technicians. This instrument is so easy to use that you need no special skills or knowledge to feel the benefits of utilizing it. Besides, multimeters aren't very expensive. Every car owner may afford to buy the one without going bankrupt.
As the choice of the proper instruments is always a challenging task, we have created the list of five best multimeters. No matter which of the mentioned further tools you acquire, you will be definitely satisfied with your purchase.
Besides their direct functions, these multimeters can assist you in a number of other works. As they are easy in use, they can be employed by professionals as well as simple car enthusiasts. Moreover, in this case, good quality instrument doesn't signify that you must spend much money on it. All these multimeters have affordable prices and, simultaneously, are of very decent quality.
By having a multimeter at hand, you will easily cope with measuring voltage, current, capacitance and resistance. So, all these tools are rather versatile and will cope with different tasks.
Our picks
Amazon bestsellers: Multimeters for cars
Automotive multimeter reviews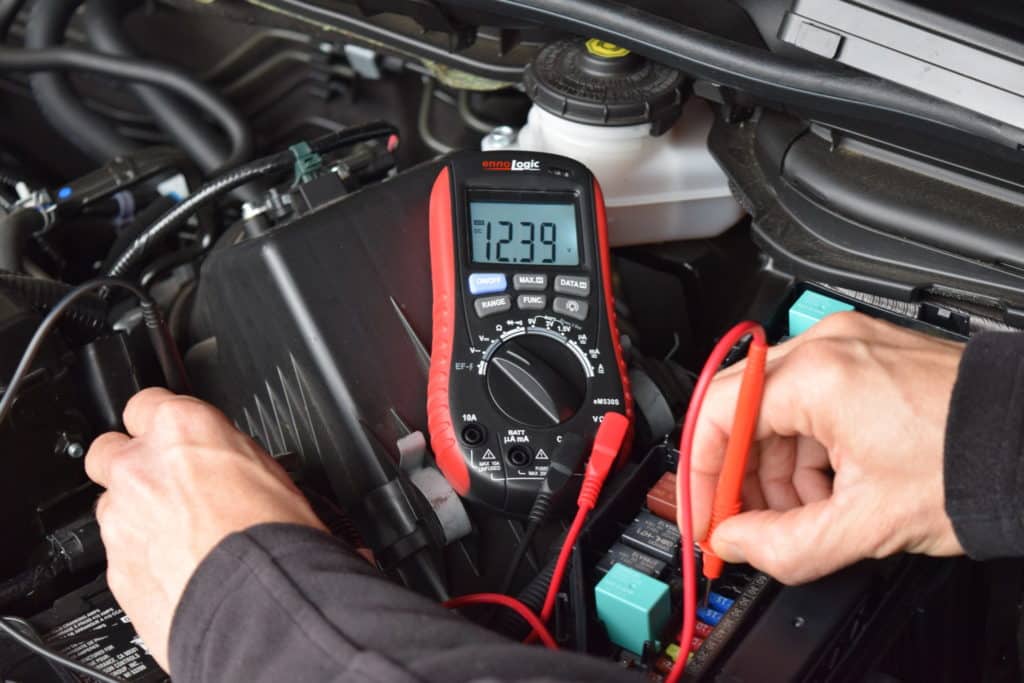 #5 INNOVA 3340 Automotive Digital Multimeter
Innova 3340 Automotive Digital Multimeter
Professional Automotive Multimeter designed to help pinpoint engine problems - UL Certified Product
Tests alternator diodes, duty cycle, solenoids, breaker points, wiring, switches, and more
Temperature probe, inductive RPM clamp and carrying case included
Features auto-ranging, auto shut-off and over-load protection
Includes test lead holders for hands-free protection
The Inova multimeter is liked by professionals of automotive repairs as well as amateurs for its multifunctionality and easiness of use. If you face problems with the incorrect engine performance, this tool will help you to find out what the problem is. As the tool keeps temperature probe functions, it will determine the temperature in both Celsius and Fahrenheit degrees. Besides, its inductive clamp will measure revolutions per minute of your automobile.
Basically, almost every detail, located under the car hood, can be checked by this multimeter, starting from the alternator diodes to the breaker points and wiring. Moreover, this tool is rather compact and you can easily transport it. It can be stored in its own carrying case, which can fit inside almost any toolkit.
Furthermore, the Innova 3340 can be applied not solely for your automobile. It can be your assistant at home as well. For example, acting as a voltage meter, it can detect if the electric wall outlet functions properly. So, if you need a tool, able to help you with various works in the house and vehicle, this one seems to be the perfect option. Moreover, this instrument can be utilized by professional electricians.
---
#4 Fieldpiece HS33 Expandable Manual Ranging Stick Multimeter for HVAC/R
Fieldpiece HS33 Expandable Manual Ranging Stick Multimeter for HVAC/R
Non-contact Voltage
400AAC and Capacitance
High Voltage and Continuity Indicators
MIN / MAX and Data HOLD
Inculded in package : Expandable Manual Ranging Stick Multimeter for HVAC/R - HS33, 400A Amp Clamp Accessory - ACH4, Deluxe Silicone Test Leads - ADLS2, Short Alligator Lead Extensions - ASA2, Deluxe Meter Case - ANC1, 9-Volt Battery (installed), Operator's Manual
The design of this Fieldpiece multimeter is the first thing, which grabs our attention. While having an unusual design in comparison with its rivals, this instrument provides with the good quality services. It's convenient and ergonomic. There are many discussions about the impact of the design on its screen size. Some people consider the screen to be too large, while the others assure that it's too small. Basically, everyone has a right for his/her own opinion and you can form your own one only after using this tool.
This multimeter is equipped with bright white LED light, which is especially necessary for dark environments. It's very easy to use the rotary switch. You are free to rotate it with only one hand and it's very convenient, especially for professionals, who work with this tool every day. Note that it is a manual ranging multimeter and the range must be set by you. The multimeter front keeps two indicators: for high voltage and for continuity.
Additionally, its non-voltage detection function will notify you about the emergence of ghost voltage. To do that, you simply need to wave above an individual source for ghost voltage checking while holding the NCV button. The Fieldpiece multimeter can measure temperature as well, even the one in the room. However, if you need to check the temperature in an object or liquid, it's necessary to connect the switch, which goes in the set. Take into account that the data can be wrong if you dip the probe into corrosive liquids as the integrity of the thermocouple can be endangered.
---
#3 Fluke 117 Electricians True RMS Multimeter
Sale
Fluke 117 Electricians True RMS Multimeter
VoltAlert technology for non-contact voltage detection
AutoVolt automatic AC/DC voltage selection. DC millivolts - Range : 600.0 mV, Resolution : 0.1 mV
Low input impedance: helps prevent false readings due to ghost voltage
Large white LED backlight to work in poorly lit areas
True RMS for accurate measurements on non-linear loads.Operating temperature:-10°C to +50°C.Battery life:400 hours typical, without backlight
This compact multimeter keeps a great number of valuable characteristics. It deals with measuring capacitance, voltage, current, resistance and frequency. With the integrated RMS technology, it shows the most precise data. This tool of practical design is a perfect choice for professionals, working with electricity-related things regularly. The 117 multimeter is well-built and keeps the strong casing. Basically, if you take care of the instrument, it will serve you for many years. This DMM is able to measure very low voltages, even 0.001V ones. And you may know that not every multimeter can deal with that.
The exact range of the item is 600mV with voltage ranges between 6.60 and 600V. With 0.5% accuracy, this multimeter can find any problem in the electrical stuff. The auto-volts function, which measures the voltage in the 600V range plus keeps the accuracy of 2.0% at lower frequencies and the one of 4.0% on higher frequencies, is extremely liked by professionals. Another great feature is a data hold function, which will be your magic wand if you need to remember the data but have no opportunity to write it down. The result of the measurement will be saved as soon as you press the "hold" button. It will be deleted after new data appears or if you press the "hold" button once again.
The screen of this Fluke item is its most distinctive feature. It's supplied with a bright LED backlight, giving you an opportunity to work in dark areas. The good contrast makes the numbers well-seen at any angle. However, the usefulness of this item can be understood only after you hold it in your hands for at least once. Moreover, this multimeter is user-friendly and you will face no difficulties with its application.
---
#2 Fluke 87-V Digital Multimeter
Sale
Fluke 87-V Digital Multimeter
Accurate frequency measurements on adjustable speed drives (ASD) due to Fluke-designed low-pass filter
Built-in thermometer allows temperature measurements without a separate thermometer
Peak Min/Max allows capture of intermittents as fast 250 µS
Dual display resolution – 6000 or 20,000 counts – lets you see small changes in displayed readings.CAT III 1000V, CAT IV 600V safety rated
Measure up to 1000 VAC and DC; Operating Altitude: 2000 m
This is another item on our list by Fluke brand, which is known for strong and durable products of superior quality. And this multimeter isn't an exception. Featuring cool design, it's able to resist bumps, hits and other ill treatment. Moreover, it provides the highest level of efficiency and precision. You can be sure that all the data will be accurate and reliable no matter what you use this item for. Besides, the instrument keeps some additional functions for deep analysis of the problem.
Thus, it's able to measure up to 1000V of AC/DC, 10 or 20 amps of current, frequency and more. Keeping a built-in thermometer, it will determine the temperature with no additional tools needed. The screen features a dual resolution of 6000 or 20 000 counts, allowing to detect the slightest changes in values. Moreover, the multimeter gained CAT III 1000V and CAT II 600V safety certificates.
The safety certificates are a major plus for any tool and, in fact, every professional multimeter must have them. Moreover, such a certificate guarantees your safety during the work as any error may lead to dangerous consequences. One more benefit of this Fluke product is that it keeps the lifetime warranty, which serves as one more proof of the instrument's quality. In comparison with other multimeters, this one can be a bit harder in application, but the user-friendliness is on a decent level. Either way, we recommend reading the user manual before starting to work with this tool. Don't be afraid, it's rather comprehensive even for non-professionals.
---
#1 Fluke 88V 1000V Automotive Multimeter
The item's characteristics really impress: 1000V of AC/DC, maximal resistance of 50 M plus it can resist even 8,000V spikes. The accuracy is about 1%. This multimeter can also check the diodes of the automobile. It can measure up to 60.00 nS of maximal conductance. Like the previous Fluke item, the 88V keeps a lifetime warranty.
Despite being the best product of the Fluke range, this multimeter still has some minuses. First of all, it's rather pricy in comparison with its competitors. So, if you seek for cheap variants, have a look at the items above. The other flaw is that the multimeter is rather bulky. It's heavier and bigger than other Fluke multimeters. But on the other hand, this disadvantage may turn into advantage for some people as it provides with the feeling of superior quality and endurance.
 The Use of Digital Multimeter for Car Diagnostics
Usually, multimeters have three main functions while being applied in automotive sphere. The primary one is to test continuity. By testing the continuity, you will discover if the automobile parts are continuous or not and, consequently, you will know if the electrical current flows from one end to the other. If there is no continuity, it signifies that the circuit is broken and the detail must be substituted.
Secondly, a multimeter can be employed for measuring resistance in the vehicle parts, including fuses, sensors and ignition coils. By doing that, you will know if any part like a headlight requires replacement.
Thirdly, this tool can check voltage within the automobile's parts. You may know that a certain amount of voltage is required for the steady functioning of heavy bass subwoofers and powerful amps. If it's not provided, the speaker system will fail to function.
Actually, by having the proper instruments, you can diagnose and notice any trouble with almost no efforts. Sometimes, even the most efficient automotive scanners fail to detect some problems, which are revealed by multimeters.
Conclusion
Finally, a multimeter turns out to be a very useful tool, especially if you are a handyman, who fixes things around the house as well as repairs vehicles, or a professional, who deals with electricity-related objects. Good quality instruments can assist you in measuring a vast number of things and immediately display them on the screen.
Several years ago, multimeters weren't very affordable, but today, the prices are much lower and every professional or amateur can acquire an efficient instrument. The major problem is to choose the most appropriate item from a wide range of brands and products.
Thus, to make your life a bit easier, we have created this guide. While selecting the best items, we have analyzed many products in order to provide you with the actual information on their characteristics, designs, process, pluses and minuses. Moreover, we tried to make every piece of information comprehensive for everyone, even for people, who have never dealt with multimeters before.
Best automotive multimeters for the money under 100$
Bestseller No. 1
AstroAI Digital Multimeter, TRMS 6000 Counts Volt Meter Manual and Auto Ranging; Measures Voltage Tester, Current, Resistance, Continuity, Frequency; Tests Diodes, Transistors, Temperature
WIDE RANGE of tests for Voltage, Current, Resistance, Continuity, Capacitance, Frequency; Tests Diodes Transistors, Temperature; School supplies for students.
PROFESSIONAL LEVEL features include Auto-Ranging capability, and True RMS for measuring both AC Current and Voltage
EASE OF USE: Convenient features like Data Hold, Large LCD Backlit Screen, Auto Shut-off and Hanging Magnet, and Kickstand make taking and recording measurements easier than ever before
IDEAL FOR COMMERCIAL settings where it can handle the demands of a long workday, from the durable exterior to the wide range of heavy-duty capabilities
Built-in F400mA/600V and F10A/600V explosion-proof ceramic fuse tubes; Double Protection, more secure and reliable; The fuses can protect the multimeter effectively; Overload protection on all ranges. 3 Year Warranty provided by AstroAI. Note: Please take off the cap before using the test leads.
Bestseller No. 2
KAIWEETS Digital Multimeter TRMS 6000 Counts Ohmmeter Auto-Ranging Fast Accurately Measures Voltage Current Amp Resistance Diodes Continuity Duty-Cycle Capacitance Temperature for Automotive
WIDE APPLICATIONS - KAIWEETS digital multimeter features 6000 counts auto-ranging for accurate measurement of AC/DC voltage, AC/DC current(DC is the default), resistance, continuity, frequency, capacitance and diode, liquid temperature, wire on-off, Battery checking. This advanced tester can diagnose automotive, industrial and household electrical issue.
EASY OPERATION - Switch the dial and the LED lights on the jacks will shine accordingly. To plug in the leads is a real ease. Large 2.9" LCD backlight display. Dual Display with bar graph. Flashlight on the back ensures easy use in dimly lit places. Stable Kickstand, pen slot on the back.
MULTI-FUNCTION - Non-contact voltage testing and Live function with sound and light alarm. The Sceen changes to red while detecting live wire. Low battery prompt, Data retention, Max/Min data, Auto Power-Off, Auto-Ranging.
SAFETY FIRST - IEC Rated CAT III 1000V, CAT IV 600V, CE, RoHS certified. Anti-Burn with double ceramic fuse and thermistor protection circuit. High Voltage Protection is active on all ranges. Double insulated unit. Silicone protective case prevents it from falling damage
AFTERSALES--Combined with Amazon's excellent delivery service, we provide 36-Month after sale service, lifetime technical support. Please feel free to contact us if you have any concerns.
Bestseller No. 3
Performance Tool W2972 Digital Automotive Multimeter
Performs all standard automotive electrical tests on the car or bench troubleshooting.
Measure and set typical automotive functions with the tach and dwell setting.
Test electrical components for faulty wiring and voltage.
Check starting, charging and fuel delivery system voltage, and diode function.
Extra-large easy-to-read digital LCD. UL listed leads and probes. Automatic reverse polarity indication. Overload protection on all ranges.
Sale
Bestseller No. 4
Innova 3320 Auto-Ranging Digital Multimeter
UL certified product designed to safely and accurately troubleshoot a variety of automotive and household electrical problems
Auto-ranging scales eliminate the need to dial in the correct range when making electronic measurements
Features large digital display and color coded LED's for battery quick check
Single-setting resistance function for AC and DC voltage
Protective rubber corner guards for drop protection
Bestseller No. 5
Crenova MS8233D Auto-Ranging Digital Multimeter Home Measuring Tools with Backlight LCD Display
【100% Safety Assurance】Built-in Double Fuse. Overload Protection on all ranges.
【Auto-ranging Tester】Accurately measure AC/DC voltage, AC/DC current, resistance, frequency, continuity, diode, etc.
【Backlight Display】 Designed with 3 1/2 digit LCD display and 'Backlight', showing the reading clearly in low light areas.
【Special Points】 Data Hold, Maximum Value Hold, Function Switching, Auto Power OFF. Sampling Speed: 3 times per second.
【9V Battery】DON'T forget to install the 9V battery before using the digital multimeter, or it will go on strike.
Bestseller No. 6
Klein Tools MM600 HVAC Multimeter, Digital Auto-Ranging Multimeter for AC/DC Voltage, and Current, Temperature, Frequency, Continuity, More
Measures up to 1000V AC/DC voltage, 10A AC/DC current and 40M resistance plus temperature, capacitance, frequency, duty-cycle, test diodes and continuity
Built to endure a 6.6-foot (2 m) drop and withstand daily wear and tear on the job site
Low battery indicator and easily accessible battery and fuse replacement compartment
For use in basic and controlled electromagnetic environments such as residential, business and light-industrial locations
CAT IV 600V / CAT III 1000V safety rating
Bestseller No. 7
Klein Tools MM400 Multimeter, Auto Ranging Digital Electrical Tester for Temperature, Capacitance, Frequency, Duty-Cycle, Diodes, Continuity
Measures up to 600V AC/DC voltage, 10A AC/DC current and 40 M resistance
Measures temperature, capacitance, frequency, duty-cycle, and test diodes and continuity
CAT III 600V safety rating
Built to withstand a 3.3-foot (1 m) drop and withstand daily wear and tear on the job site
Low battery indicator and easily accessible battery compartment
Bestseller No. 8
Fluke 88V 1000V Automotive Multimeter
Digital multimeter measures AC/DC voltage, AC/DC current, resistance, capacitance, frequency, and temperature
Manual- and auto-ranging modes for user flexibility; Peak Min/Max to record transients as fast as 250 μs
Built-in thermometer allows for temperature readings without a separate instrument
Performs millisecond pulse width measurements for fuel injectors
Safety rated for Category III to 1000V and Category IV to 600V.Operating Temperature:-20 °C - 55 °C
Sale
Bestseller No. 9
Autel AL539B OBD2 Scanner 3-in-1 Code Reader Battery Tester Avometer for 12 Volts Batteries, Full OBDII Diagnosis and Circuit Starting & Charging Systems Test
CIRCUIT TEST: It is not only a simple OBD2 code reader but also a top-rated battery tester with AVOmeter. It will be easy for you to quickly access information about voltage, continuity and current of any vehicle for battery status analysis
BATTERY TEST: AL539B, a expanded function OBD2 scanner with the additional capability of battery testing, is a great solution for you to quickly and accurately test most types of 12V batteries, including AGM, standard and maintenance-free batteries
Full OBD2 Functions: With AL539B OBD2 Scanner you can operate complete car diagnoses. The most direct and typical functions of this code scanner is to turn off the check engine light (MIL), which is completed via clearing the stored fault codes after the problems are solved
EMISSION-RELATED FEATURE: Except the special battery test function, this OBD2 scanner's basic functions are emission-related diagnoses, I/M readiness status check, O2 sensor test, on-board monitor test which are necessary on passing emission tests
FASTER DIAGNOSES: For faster and more convenient diagnosis, the Autel code reader AL539B supports DTC lookup for detailed codes information retrieval, data playback and print capability for convenient vehicle health status analyzing. Feel free to get technical support via emailer Q&A if you are unsure whether the scanner tool is suitable for your vehicle, or any questions
Sale
Bestseller No. 10
KAIWEETS Digital Clamp Meter T-RMS 6000 Counts, Multimeter Voltage Tester Auto-ranging, Measures Current Voltage Temperature Capacitance Resistance Diodes Continuity Duty-Cycle (AC/DC CURRENT)
True-RMS clamp meter: This multimeter can accurately measure AC/DC Current, AC/DC Voltage, Frequency or Duty Cycle, Resistance, Capacitance and also provides Diode, Continuity and Temperature tests. True RMS for accurate measurements on non-linear loads. Easy to use for labs factories and household.
LowZ & LPF: Low input impedance helps prevent false readings due to ghost voltage. Low Pass Filter (LPF) for accurate measurement of variable frequency drive signals when measuring motors and transformer. To measure the current you need to clamp the meter around one of the wires and not the whole power cord.
NCV Detection Function: Non-contact voltage detection effectively check electrical status through measuring EM field intensity without touching any wires; The NCV button lies on the right side. Simply place your thumb on it and push.
Multi-function: Two-color backlit LCD Display - When the voltage > 80V, the current > 3A, the LCD backlit screen turns red to warn you of high voltage/ LED Flashlight / Temperature Measurement for liquids and air conditioning ports included K-Type Thermocouple / Low Battery Indication / Auto power off after 15 minutes inactivity.
Safety Guarantee: Safety standard IEC 61010-1, CAT III 600V. Double insulation. 36 Months product warranty provided. 7/24 Customer Service.
Sale
Bestseller No. 11
Actron CP7677 AutoTroubleShooter - Digital Multimeter and Engine Analyzer for Automotive Professionals, Orange
Actron's professional level meter performs all standard electrical and automotive specific tests for on-car and on-bench troubleshooting, including: tach, dwell, volts, amps, ohms, continuity, and diode tests
Tests starting and charging, ignition and fuel delivery systems, and helps locate faulty wiring and components
Extra-large, easy-to-read digital LCD display features on-screen test leads connection reminder, automatic reverse polarity indication, low battery indicator, and hold button to retain display data
UL and ETL listed tool has automatic zero adjust, overload protection on all ranges, 10 MΩ impedance, and is switchable between 4, 6, 8 cylinder modes
Includes: protective boot, fold-out stand, detachable color-coded test leads, alligator clips, quick start guide, and detailed downloadable instructions in English, Spanish, and French
Bestseller No. 12
AstroAI Digital Multimeter, TRMS 4000 Counts Volt Meter (Manual and Auto Ranging); Measures Voltage Tester, Current, Resistance, Continuity, Frequency; Tests Diodes, Temperature (Red)
WIDE RANGE of tests for AC/DC Voltage, AC/DC Current, Resistance, Continuity, Capacitance, Frequency and Temperature; Tests Diodes. Good school supplies for students.
PROFESSIONAL LEVEL features include Auto-Ranging capability, and True RMS for measuring both AC Current and Voltage.
EASE OF USE: Convenient features like Data Hold, Large LCD Backlit Screen, Kickstand, and Low Battery Indicator make taking and recording measurements easier than ever before.
IDEAL FOR COMMERCIAL settings where it can handle the demands of a long workday, from the durable exterior to the wide range of heavy-duty capabilities.
SAFETY FIRST: Two integrated fuses rated at F500mA/600V and F10A/600V; Explosion-proof ceramic fuses provide maximum safety; The fuses can protect the multimeter effectively; Overload protection on all ranges. 3 Year Warranty provided by AstroAI.
Bestseller No. 13
Neoteck Auto Ranging Digital Multimeter AC/DC Voltage Current Ohm Capacitance Frequency Diode Transistor Audible Continuity, Multi Tester with Backlit LCD
【2000 Counts 8233D PRO Pocket Digital Multimeter】 2000μF Capacitance and 200KHz Frequency Measurement, Accurately Measures Current, Voltage, Resistance, and More, Maximum Reading over Time, Auto-ranging and Continuity Buzzer
【Included 9 Volt Battery】The Compartment Lid at the Back is Secured by One Cross Head Screw, Not Difficult to Remove at All; Also, Included Pair Test leads and Pair Banana Plug to Alligator Clip Cable
【CE Rated Digital Mulimeter with Over Load Protection】 Designed to Safely and Accurately Troubleshoot a Variety of Automotive and Household Electrical
【Large Backlit LCD Display】 Auto Polarity Display, Easy to Read Large Backlit LCD Display, Back-light Makes a Real Difference in Low Light Areas
【Nice Protective Orange Shell with Stand Built】 The Case with Our Multimeter is Some Kind of Non Slip, Slightly Soft Plastic that Will Help with Drop Protection, The Stand Places the Device at a 45 Degree Angle and Makes the Screen Easy to See Hands Free
Bestseller No. 14
Proster 24pcs Multimeter Test Lead Kit Electrical Multitester Leads Automotive Multimeter Probe Alligator Clips Replaceable Volt Clamp Meter Leads Electronic Test Leads
Multimeter Test Lead Kit --- 2 x Mini Spring Test Hook Clips, 2 x Mini Test Leads; 2 x Small Alligator Clips, 2 x Alligator Clips, 8 x Special Tip Probes , 2 x Test Extension Line, 2 x Spade Plug, 2 x Test Probes, 2 x Probes, suitable for multimeter / clamp meter to expand testing capability and flexibility for School, Lab, Electrician, Etc.
1000V/20A --- Maximum input voltage/current of test leads and probe pins is 1000V/20A. Maximum input voltage/current of small alligator clips Is 300V/15A and big alligator clips is 1000V/32A
Test Extension Lead & Crocodile Clips: Applied double-insulation and made with flexible silicon leads, more secure reliable; Crocodile Clips shrouded by ABS+PA insulation shell for safety; Banana Plug and spade terminal helps to expand testing capability and flexibility.
Test Probe: Rubber overmolded surfaces give the user a comfortable, reliable grip, to improve steadiness in slippery hands. Extra 8pcs interchangeable probe tips(4pcs nickel-plated copper and 4pcs gold-plated copper), small enough to access the tightest of SMD equipment.
Mini Spring Test Hook Clips: Insulated and flexible silicone grabber hook is an absolute necessity when you need a third hand / test circuits sequentially components; Powerful spring pulling the min hooks, grasps tiny components firmly avoid short-circuit.
Bestseller No. 15
Last update on 2020-09-19 / Affiliate links / Images from Amazon Product Advertising API