Disclosure: we may earn a small commission from the companies mentioned in this post via affiliate links to products. This doesn't make any additional cost to you. All products are selected independently.
Contemporary electronic fuel injection systems usually cause no troubles pretty long. However, having run more than 75,000 miles, this system demands some maintenance for proper functioning. Two key jobs must be performed: fuel injector cleaning plus throttle body cleaning. While the first must be performed by professionals, you can do the cleaning of a throttle body yourself applying usual instruments plus special spray cleaners.
Throttle body cleaning is a necessary preventative measure for your automobile maintenance which also contributes to better motor drivability. Actually, a contaminated throttle body may be a cause of rough idle, halting initial speed-up or stalling when the motor is completely warmed up. By having a look at the throttle body, you will be open-eyed on how much dirt, resin plus varnish have piled up there.
Proper Throttle Body Cleaning Guide
To do this operation yourself, you need just basic tools the majority of which can be found at your home. Check this list before beginning any work to make certain that you have everything at hand. If you don't have something, you are free to purchase the missing instruments at your local store.
Additionally, you will need these materials which can be bought at any home store:
Basically, the throttle body cleaner is obligatory for any cleaning operations within the throttle body. The selection of cleaners is pretty vast but it's advisable to apply the ones by the most reputable brands in order not to harm your motor.
We are going to discuss throttle body cleaners a bit later, but now, let's concentrate on the operation itself and find out how to clean throttle body without removing it.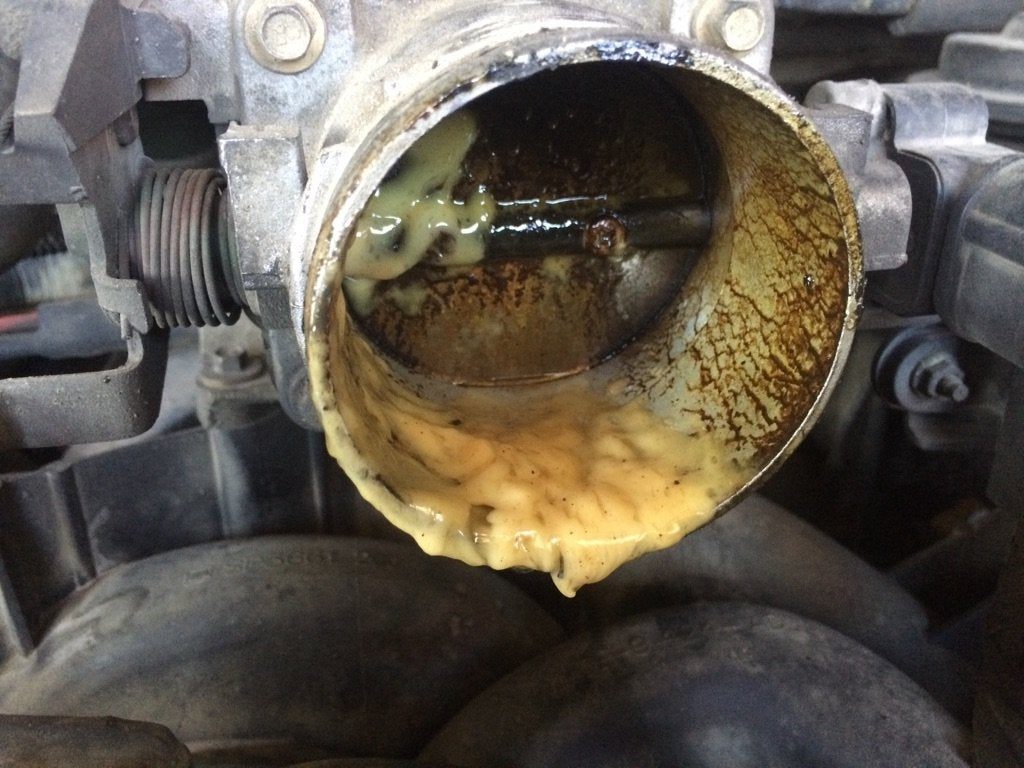 Step 1
Start with disconnecting the air duct from the throttle body. You will have no problems in finding it as it's similar to a hose and, as a rule, it's attached to the functional part of throttle body where it intakes air.
Unscrew the air duct from throttle body and denote any openings plus electrical connections which are going through it.
Step 2
After that, spray the throttle body cleaner in the opening, taking into account that it's protected by a butterfly. To open the throttle, detect the throttle cable and pull it.
As soon as the throttle is open, spray heavily the throttle cleaner after placing it in the opening. Check if the spray reaches everywhere.
Step 3
The third step is the most complicated one. Initially, air compressor arrangement is required. When you do that, spray air inside the throttle body holding your hand stable. The compressed air will assist in drying the cleaner liquid plus will prevent it from capturing dust.
Step 4
Finally, take a paper towel or a clean piece of cloth to clear the outer part of the throttle body. Install the air duct back in its place. Double check if you place all the electrical wires plus equipment correctly. Seal the air duct hermetically. If it's sealed badly, it will prevent the throttle body from normal operation.
Congratulations! The cleaning process is over. If you have followed all the instructions properly, be sure that now your throttle body is absolutely clean and will contribute to enhanced functioning of your motor. Now, it's time to discover what the most trustworthy throttle body cleaners are plus how to choose the most appropriate one for your motor.
Best Throttle Body Cleaner
Our picks
Actually, the selection of throttle body cleaners is so big that it can be not easy to understand what one is good and what one isn't suitable at all. Here, we offer you a list of the most appropriate cleaners, which have already proved their efficiency.
CRC 05078 Throttle Body and Air-Intake Cleaner - 12 Wt Oz.
Cleans gum and varnish from the throttle valves and throttle body
For easier starting and smoother engine performance
Cleans air-intakes, throttle valves, throttle bodies and linkages on fuel-injected gasoline engines.
Safe for use on coated throttle bodies.
Low VOC formula
Almost every car enthusiast has heard this brand name at least once and, actually, many drivers trust this company. CRC produces really high-quality throttle body cleaners, which are preferred and highly estimated by the majority of professional mechanics.
The CRC throttle body cleaner functions fast plus efficiently. As soon as you apply it, it unclogs the paths leading to the combustion chamber. If you opt for this cleaner, be sure that the functioning of your motor will be enhanced significantly.
3M Throttle Plate and Carb Cleaner, 08867, 7.5 oz
Cleans and lubricates throttle body and carburetor assemblies
Removes residue to increase engine performance
Nozzle allows dispensing cleaner while can held upside down
Ergonomic trigger allows maximum control
3M brand is a well-known name in the field of performance. The company's products are so amazing that a few competitors are able to surpass them. And their throttle body cleaner is one of great examples. The spray can is user-friendly and causes no harm to the electronic parts of the throttle body, comprising sensors situated in different parts of your automobile.
Berryman B-12 Chemtool Carburetor, Choke & Throttle Body Cleaner with Extension Tube [VOC Compliant In All 50 States], 20-ounce aerosol, 0120C
contains 100% high-energy solvent technology
quickly dissolves gum, varnish, fuel residue, and carbon build-up
cleans carburettors, linkages, choke, pcv valve, and throttle body
better vehicle drivability and fuel economy
voc compliant in all 50 states
The Berryman Chemtool Throttle Body Cleaner is also among the most reliable products manufactured to liquidate all the dirt plus carbon deposits from the automobile's throttle body.
Once your throttle body is free from any dirt, it makes the motor run at its best possible level. You can press the throttle hard and experience no faults with acceleration or face rough idling.
Amazon Bestsellers
No. 1
WD-40 - 300134 Specialist Carb/Throttle Body & Parts Cleaner, 13.5 OZ
The only all-in-one carburetor cleaner spray you will need to clean your carburetor, throttle body, and unpainted metal parts
Dual-action cleaning system 1. Solvent cleaning formula breaks up tough, baked on carbon deposits. 2. Powerful cleaning spray blasts away the deposits and waste
Results are engines that start up fast and easy, and levels to a smooth, consistent idle with less stalling
Use on old and new vehicles and equipment including; cars, trucks, tractors, motorcycles, boats, lawn mowers, weed trimmers, and all other gas powered lawn equipment
Improve performance at high rpms. Will not affect oxygen (O2) sensors or catalytic converters upon incidental contact
No. 2
CRC 05078 Throttle Body and Air-Intake Cleaner - 12 Wt Oz.
Cleans gum and varnish from the throttle valves and throttle body
For easier starting and smoother engine performance
Cleans air-intakes, throttle valves, throttle bodies and linkages on fuel-injected gasoline engines.
Safe for use on coated throttle bodies.
Low VOC formula
No. 3
Conclusion
So, we have provided you with the list of top throttle body cleaners. All these products are reliable and do their job fast plus efficiently. You are free to select the most appropriate for you depending on the prices and some other characteristics.
However, note that throttle body cleaning doesn't mean that you can avoid proper motor maintenance.
Moreover, professionals don't advise to employ such products too frequently as too much cleaner in the system may harm your motor in the long run.
Last update on 2021-10-26 / Affiliate links / Images from Amazon Product Advertising API