EnginesWork.com is reader-supported. When you buy through our links, we may earn an affiliate commission at no added cost to you. Read more
Installation of dash covers is actually much simpler than you'd probably imagine. This article contains detailed stepwise instructions on how to install dash cover. After reading this article, you should be able to make it on your own.
It's an easy task and you shouldn't waste the money on paying someone to do it for you.
Dash Covers – Main Functions and Benefits They Offer
Commonly known as dash or deck cover, this piece of accessories has at least three main functions. The first one is to protect your dashboard from being damaged. A list of potential issues is pretty long. Years of sun exposure will cause fading or even produce cracks. Also, remember such things as scratches, stains and the like. Pretty much all cars, vans truck, and SUV vehicles have dashboards that are made of shiny materials.
This causes a bright light reflection and could be pretty annoying for the driver, even dangerous. Dash mat is usually made of materials that reduce glare. Besides surface protection, these car accessories also great for customization. Custom-fit dash covers are a great way to improve the visual appeal of your car. Here are some of the dash cover benefits:
Sunlight protection;
Glare reduction;
Damage prevention;
Helping your car keep a higher resale value;
Blocking dirt and dust.
Dash Covers – Common Types of Damages
The dashboard could be damaged in many ways. The most common damage to the car's interior is fading of all surfaces, mechanical damage and accumulation of dirt. This especially refers to dash, since this part of the vehicle undergoes constant sun exposure. In the areas where temperatures are very high, you can expect cracks as well. Besides atmospheric factors, damages could be physical as well. Long-term use results in things like scratches, stains and much more.
Popular Dash Cover Types
We can classify dashcovers in many ways. People usually refer to the material from which the cover has been made. Still, they are primarily divided into molded and non-molded covers. Today's automotive aftermarket is full of molded dash covers. The name speaks for itself. These covers feature a mold that perfectly matches the dash.
Manufacturers are numerous and pretty much all of them offer products for numerous specific car models. On the other side, non-molded covers are popular with car drivers of an older generation. These covers are universal and could fit several car models. Still, they are a little bit more complicated to install and usually demand some smaller redundancy.
How to Install Dash Covers?
Here is a brief, stepwise installation guide for dash covers. It shouldn't be too complicated since there are just a few steps:
Step 1: Clean the dash – all surfaces on the dashboard must be clean and completely dry. Also, don't use detailing products because the cover won't stick.
Step 2: Unpack the cover
Step 3: Check if the cover fits the dashboard – Without sticking, place the cover on the dashboard. Make sure that air vents, defrost vents and other details are properly placed. Stretch the cover if you need in some places.
Step 4: Apply Fasteners – every dash cover comes with Velcro strips or something like that. Cut the strips into small pieces and apply them where needed. You will have to put more of these pieces in contoured areas.
Step 5 (for non-bolded covers): pre-shape the dash cover – to make the final application easier, pre-shape your cover. Bend the cover to better fit dashboard curves of the specific model.
Step 6: Apply the cover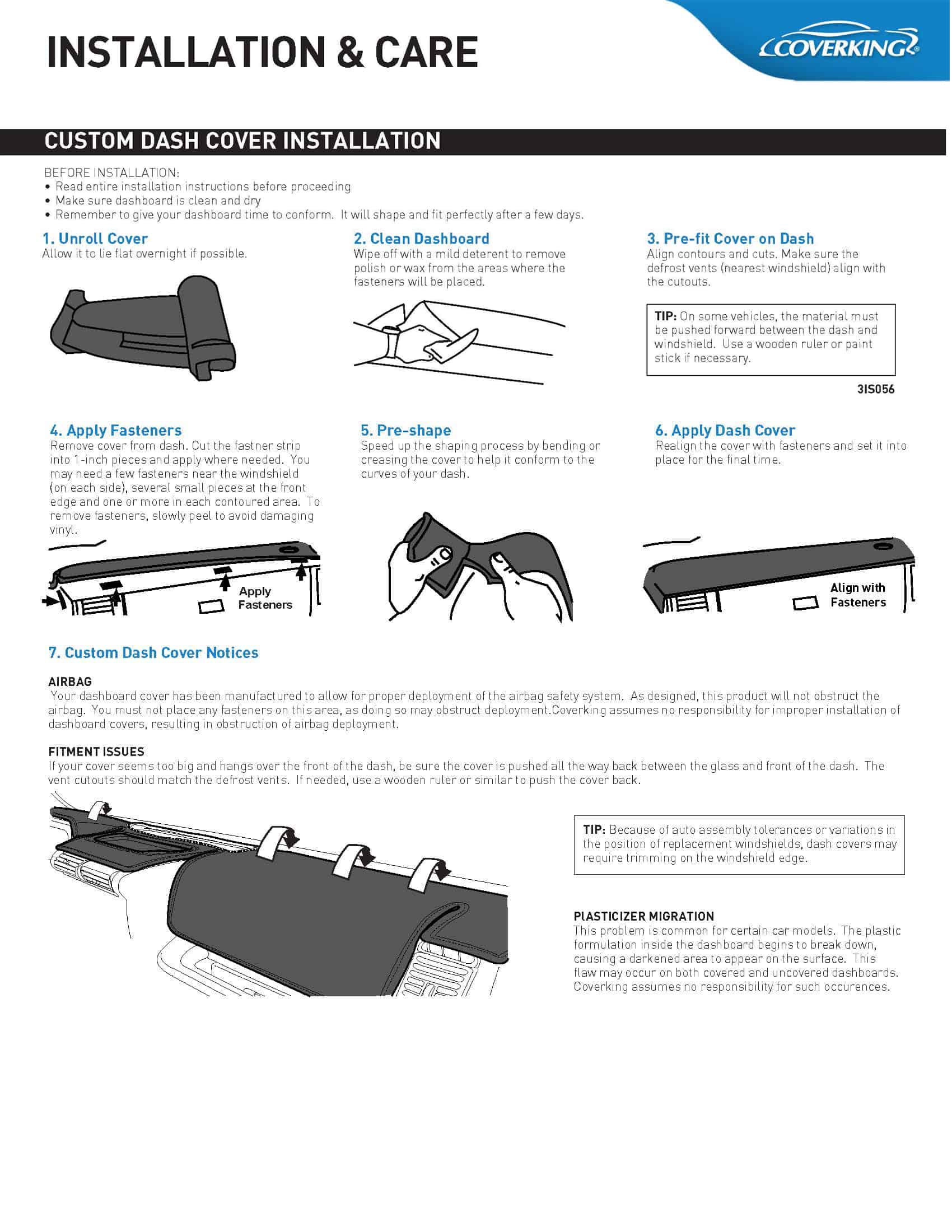 Important notes:
Don't overstretch the cover. Usually, covers don't fit your dashboard perfectly and some stretching is required. Do it carefully.
Check for defrosting vents, sensors, speakers and similar things. If the cover you bought is designed for a specific car model, it probably has holes left for these details. If not, you will have to make them by yourself.
Keep in mind the material of your cover. Different materials demand different ways of cleaning.
Was this article helpful?