SR20DET engine
9 August 2016
Writer
Views: 55
Nissan SR20DET engine
This is a series of in-line, 4-cylinder engine has its origins in 1989. The new series has been developed to replace the series of engines CA (CA16, CA18, CA20) and structurally different from the latter in the following main points:
All SR engines are equipped with electronic fuel injection (in the CA Series both carbureted and fuel injected engines were represented);
All SR engines has head with 4 valves per cylinder;
SR series are more forced, and a maximum power of these motors is achieved from 6000 rev / min (SR18 / 20Di) up to 7800 rev / min (SR16VE), while at the CA series, these figures range from 5200 rev / min (CA18S / E) to 6400 rev / min (CA18DET);
The timing at the SR motor via the chain, rather than through the belt like a CA, which implies increased engine reliability;
SR motors have hydraulic lifters in the valve mechanism;
SR engines are equipped with only a single-ignition system.
Nowadays, the SR engines are already removed from production and completely replaced by more modern QR and QG. But despite this, it is on the basis of this engine all new series of high performance engine with variable valve timing have been developed and it shows great potential laid in the development of the series. Issue of the SR series lasted until 2003.
Products from Amazon.com
‹
›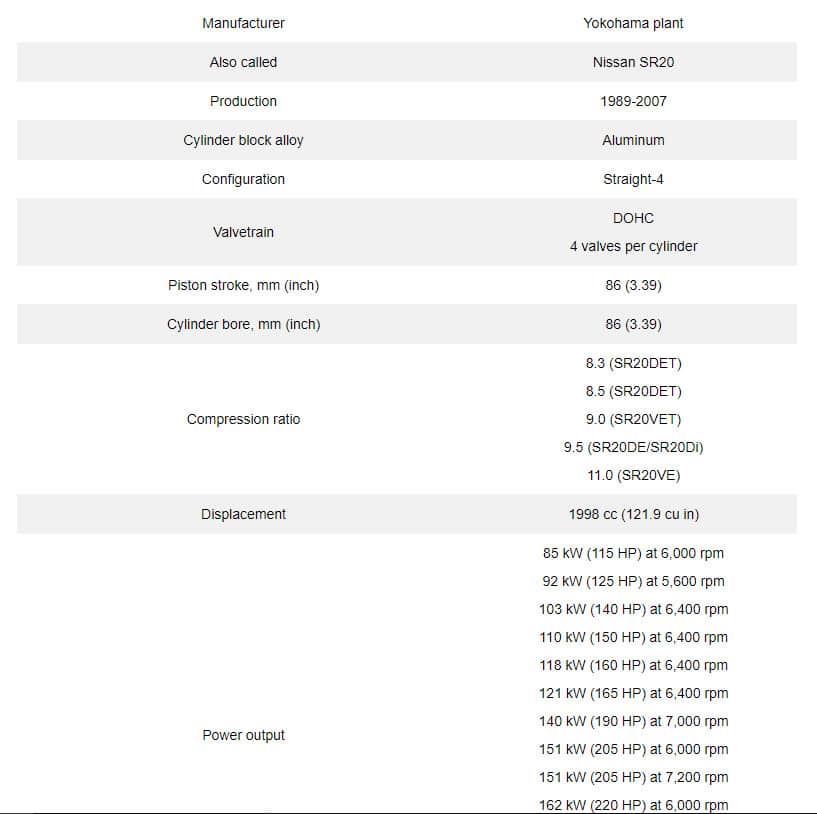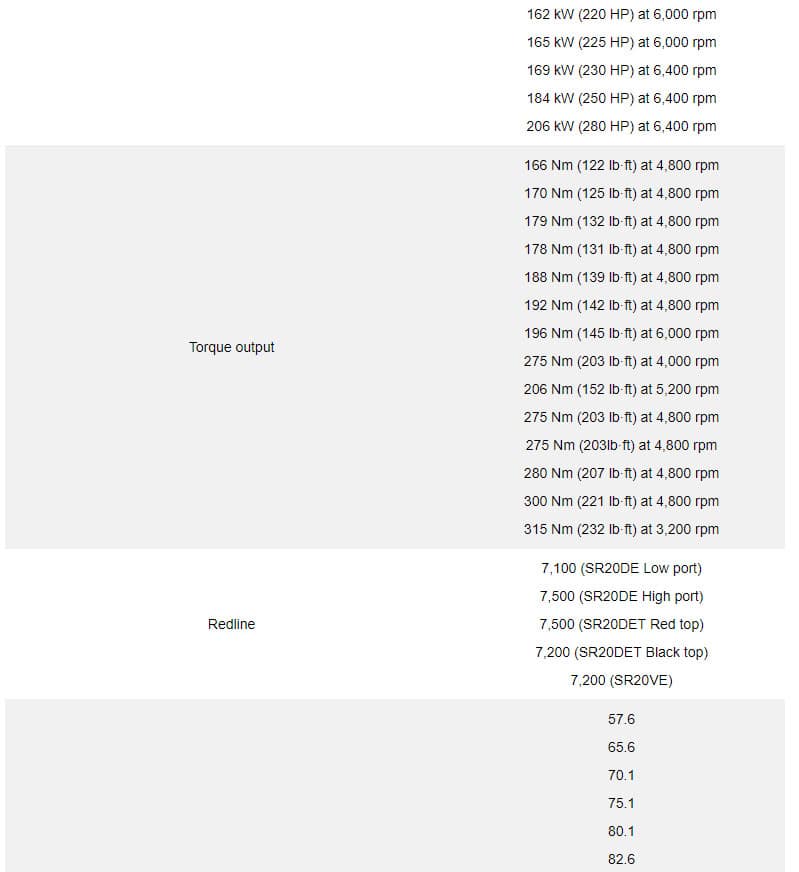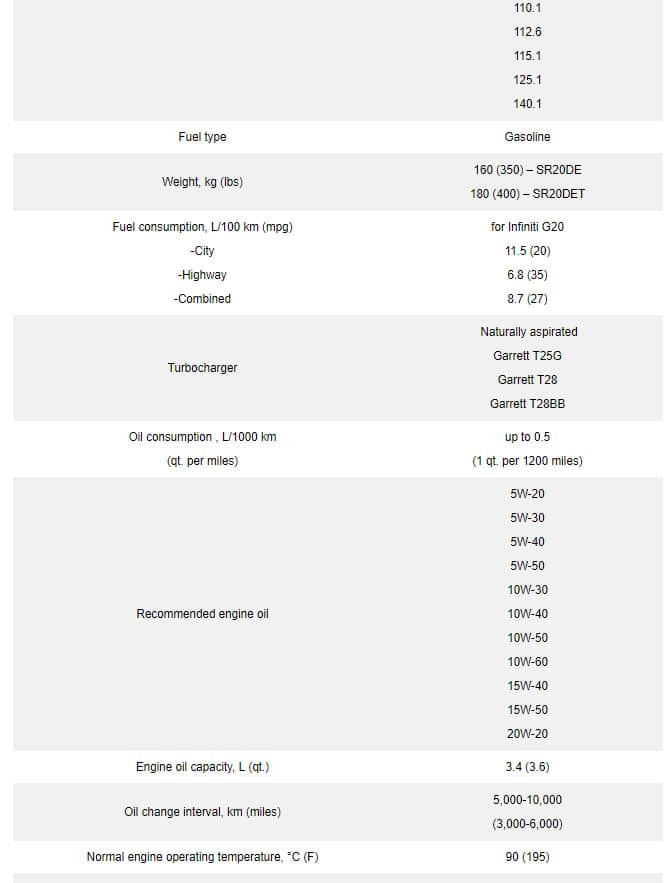 SR20DET Specs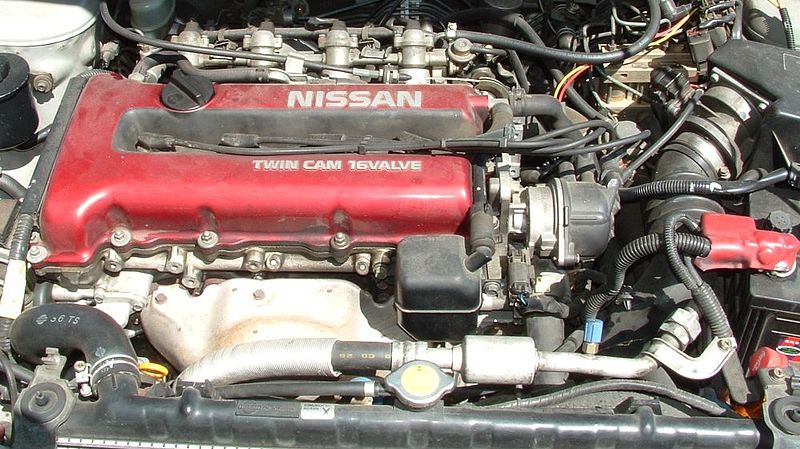 This engine is installed in
Nissan 180SX/200SX/Silvia
Nissan Almera
Nissan NX2000/NX-R/100NX
Nissan Sentra/Tsuru
Nissan Primera
Nissan Pulsar/Sabre
Nissan X-Trail GT
Infiniti G20
Nissan Avenir
Nissan Bluebird
Nissan Prairie/Liberty
Nissan Presea
Nissan Rasheen
Nissan R'nessa
Nissan Serena
Nissan Wingroad/Tsubame
Valve cover colors
The colors of the valve covers seem to be related to the year the engine was released.
| Color | Model | Years |
| --- | --- | --- |
| Red | S13/180SX/Bluebird/Pulsar | 1989–1994 |
| Blue | S13/180SX | 1994–1998 |
| Black | S14/S15 | 1994–2002 |
| Silver | Avenir/R'nessa | 1995–2001/1997-2002 |
S13 Black top – 180sx's post-94 (Garrett T25G turbo)
S13 Red top – S13 Silvia and 180sx pre-94 (Garrett T25G turbo)
S14 Black top – 1994-98 (notchtop) Silvias – Variable Cam Timing aka VTC was introduced on the intake cam (Garrett T28 journal bearing turbo for Australian and European markets and Garrett T28 Ball Bearing turbo for the Japanese market)
S15 Black top – 1999-2002 Silvias. As S14 but with PTU within ignition coil packs, 6-speed manual transmission (Garrett Journal Bearing T28 for Europe and Australia and Ball Bearing T28 turbo for Japan)
It was available in the following vehicles:
S13/14/15 Nissan Silvia
S13 Nissan 180SX, 205 ps (109.78 kW) / 6000 rpm (274.59 N⋅m) / 4000 rpm
S14 + S14a Nissan 200SX, 220 ps (161.81 kW) / 6000 rpm (274.59 N⋅m) / 4800 rpm
S15 Nissan Silvia (JDM), 250 ps (183.88 kW) / 6400 rpm (274.59 N⋅m) / 4800 rpm
RNN14 Nissan Pulsar GTi-R, 230 ps (169.17 kW) / 6400 rpm (284.39 N⋅m) / 4800 rpm
NN30Nissan R'nessa GT Turbo, 200 ps (147.10 kW) / 6000 rpm (264.78 N⋅m) / 4000 rpm
HNU13 Nissan Bluebird SSS ATTESA Limited, 210 ps (154.46 kW) / 6000 rpm (274.59 N⋅m) / 4000 rpm
HNU12 Nissan Bluebird SSS ATTESA Limited, 205 ps (150.78 kW) / 6000 rpm (274.59 N⋅m) / 4000 rpm
PNW11 Nissan Avenir Highway Star/GT4, 230 ps (169.17 kW) / 6000 rpm (274.59 N⋅m) / 3600 rpm
PNW12 Nissan Liberty GT4, 230 ps (169.17 kW) / 6000 rpm (274.59 N⋅m) / 3600 rpm
PNW10 Nissan Avenir Salut G GT Turbo, 210 ps (154.46 kW) / 6000 rpm (274.59 N⋅m) / 4000 rpds
Nismo 270R (270 hp at 6000 rpm)
It is a popular inline four cylinder engine fitted into a variety of cars, generally the Nissan Silvia and 180SX. It also came in the Pulsar GTI-R and the Nissan Bluebird. This engine replaced the CA18DE and CA18DET that originally powered the Silvia and 180SX. The CA18 was deemed too expensive to produce and no longer met Japanese emission standards, so it was replaced by the SR20. The SR, just like the out-going CA, was a turbocharged intercooled engine in top form. Nissan also produced a cheaper naturally aspirated version called the SR20DE. In the US and Canada, the Silvia and 180SX are both under the 240SX banner. USDM and Canada 240SX's come stock with the SOHC KA24E for earlier models, or the DOHCKA24DE for later models. Both are naturally aspirated engines producing 140 hp (100 kW) and 155 hp (116 kW) respectively. SR20DET engine swaps are becoming more commonplace due to the forced induction aftermarket additions available for the SR20DET. Many shops specialize only in SR20DET swaps.
 The breakdown of the engine code is as follows:
SR – Engine Code Name
20 – 2.0 Liter Displacement
D – Dual Overhead Camshaft
E – Electronic Fuel Injection
T – Turbocharged
The Lack of the letter "D" on some of the engine identifications indicates a SOHC cylinder head.
Nissan SR20DET engine problems
SR engines are very reliable and durable. They do not have any great problems or faults. Sometimes a problem of rough idle appears. It mainly happens because of idle air control valve, or your fuel might be of low-quality. Also MAF sensor fails sometimes.
SR20DE engine has quite long lifetime, on condition of using high-quality motor oil and serving the engine regularly. This lets increasing lifespan to 250,000 miles of mileage (400,000 km) or even more.
Products from Amazon.com
‹
›
SR20DET Swapped 89 Nissan 240SX(s13) Drifting in the Rain
TWIN 800+hp Nissan 240SX's – 2JZ and SR20DET Powered
Nissan SR20 turbo sound compilation
SR20DET Head Gasket Replacement How-To