BMW X3 engine
4 November 2016
Writer
Views: 20
BMW X3 engine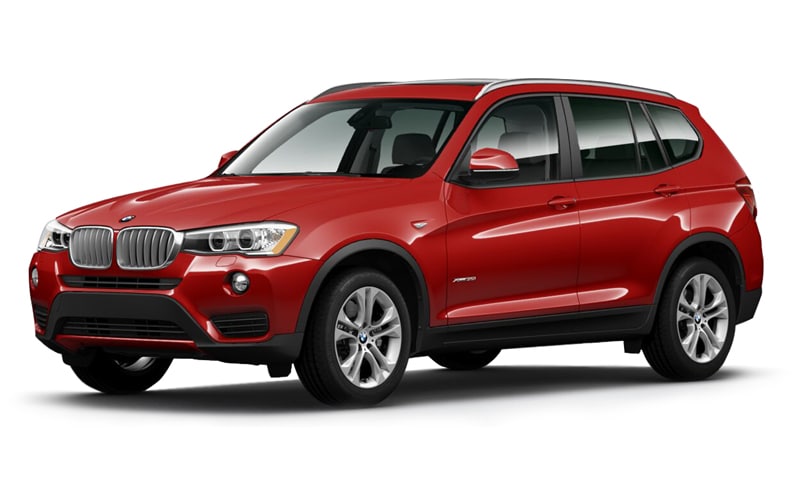 BMW X3 – rear wheel drive and all-wheel drive premium crossover (SAV) with a contemporary design, high performance, maneuverability, safety and dynamics.
In 2007, the BMW X3 has been updated. Restyled models received new engines, revised front and rear bumpers, a panoramic sunroof, a new dashboard and adaptive headlights.
The second generation of X3 was presented at the Paris Motor Show in October 2010, and that same year was put into production at the BMW plant in Austria and the United States as a 2011 year model.
BMW X3 engine model years
First generation (E83; 2003–2010)
Petrol
Model
Year
Engine code
Power
Torque
0–100 km/h
Top speed km/h
2.0i/ xDrive20i
2004–2010
N46B20
110 kW (148 hp) @6200
200 N·m (150 lb·ft) @3750
11.5
198
2.5i
2004–2006
M54B25
141 kW (189 hp) @6000
245 N·m (181 lb·ft) @3500
8.9(MT) / 9.8(AT)
208
2.5si/ xDrive25i
2007–2010
N52B25
160 kW (215 hp) @6500
250 N·m (180 lb·ft) @2750–4250
8.5(MT) / 8.9(AT)
210(MT/AT)
221(MT)* / 220(AT)*
3.0i
2004–2006
M54B30
170 kW (228 hp) @5900
300 N·m (220 lb·ft) @3500
7.8(MT) / 8.1(AT)
210(MT/AT)
224(MT)* / 210(AT)*
3.0si/ xDrive30i
2007–2010
N52B30
200 kW (268 hp) @6650
315 N·m (232 lb·ft) @2750
7.2(MT) / 7.5(AT)
210(AT/MT)
232(AT)* / 228(MT)*
Diesel
Model
Year
Engine code
Power
Torque
0–100 km/h
Top speed km/h
xDrive18d
2009–2010
N47D20
110 kW (148 hp) @4000
350 N·m (260 lb·ft) @1750
10.3
195
2.0d/ xDrive20d
2005–2007
M47TU2D20
110 kW (148 hp) @4000
330 N·m (240 lb·ft) @2000
10.2
198
2007–2010
N47D20
130 kW (174 hp) @4000
350 N·m (260 lb·ft) @1750–3000
8.9(MT) / 9.2(AT)
206(MT) / 205(AT)
X3 3.0d/ xDrive30d
2003–2004
M57TUD30
150 kW (201 hp) @4000
410 N·m (300 lb·ft) @1500–3250
7.9(MT)/ 8.2 (AT)
210(MT/AT)
218(MT)* / 215(AT)*
2004–2010
M57TU2D30
160 kW (215 hp) @4000
500 N·m (370 lb·ft) @1750–2750
7.4(MT) / 7.7(AT)
210(AT/MT)
220(AT/MT)*
3.0sd/ xDrive35d
2007–2010
M57TU2D30
210 kW (282 hp) @4400
580 N·m (430 lb·ft) @1750–2250
6.4
240
Second generation (F25; 2010–present)
2.0 L N47D20 turbodiesel I4
3.0 L N52B30 I6
3.0 L N55B30M0 turbo I6
3.0 L N57D30O1 turbodiesel I6
3.0 L N57D30T1 twin-turbodiesel I6
Petrol engines

[]

Model
Years
Type/code
Power@rpm
Torque@rpm
Acceleration 0–100 km/h (s)
Top speed
xDrive20i
2011–
1,997 cc (121.9 cu in) I4 twin scroll turbo (N20B20U0)
184 PS (135 kW; 181 hp)@5000–6250
270 N·m (199 lb·ft)@1250–4500
8.3
210 km/h (130 mph)
xDrive28i (243PS)
2010–
2,996 cc (182.8 cu in) I6(N52B30)
243 PS (179 kW; 240 hp)@6600
312 N·m (230 lb·ft)@2600–3000
?
?
xDrive28i (243PS)
2012–
1,997 cc (121.9 cu in) I4(N20B20O0)
243 PS (179 kW; 240 hp)@5000
352 N·m (260 lb·ft)@1250–4800
?
?
xDrive28i (245PS)
2012–
1,997 cc (121.9 cu in) I4 twin scroll turbo (N20B20O0)
245 PS (180 kW; 242 hp)@5000
350 N·m (258 lb·ft)@1250–4500
6.7
210 km/h (130 mph)
xDrive28i (258PS)
2012
2,996 cc (182.8 cu in) I6(N52B30)
258 PS (190 kW; 254 hp)@6600
310 N·m (229 lb·ft)@2600–3000
6.9
230 km/h (143 mph)
xDrive35i (304PS)
2010–
2,979 cc (181.8 cu in) I6 twin scroll turbo (N55B30M0)
304 PS (224 kW; 300 hp)@5800
407 N·m (300 lb·ft)@1200–5000
?
241 km/h (150 mph)
xDrive35i (306PS)
2010–
2,979 cc (181.8 cu in) I6 twin scroll turbo (N55B30M0)
306 PS (225 kW; 302 hp)@5800
400 N·m (295 lb·ft)@1200–5000
5.7
245 km/h (152 mph)
Diesel engines

[]

Model
Years
Type/code
Power@rpm
Torque@rpm
Acceleration 0–100 km/h (s)
Top speed
sDrive18d
2012–
1,995 cc (121.7 cu in) I4 turbo(N47D20)
143 PS (105 kW; 141 hp)@4000
360 N·m (266 lb·ft)@1750–2500
9.9
195 km/h (121 mph)
xDrive20d
2010–
1,995 cc (121.7 cu in) I4 turbo(N47D20)
184 PS (135 kW; 181 hp)@4000
380 N·m (280 lb·ft)@1750–2750
8.5
210 km/h (130 mph)
xDrive30d
2011–
2,993 cc (182.6 cu in) I6 turbo(N57D30O1)
258 PS (190 kW; 254 hp)@4000
560 N·m (413 lb·ft)@2000–2750
6.2
230 km/h (143 mph)
xDrive35d
2011–
2,993 cc (182.6 cu in) I6 twin turbo(N57D30T1)
313 PS (230 kW; 309 hp)@4400
630 N·m (465 lb·ft)@1500–2500
5.8
244 km/h (152 mph)
Engines (2014–present)
Petrol engines

[]

Model
Years
Type/code
Power, torque@rpm
sDrive20i (184PS)
2014–
1,997 cc (121.9 cu in) I4 twin scroll turbo (N20B20U0)
184 PS (135 kW; 181 hp)@5000–6250, 270 N·m (199 lb·ft)@1250–4500
xDrive20i (184PS)
2014–
1,997 cc (121.9 cu in) I4 twin scroll turbo (N20B20U0)
184 PS (135 kW; 181 hp)@5000–6250, 270 N·m (199 lb·ft)@1250–4500
xDrive28i (245PS)
2014–
1,997 cc (121.9 cu in) I4 twin scroll turbo (N20B20O0)
245 PS (180 kW; 242 hp)@5000–6500, 350 N·m (258 lb·ft)@1250–4800
xDrive35i (306PS)
2014–
2,979 cc (181.8 cu in) I6 twin scroll turbo (N55B30M0)
306 PS (225 kW; 302 hp)@5800–6400, 400 N·m (295 lb·ft)@1250–5000
Diesel engines

[hide]

Model
Years
Type/code
Power, torque@rpm
sDrive18d (150PS)
2015–
1,995 cc (121.7 cu in) I4 turbo (B47D20)[36]
150 PS (110 kW; 148 hp)@4000, 360 N·m (266 lb·ft)@1500–2250
xDrive20d* (190PS)
2015–
1,995 cc (121.7 cu in) I4 turbo (B47D20)
190 PS (140 kW; 187 hp)@4000, 400 N·m (295 lb·ft)@1750–2250
xDrive30d
2015–
2,993 cc (182.6 cu in) I6 turbo (N57D30OL(tü))
258 PS (190 kW; 254 hp)@4000, 560 N·m (413 lb·ft)@1500–3000
xDrive35d
2015–
2,993 cc (182.6 cu in) I6 twin turbo (N57D30TOP(tü))
313 PS (230 kW; 309 hp)@4400, 630 N·m (465 lb·ft)@1500–2500
BMW X3 Third generation (G01; 2017–)